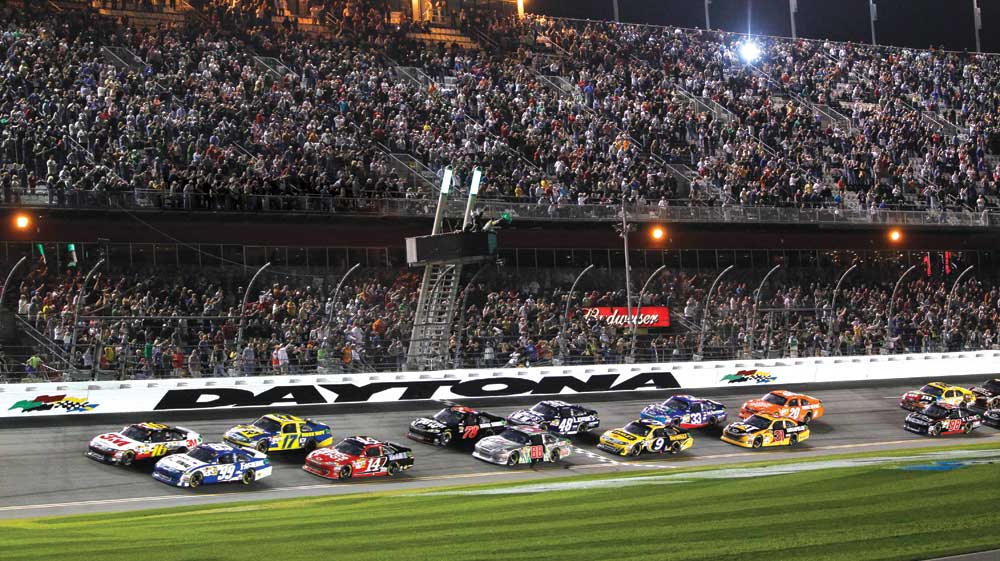 One thing you can say about the NASCAR Cup Series 2021 schedule is that the organization was not afraid to mix things up a little.
The official release includes the same 36-race schedule with the traditional season-opening Daytona 500 on February 14, but more notably includes three new sites with six road courses and — for the first time in more than a half-century — putting a dirt-track race on the calendar with Bristol Motor Speedway temporarily converting to a dirt oval on March 28.
The special Bristol event will be the first dirt race for the nation's top stock car series since 1970 when Richard Petty won at the North Carolina State Fairgrounds. It is the most new venues added to the Cup Series schedule since 1969.
The new tracks will be the Circuit of the Americas in Austin, Texas, where Formula 1 and IndyCar races have been held for several years; Road America in Elkhart Lake, Wisconsin, another IndyCar regular stop that hosted NASCAR in 1956; Nashville Superspeedway in Lebanon, Tennessee and Indianapolis Motor Speedway's road course instead of the traditional oval layout.
Three of the four new tracks are road courses, highlighting a change by the Cup Series with the introduction of more non-traditional circuits. Dropping off the schedule are oval races at Chicagoland Speedway and Kentucky Speedway.
"We developed the 2021 schedule with one primary goal: Continue to take steps to create the most dynamic schedule possible for our fans," said Steve O'Donnell, NASCAR executive vice president and chief racing development officer. "Extensive collaboration between NASCAR, the race tracks, race teams and our broadcast partners allowed NASCAR to create what promises to be an exciting 2021 schedule of races."
Two sites in NASCAR's traditional Southern markets will get an additional event next season. Atlanta Motor Speedway, which has hosted races since 1960, will have two events and Darlington Raceway in South Carolina will have races on Mother's Day Weekend and Labor Day Weekend.
The 2021 Playoffs will have one slight change with Texas and Kansas trading places in the lineup, although the overall 10 races will be held at the same venues as this year.
2021 NASCAR Cup Series Schedule
February 14: Daytona International Speedway, Daytona Beach, Florida
February 21: Homestead-Miami Speedway, Homestead, Florida
February 28: Auto Club Speedway, Fontana, California
March 7: Las Vegas Motor Speedway, Las Vegas, Nevada
March 14: Phoenix Raceway, Phoenix, Arizona
March 21: Atlanta Motor Speedway, Hampton, Georgia
March 28: Bristol Motor Speedway, Bristol, Tennessee
April 10: Martinsville Speedway, Ridgeway, Virginia
April 18: Richmond Raceway, Richmond, Virginia
April 25: Talladega Superspeedway, Lincoln, Alabama
May 2: Kansas Speedway, Kansas City, Kansas
May 9: Darlington Raceway, Darlington, South Carolina
May 16: Dover International Speedway
May 23: Circuit of The Americas, Austin, Texas
May 30: Charlotte Motor Speedway, Concord, North Carolina
June 6: Sonoma Raceway, Sonoma, California
June 13: All-Star Race at Texas Motor Speedway, Fort Worth, Texas
June 20: Nashville Superspeedway, Lebanon, Tennessee
June 26: Pocono Raceway, Long Pond, Pennsylvania
June 27: Pocono Raceway, Long Pond, Pennsylvania
July 4: Road America, Elkhart, Wisconsin
July 11: Atlanta Motor Speedway, Hampton, Georgia
July 18: New Hampshire Motor Speedway, Loudon, New Hampshire
August 8: Watkins Glen International, Watkins Glen, New York
August 15: Indianapolis Motor Speedway Road Course
August 22: Michigan International Speedway, Brooklyn, Michigan
August 28: Daytona International Speedway, Daytona Beach, Florida
September 5: Darlington Raceway, Darlington, South Carolina
September 11: Richmond Raceway, Richmond, Virginia
September 18: Bristol Motor Speedway, Bristol, Tennessee
September 26: Las Vegas Motor Speedway, Las Vegas, Nevada
October 3: Talladega Superspeedway, Lincoln, Alabama
October 10: Charlotte Motor Speedway Roval, Concord, North Carolina
October 17: Texas Motor Speedway, Fort Worth, Texas
October 24: Kansas Speedway, Kansas City, Kansas
October 31: Martinsville Speedway, Ridgeway, Virginia
November 7: Phoenix Raceway, Phoenix, Arizona