Much has changed in the Twin Cities since 1992, the last time the NFL ventured to Minnesota for a Super Bowl. But one thing remains the same: cold winters. Super Bowl LII, scheduled for February 4, will be only the sixth to be played in a cold-weather city, and the event will embrace the chill.
"We know that it's going to be cold," said Matthew Shapiro, NFL director of event strategy and integration. "We know it's going to be different in a lot of ways than some of the traditional Super Bowl cities that people come to think of. But we're excited about that."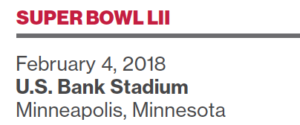 The locals echo that sentiment. "We are very excited about bringing people to the Bold North," said Maureen Bausch, CEO of the Minnesota Super Bowl Host Committee. "We really are not hiding from winter." What's perfect weather for late January and early February in the Twin Cities? Laughing, Bausch said, "We want a perfect 30 degrees with a light snow."
In 1992, when Super Bowl XXVI was held, there was no Xcel Energy Center in St. Paul, and the NHL's Minnesota Wild did not yet exist. The Minnesota North Stars, who played their home games in nearby Bloomington, would move to Dallas a year later. The region also didn't have the light-rail system that now links Minneapolis, St. Paul and Bloomington—and that will carry fans to the more than 100 venues hosting events leading up to Super Bowl LII.
The Super Bowl has always been a Minnesota Super Bowl, rallying the whole state rather than just one city, Shapiro said. "Incorporating a city like St. Paul, as well as Bloomington, which will be the host of the media center and where the teams will stay, is vitally important to us," he said.
Perhaps the biggest change from 1992 will be the stadium itself. With the Metrodome gone, the game will be played at U.S. Bank Stadium, which opened in 2016. This is the first time the venue has been tested by a single-day sports mega event, and organizers of the 2019 NCAA Men's Basketball Final Four—the next major event at the stadium—will be closely monitoring how everything unfolds.
In addition to the game, downtown activities will feature the NFL Experience at the Minneapolis Convention Center and Super Bowl Live, a series of free outdoor concerts and events at recently renovated Nicollet Mall, an outdoor shopping and dining district. The NFL Experience, which requires tickets ($35 for adults, $25 for kids), will be open January 27–29 and January 31–February 3 and will feature interactive exhibits, youth football clinics, autograph sessions and artifacts on display from the Pro Football Hall of Fame.
At Super Bowl Live, among the concerts planned is a tribute to Minnesota native Prince featuring The Revolution, Sheila E. and Morris Day and the Time. The area will also feature an ice skating rink, a 750-foot zip line across the Mississippi River, a 360-degree IMAX-style dome offering a "Super Bowl movie experience" and enormous ice sculptures.
And anyone daring enough can participate in the January 30 polar plunge, which will be set up at a temporary pond built on the Nicollet Mall. The event is a fundraiser for Special Olympics Minnesota, and there are 200 available spots for anyone who raises at least $150.
Across the Mississippi River, the St. Paul Winter Carnival—featuring a giant snow slide and other attractions—has been extended to coincide with Super Bowl activities.
More than 1 million people are expected to attend the full range of Super Bowl activities over the 10-day period.
Meanwhile, about 10,000 volunteers—at least that's how many uniforms were ordered—will help everyone reach their destinations. When a November training session was held at Xcel Energy Center in St. Paul, about 12,000 prospective volunteers showed up, 3,000 more than expected.
Xcel is also the site of Super Bowl Opening Night, where fans will be able to watch as players and coaches are interviewed by members of the media. Tickets for the event sold out less than an hour after they went on sale.
"I think we all know that actually being there on Sunday is not something that may be possible for a number of fans," Shapiro said. "But we want to make sure that when we come to a city, there are plenty of ways to experience the NFL."