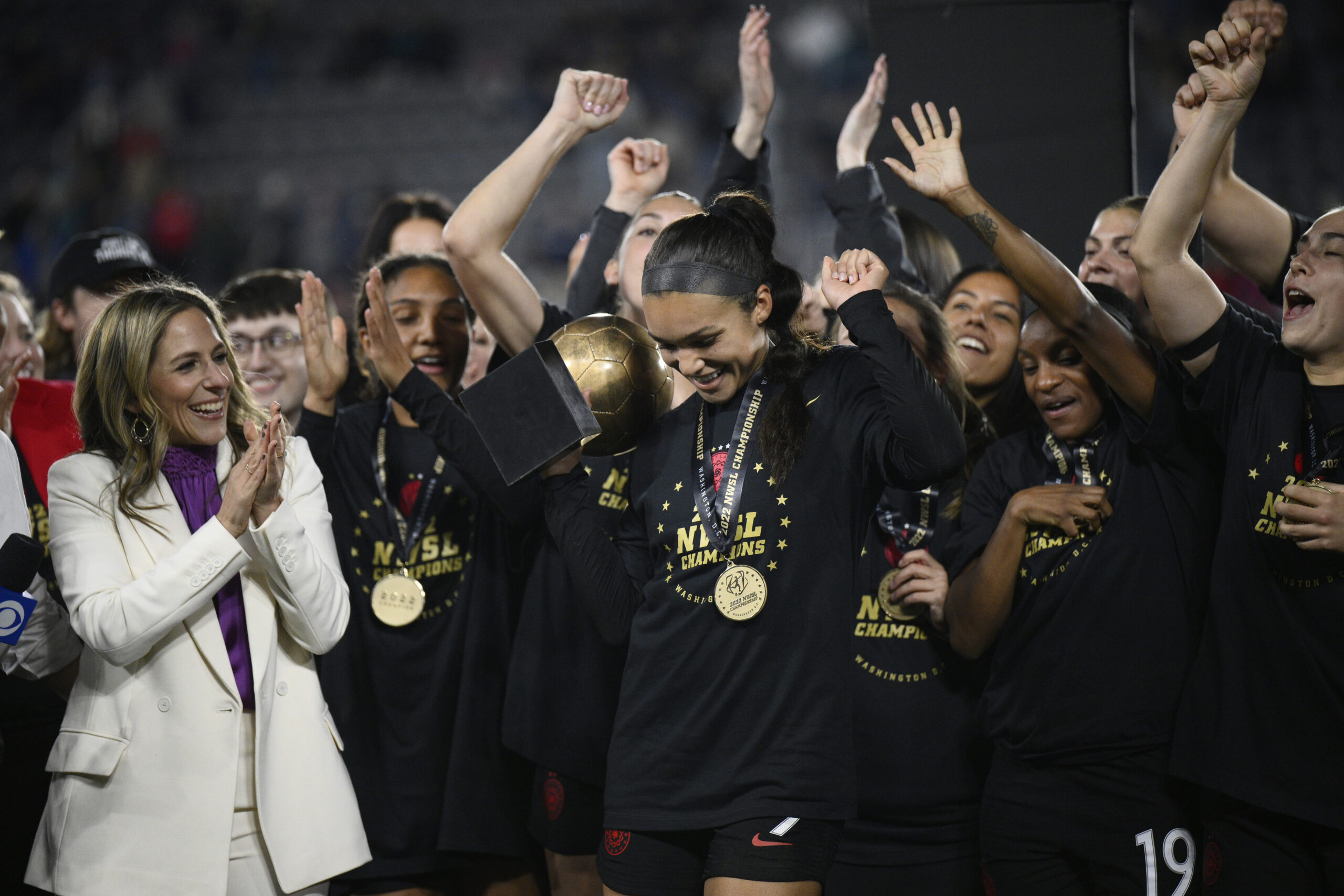 Long-awaited expansion plans will be announced shortly, National Women's Soccer League Commissioner Jessica Berman said last week before the league held its annual draft at the United Soccer Coaches Convention in Philadelphia.
The league plans to add two teams for the 2024 season. Salt Lake City, Utah, is expected to be one of the two teams while the other spot is reportedly a three-city race between San Francisco, Tampa and Boston.
"It'll be somewhere between days and months — more like weeks — when we'll be in a position to share information," Berman said. "What I can say is that I couldn't be more excited about the opportunities we have in front of us."
The announcement of Utah returning to the NWSL has been seen as a formality. Utah Royals FC entered the NWSL in 2017 and was owned by then-Real Salt Lake owner Dell Loy Hansen after a team in Kansas City folded. After allegations that Hansen was racist, sexist and oversaw a toxic work culture in 2020, RSL and the Royals were put up for sale.
Angie and Chris Long bought the Royals in December 2020 to bring the NWSL back to Kansas City; when the Royals left Utah, the league included a clause to allow the future new owners of Real Salt Lake to revive the market's NWSL franchise for a set fee. David Blitzer and Ryan Smith bought Real Salt Lake before the 2022 MLS season and have said the clause would be activated. Expansion in 2024 comes after successful  launches with the San Diego Wave and Angel City FC in Los Angeles last season.
"We have the premier women's professional league in the world," said JT Batson, U.S. Soccer chief executive officer, during a convention session. "There's a dynamic that didn't always exist on the women's side where before there was a lot of time spent for our players was in expanded national team camps. With the growth of the NWSL and the continued investment by owners in the league, the environments for year-round, top-notch competition and quality is an advantage we have."
Following in 2024 is not only expansion in new markets but the scheduled opening for KC Current Stadium at Berkley Riverfront Park, the first soccer-specific stadium built for women's pro soccer and coming after the 2022 launch of the team's training facility.
"(The players) walked into the weight room and said 'it's our crest, it's our name, it's our logo,'" Angie Long said at a convention session focusing on the franchise's growth. "They've never had their own facility before. They take a sense of pride of that."
The NWSL has not announced a host for the 2023 championship game. Berman said the league will have soon an RFP out for markets.
"I do think we have the best league in the world," said U.S. Soccer President Cindy Parlow Cone during her session with Batson at the convention's exhibit hall. "Every week it's a competitive game, any team can beat any team and I don't think there's another professional league in the world you can say that."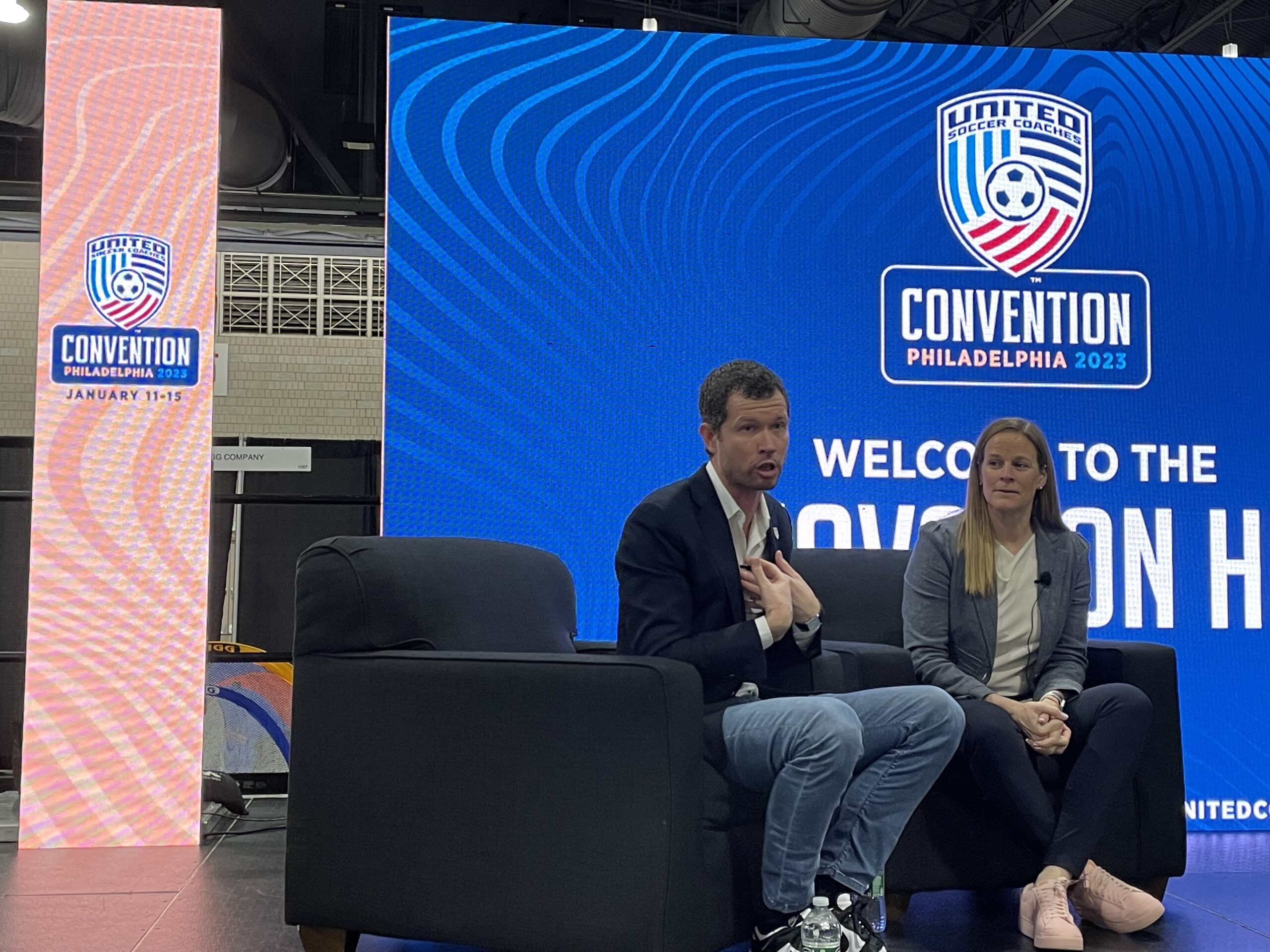 On-Site Qatar Observations from Attendees
The convention was held a month after what many believe was the best World Cup championship game ever as Argentina beat France in penalty kicks after a 3-3 tie. Among the lucky few able to see the game in person is Tighe O'Sullivan, the chief commercial officer and global director of sales for EventWizard and who also organizes Pro-Am Beach Soccer events.
"The fervent fans of Argentina was catching my eye almost as much as the game," said O'Sullivan, who has been to five World Cups and four title games. "To witness that kind of history and see the excitement and passion of the Argentines at that moment was truly invigorating and will never be forgotten."
O'Sullivan said the public transportation was well-organized and Uber was also a popular mode of transportation for fans. The much-publicized event app was not as impressive in his mind but "in general, it was a very well-organized event, much more than I thought it was going to be" and when being around Qatar, the country understood the branding opportunity it was with the world's eyes upon it.
"Outside of the social and political issues that surrounded the country, they decorated the entire city," said US Youth Soccer Chief Executive Officer Skip Gilbert, who was able to visit the Fan Festival and see the Portugal-Switzerland Round of 16 match. "No matter where you looked, you knew you were there for the World Cup. At night, you looked at any building at night, it was lit up in World Cup colors. They clearly embraced the whole concept of this is the world's game and the world is coming to watch this competition."
Parlow Cone mentioned how as U.S. Soccer president, she watched U.S. games at the VVIP section, the exclusive seating area for FIFA's top dignitaries where people watched games quietly with little reaction to a goal. "When Tim Weah scored (against Wales), I jumped out of my seat and I'm screaming and clapping," Parlow Cone said. "Then I looked around and was like 'oh.'"
USL Deepens Ties to Women's Game
The United Soccer League last week unveiled its strategy to grow women's soccer that includes over 200 markets in 42 U.S. states and two Canadian provinces. Step Up lays out a pathway for players from youth to professional, including the professional Super League, expansion of the pre-professional W League and the USL Academy for girls.
The USL Academy is expanding to 38 teams participating in the 2023 USL Academy Cup. The W League will increase to 65 clubs in 2023, with a target of 100 by 2026. The Super League will start in August 2024 with up to 10 teams.
Dr. Missy Price, vice president of women's soccer for USL, said the strategy will focus on building a pathway on development starting at the academy level; ensuring the women's soccer ecosystem is sustainable; and supporting the existing landscape while working to accelerate growth in new areas.
The women's academy system has shown dividends; 19 W League players signed pro contracts after 2022 season and 10 W League players are in the U.S. Youth National Team setup system.
"We want to be able to create a pathway were players, coaches, executives can continue to develop and reach the next level," Price said, adding the Step Up strategy could create thousands of front office jobs plus hundreds of coaching positions and 25,000-plus playing opportunities.
Economic Impact for Philly
The United Soccer Coaches Convention annually draws more than 12,000 from the worldwide soccer community and organizers said it brings an estimated economic impact of $15–18 million.
"It all ties in between what a great convention tourism destination we are in the first place for a lot of obvious reasons … plus it intersects with being an extraordinary sports town in the first place," said Gregg Caren, president and chief executive officer of the Philadelphia Convention and Visitors Bureau. "Then it's a double jolt with one of the groups that is part of one of the fastest growing sports in the country. When you cross all those things over and add in being a major education market, all of those things have touch points as it relates to soccer and soccer coaches exchanging best practices and everything relating to their profession."
The event will head to Anaheim, California, in 2024, then rotate through 2032 between Anaheim, Baltimore, Chicago, Kansas City and Philadelphia.