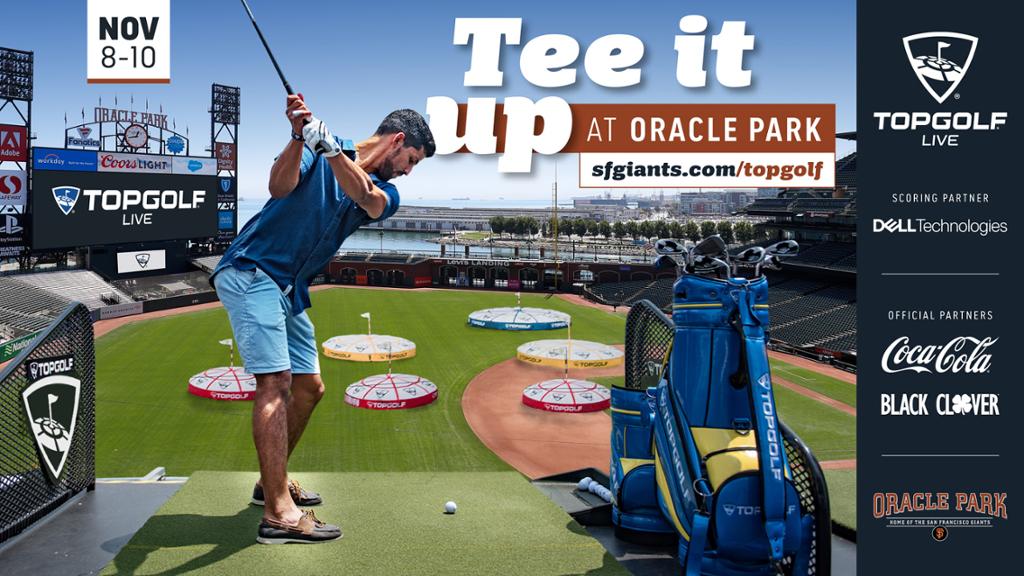 The San Francisco Giants will host a Topgolf Live experience event in November, giving fans and golfers a chance to hit balls from Oracle Park's Alaska Airlines Club level onto the field in the hopes of hitting a series of targets.
The event will be held November 8–10. Last year's event at the field drew more than 5,000 spectators. The event is the latest in a series of partnerships for the Topgolf organization.
"Topgolf is excited to be back at Oracle Park, home of the San Francisco Giants and iconic venue in The Bay Area," said Topgolf media president YuChiang Cheng. "Topgolf is focused on bringing the community together to celebrate life's moments, big or small. By introducing fans to the Topgolf experience at our Topgolf Live event, we hope fans can discover common ground through friendly competition and fun."
The three-day event will include food and beverage options, music and additional entertainment options. Topgolf Live features technology that traces the flight path of golf balls, instantly scoring every shot and allowing players to compete against others while they aim for massive targets ranging from 40 to 150 yards away on the field. After dark, the targets will glow and light up the field.
"Topgolf is a one-of-a-kind experience and we are very excited to build upon last year's event this fall," said Giants Enterprises President Stephen Revetria. "With the addition of our state-of-the-art video board, we expect this program to be a truly memorable experience for the Bay Area community."
Tee times are reserved in one-hour increments and prices start at $50 for player tickets and $100 for premium tickets. Premium tickets include food and beverage vouchers, drink tickets and other benefits.