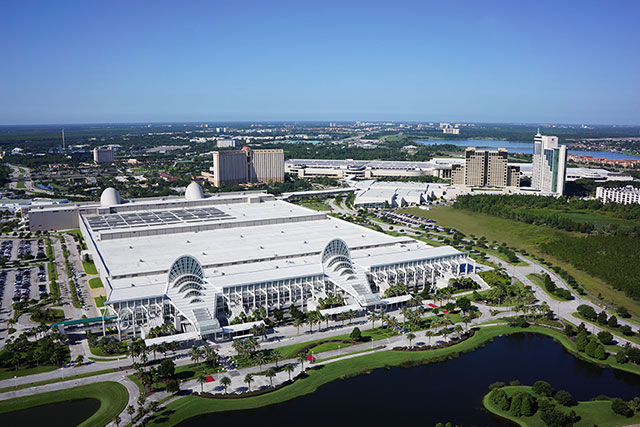 The Orange County Convention Center in Orlando, Florida, will be transformed this summer with three events starting in late July as part of the Summer Elite Grassroots Basketball tournament series.
"As one of the first venues to resume convention operations, our success is testament on how modified sporting events can be hosted safely, responsibly and enjoyably," said OCCC Executive Director Mark Tester. "Since the onset of the pandemic, the OCCC has hosted more than 50 events and many were sporting events. We thank our partners for their continued confidence in our center and look forward to working with many other sports organizations in the future."
The Orlando Splash will take place July 20–22 and The National Championship on July 23–25 will be hosted by Ohiobasketball.com and 3C Basketball. These events will be open to girls' basketball teams composed of players graduating from 2022–2027. Both events are scheduled to coincide with the NCAA's Recruiting Calendar and are sanctioned by the NCAA to allow prospective student-athletes to be seen in person by college coaches.
"We're incredibly excited to bring two of the nation's favorite and well attended girls exposure basketball events to the wonderful city of Orlando," said Tucker Neale, Ohiobasketball.com president. "The National Championship has been a pillar in the Girls Exposure basketball scene since 2017 and The Splash since 2018 and I believe this is the perfect pairing that the girls' basketball exposure community has been looking for."
In addition to the girls' events, the Grassroots Basketball Summer Championships for boys teams from grades 5–11 as well as unsigned seniors will be July 28–August 1.
"We are thrilled to welcome Ohiobasketball.com, HoopSeen, NY2LA, and HoopGroup to Orlando," said Jason Siegel, president and chief executive officer of the Greater Orlando Sports Commission. "The Orange County Convention Center is the perfect venue to safely host these elite travel basketball events under one roof, and we are confident that the athletes, coaches and their families will have a wonderful experience in Central Florida."