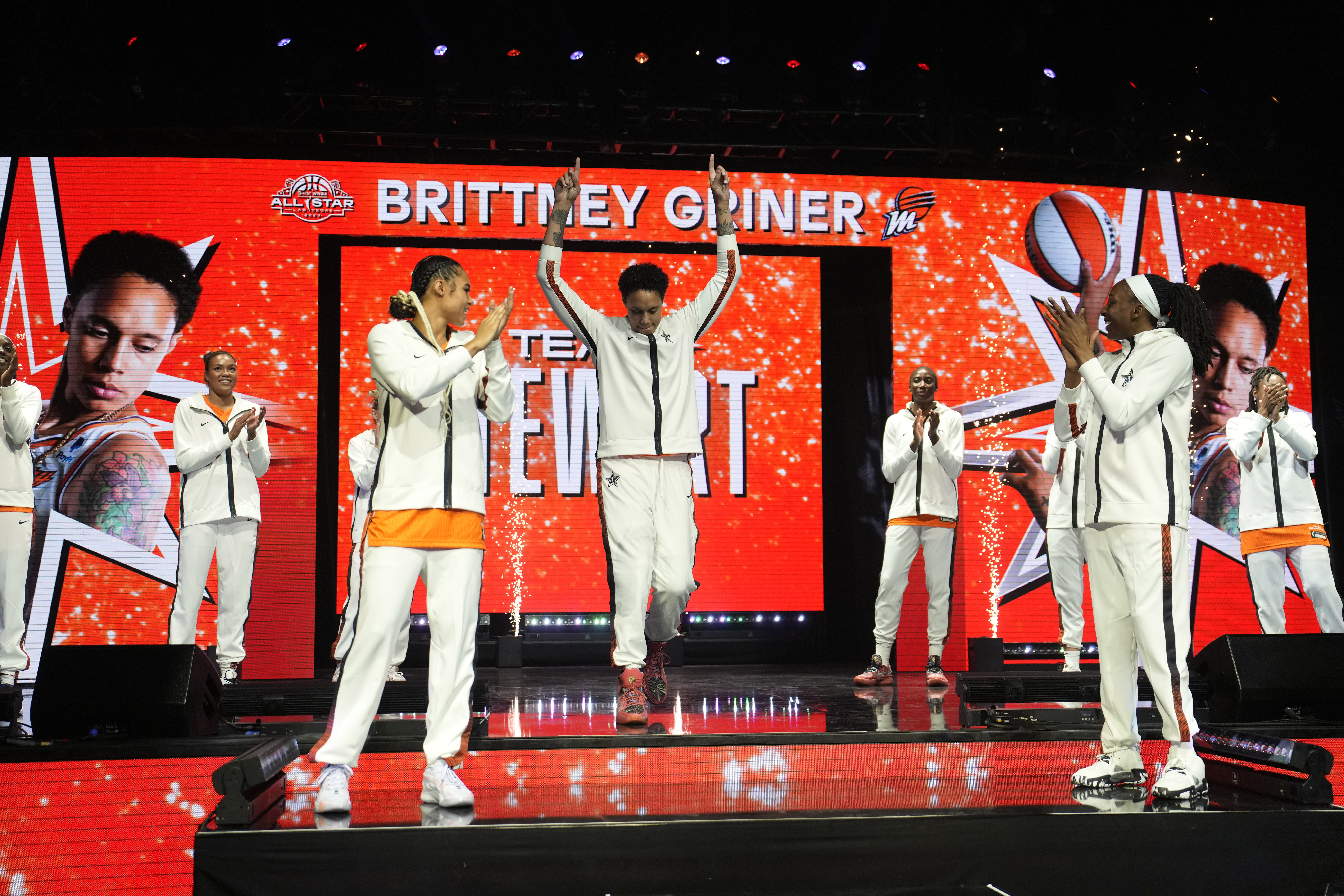 The 2024 WNBA All-Star Game is headed to Phoenix, setting up as a home game for Brittney Griner and Diana Taurasi and a sendoff to the U.S. Olympic women's basketball team.
This will mark the third time that Phoenix will host the WNBA midseason showcase, after it was previously held in the city in 2000 and 2014. WNBA Commissioner Cathy Engelbert made the announcement in Las Vegas, site of WNBA All-Star 2023.
The game is expected to be similar to the 2021 version that featured the U.S. Olympic team playing against players not selected for that team. The All-Star squad beat the U.S. team that year 93-83. The exhibition contest would give the Olympians a marquee event on home soil before heading to Paris.
"It's challenging because it's an Olympic year, but I was adamant that we needed to have an All-Star Game because the players need to say they are an All-Star in that Olympic year," Engelbert said.
Taurasi has said she hopes to play in Paris and lead the U.S. to an eighth consecutive gold medal and earn her sixth individual gold. Taurasi is signed with the Mercury through next season, which would be her 20th in the league. Griner, who is a nine-time All-Star and two-time gold medalist, said she would love to play in Paris if asked and was in the All-Star game in 2014, the last time it was in Phoenix.
"I'm lucky enough for it to be coming back again," she said after dominating in her return to the All-Star Game on Saturday. "I know Phoenix and the Mercury organization are going to put on one hell of an All-Star. To play there in front of our fans, the city is going to come out, everyone's going to turn up. It's going to be a real good time."
Engelbert said that Taurasi's potential finale and Griner's return weren't big reasons in awarding the game to Phoenix "but those are nice to have as part of the storyline next year with it being an Olympic year." She added the league hopes to announce the site of the 2025 All-Star Game a year ahead again.
"We'll be talking to different cities, but we have a good idea because we already had seen the interest from this year's bids," she said. "We have a great footprint (in 2025) because there's no FIBA World Cup and no Olympics."
Besides the All-Star Game, players will showcase their skills in a 3-Point Contest and Skills Challenge.
"As I've said from day one, we are going to make Phoenix one of the leading basketball destinations in the world and the 2024 WNBA All-Star Game is going to be an unbelievable experience," said Mat Ishbia, Phoenix Mercury and Suns owner. "As the women's game continues to grow and reach new heights, we are going to put on an All-Star weekend that will accelerate that growth and elevate the league. I want to thank the WNBA and the entire Phoenix community for coming together to help bring the WNBA All-Star Game to the Valley. I couldn't be more excited to show the world what Phoenix basketball is all about."