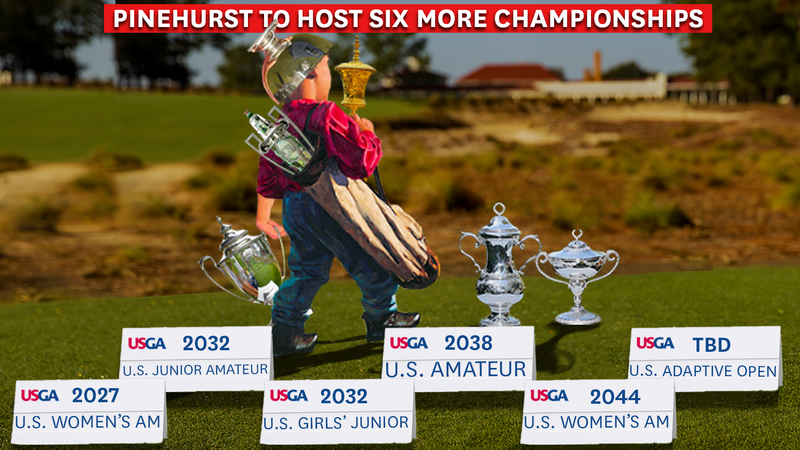 The United States Golf Association has announced that Pinehurst Country Club in North Carolina will serve as the host for six more USGA championships in the coming years: the 2027 U.S. Women's Amateur, 2032 U.S. Junior Amateur and U.S. Girls' Junior, 2038 U.S. Amateur, 2044 U.S. Women's Amateur and a future U.S. Adaptive Open.
The 2027 and 2044 U.S. Women's Amateurs and 2038 U.S. Amateur will be held on Pinehurst No. 2, with the remaining championship's courses to be determined at a later date. It was previously announced that Pinehurst will host the U.S. Open in 2024, 2029, 2035, 2041 and 2047. The U.S. Women's Open will come to Pinehurst in 2029 as well.
"Bringing more championships to a venue like Pinehurst is a testament to the USGA's commitment to our long-term partnership with the resort and our promise of expanding the presence of our organization in the area," said John Bodenhamer, USGA chief championships officer. "Pinehurst's rich golfing heritage and commitment to excellence make it the perfect setting for all of the USGA's world-class events. Their commitment to our Open championships is incredible and now we are able to shine a light on the amateur game here as well."
It will mark the first time the U.S. Junior Amateur and U.S. Girls' Junior will be contested at Pinehurst. The resort has hosted one U.S. Women's Amateur in 1989 and the U.S. Amateur will be played at Pinehurst for a fourth time when it returns in 2038.
"We are honored and thrilled to welcome these USGA championships to our historic venue in the years to come and today continues to help us achieve our goal of hosting a variety of premier championships," said Bob Dedman Jr., speaking on behalf of the Dedman family, which owns Pinehurst Resort. "This continued partnership with the USGA reflects our shared dedication to the game of golf and the bright future we envision together. Pinehurst's legacy in golf combined with the USGA's commitment to innovation ensures that our collaboration will continue to create memorable championship moments for years to come at all levels of the game."
North Carolina has hosted 37 USGA championships overall, including 12 at Pinehurst Resort. In recent years, Pinehurst was the site of the 2017 U.S. Amateur Four-Ball Championship, the 2019 U.S. Amateur Championship, the U.S. Adaptive Open in 2022 and 2023 and back-to-back U.S. Open and U.S. Women's Open Championships in 2014.