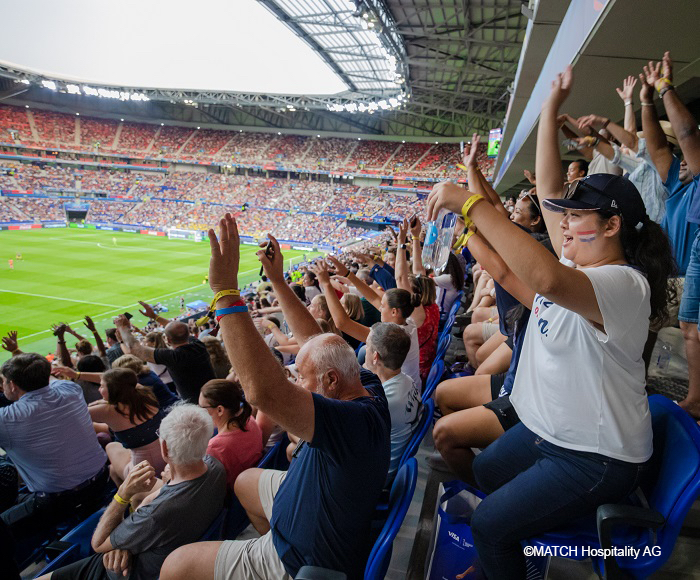 Match Hospitality has appointed Premier Hospitality, Elevate and Overseas Network as its Sales Agent in the United States for the sale of the Official Hospitality Programme of the FIFA Women's World Cup which starts July 20 in Australia and New Zealand.
Premier, Elevate and Overseas have formed a sales and marketing partnership with Match Hospitality that delivers a team of sales professionals providing clients with access to hospitality packages for the FIFA Women's World Cup. The partnership will operate as MATCH Hospitality USA for this venture and will leverage the combined expertise and network of the agencies.
"We are honored and excited for the opportunity to, once again, partner with Match Hospitality, Premier Hospitality and Overseas Network to support the FIFA Women's World Cup Australia & New Zealand 202 by providing U.S.-based fans with exclusive access to prime seats and premium hospitality at this marquee event," said Dan Rosenthal, senior vice president at Elevate. "The dynamic, global nature of this event, the extraordinary fandom and interest, and Match's's unapparelled premium offerings provides Elevate the opportunity to curate bespoke and comprehensive travel, premium seating, hospitality, and experiential packages for clients. From takeoff to kickoff, we are proud to provide full-service support for our guests traveling to Australia and Aotearoa New Zealand."
Official Hospitality offers a range of packages. Match Private Suite will allow for exclusive use of suites with direct access to seats, a private dining experience and selection of beverages plus extended service and a commemorative tournament gift. Match Club will include service before kickoff, at halftime and postgame with a deli-style menu and beverages in a family-friend lounge setting. Match Place is a ticket-inclusive hospitality product with food and beverage service direct to your seat with two separate tiers of service depending on the package.
Match Hospitality USA also offers various services in conjunction with the hospitality packages, including flights, accommodation, transport, and social programs. Last year at the FIFA World Cup Qatar 2022, Match Hospitality sold an estimated 257 000 hospitality packages and surpassed the record for any sports hospitality program.
"Our sales agents are a key component to the success of this tournament as they have been with prior ones. I know that Premier, Elevate, and Overseas will deliver the best possible results for the FIFA Women's World Cup 2023 and open the door to a United States market ready for hospitality that raises the event experience 'Above & Beyond'," says Jaime Byrom, executive chairman of Match Hospitality.
Australia and New Zealand are stepping up countdown activities until the tournament starts. FIFA and Destination NSW announced that on June 25 the Sydney Harbour Bridge will turn into a festival of football to celebrate 25 days to go until the official kickoff of the event. Stadium Australia will host the Matildas' opening match of the 2023 FIFA Women's World Cup against the Republic of Ireland on July 20 following significant interest for tickets. It was originally to be played at Sydney Football Stadium.
"We are excited to extend our successful partnership to act as the officially appointed sales agents for the FIFA Women's World Cup Australia & New Zealand 2023 Official Hospitality Programme in the United States," said Alan Rothenberg, chairman of Premier Hospitality. "The event will set new records and we know the USA's enthusiasm for the sport, combined with the quality provided in FIFA's hospitality programme will deliver a wonderful opportunity for everyone to enjoy the world's best soccer this summer."