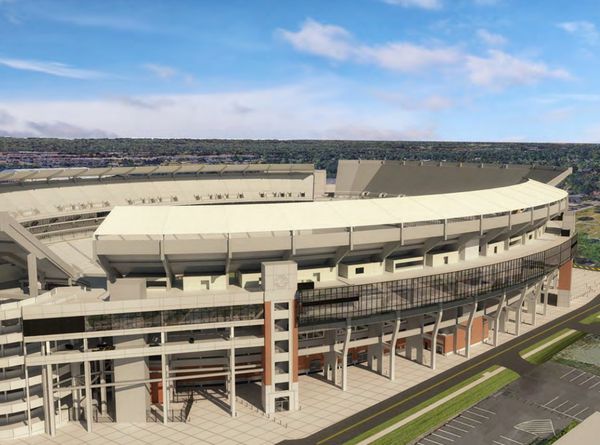 One of the largest stadiums in the world will be getting over $90 million in renovations that start soon with an eye toward being finished by fall 2020.
The 101,821-capacity Bryant-Denny Stadium, the home of Alabama football since 1929, will have $92.5 million in renovations throughout the stadium. The complex will have four new corner videoboards in time for next season's home opener plus student social spaces, luxury boxes, a new club seating area by an end zone and a tunnel through the north end zone steps leading into the Alabama locker room.
Additionally, the press box will be relocated from the west side of the stadium to its east side, clearing the way for construction of new premium seating areas. Work has been underway to prepare the foundation for an expansion on the west side, but construction is expected to get into full swing after Alabama hosts rival Auburn on Saturday.
The most elaborate work will be on the west side, where the press box and club seating areas will be torn out and a new structure will be built to hold the new premium areas and ultimately expand the stadium.
Originally opening with a seating capacity of 12,000, Bryant-Denny Stadium underwent five renovations from 1937 through 1988 as capacity grew to 70,123. Extensive additions for additional seating were built in 1998, then again in 2006 and 2010.