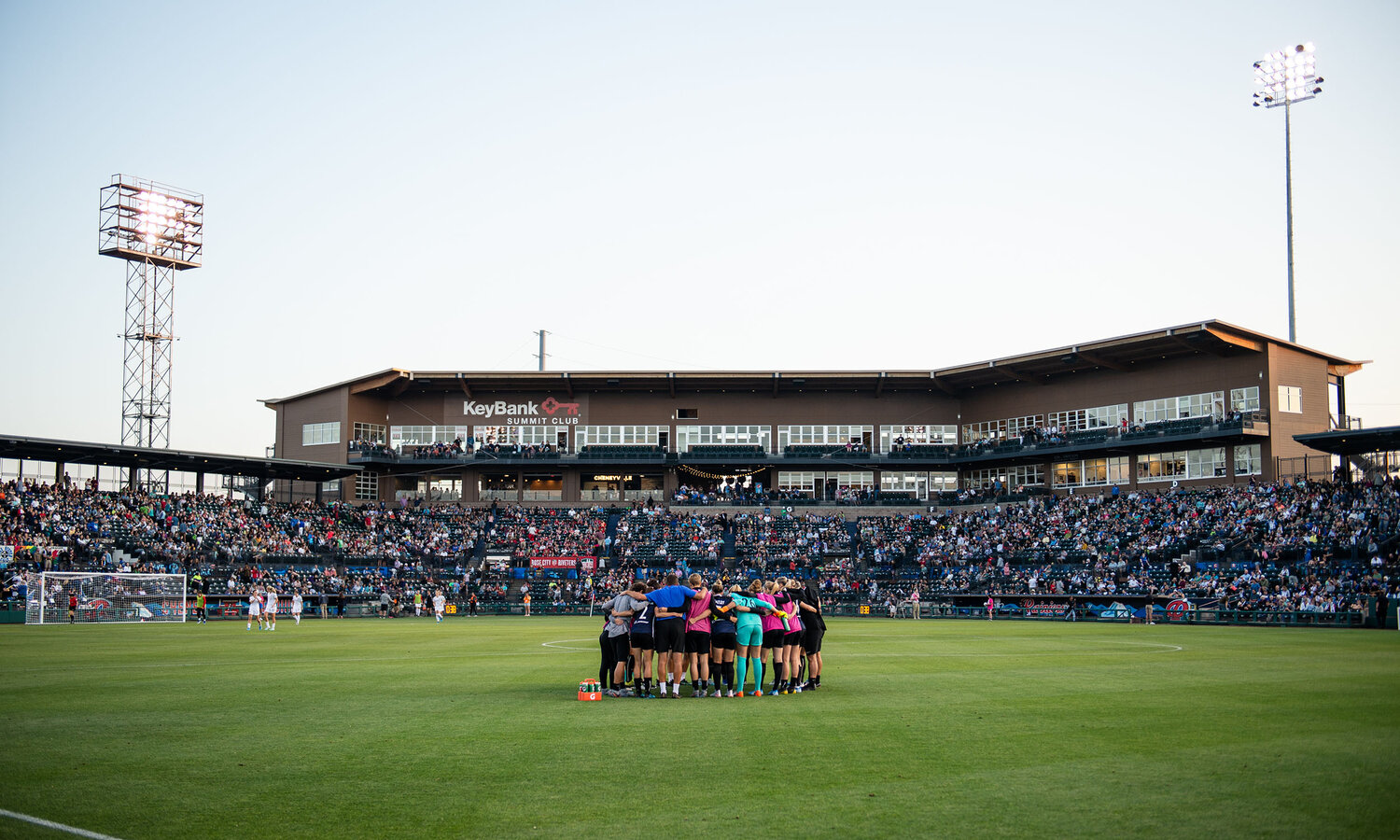 One of the biggest clubs in international women's soccer may be moving into the National Women's Soccer League.
The OL Groupe, the parent company of French powerhouse Olympique Lyon, is in exclusive negotiations to buy Reign FC, the Tacoma-based NWSL club that is the home of U.S. stars Megan Rapinoe and Allie Long. A release by Reign FC says the transaction is expected to close by the end of January.
Olympique Lyon has won 13 consecutive domestic league championships and six UEFA Women's Champions League titles, including the last four. It would be a dramatic move into the American market by the club, which competed in the inaugural ICC Women's tournament this past summer.
"Our ambition has always been to operate the best women's football club in the world," said Reign FC majority owner Bill Predmore. "This is a distinction long held by OL, making them the perfect organization to help us achieve our long-term objectives for the club."
Current Reign FC majority owners Teresa Predmore and Bill Predmore will retain a minority stake in the club after the sale is completed, and Bill Predmore will serve as the CEO of Reign FC. Olympique Lyon would assume control of the Reign Academy and buy out the Hanauer Family and Tacoma Soccer Ventures, who were announced as investors in Reign FC in conjunction with the team's move to Tacoma in January 2019.
"Growing the club, the league and the sport demands increased investment in our facilities, our staff, our players and the league," said Predmore. "OL has the capacity to make these needed investments, and the knowledge and experience to make those investments in the manner most likely to yield results. We believe the combination of OL's experience and expertise with our knowledge of the market and league will allow future investments to deliver the optimal impact to the club and to the NWSL."
Olympique Lyon has a track record of having U.S. players come and play on loan from the NWSL. Rapinoe has played for the team in the past as well as U.S. stars Alex Morgan, and Morgan Brian are among the seven Americans who have played for the club. Along with Rapinoe, Reign FC player Jess Fishlock has played for OL on loan, winning a UEFA Women's Champions League medal earlier this year.
Next year will be the eighth in the NWSL's existence and is expected to introduce a new commissioner in 2020 after being led this past year by President Amanda Duffy. Riding a massive wave of attention after the U.S. women's national team won the 2019 FIFA Women's World Cup, the NWSL recently announced new compensation rules for the 2020 season, which will see increases in player compensation.
Since its founding in 2012, Reign FC has made four playoff appearances in the NWSL's seven seasons. Vlatko Andonovski recently left the team as head coach to take over the U.S. women's national team. The team was previously called Seattle Reign and rebranded before the 2019 season as part of a move to Cheney Stadium in Tacoma, where it set several attendance records for the season including a single-game record of 7,479 for a game against the Chicago Red Stars after the U.S. won the FIFA Women's World Cup.
"Teresa and I are proud of what the organization has accomplished over the past seven years and believe these efforts have created a strong foundation for the club's future success. That said, we know that there remains much work to do to realize our dreams and aspirations for the club," said Predmore. "We are deeply appreciative of the fans, supporters, and our partners in the business community who supported the club over the past seven years and helped make the club a success."