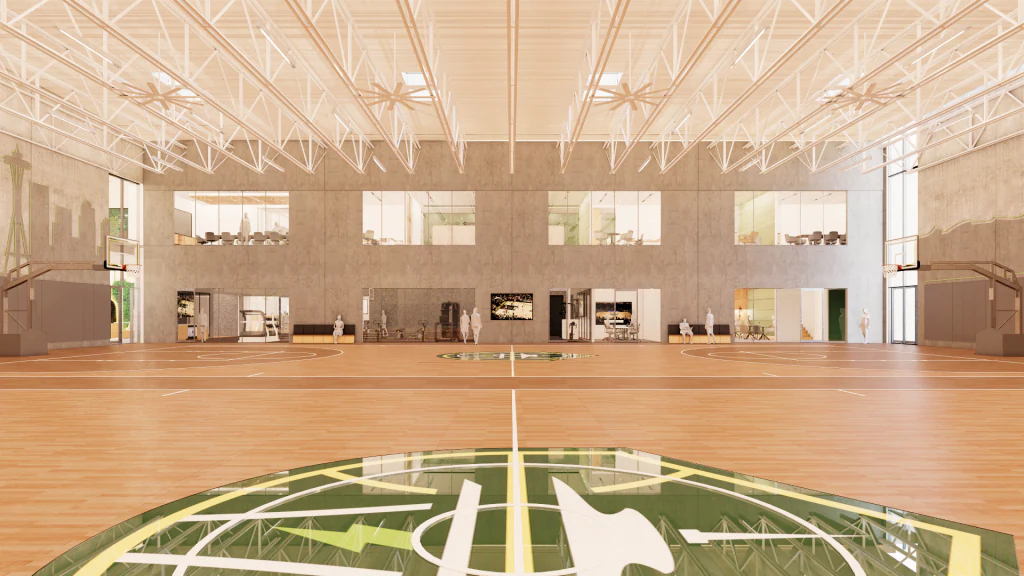 The Seattle Storm will build a practice facility and training center to house basketball and business operations with a targeted opening of 2024, encompassing two practice courts along with locker rooms, a lounge and a nutrition center for players, and strength and conditioning training spaces.
The facility — with 85 percent of project team members being women — will also be home for the franchise's business offices. Construction is expected to begin in spring 2023. The Storm shared a practice facility with the Seattle SuperSonics from 2000–2008 before going to Seattle Pacific University after the Sonics were relocated to Oklahoma City.
"We are excited to create a state-of-the-art training facility for our team and for our city. The Storm facility will provide our athletes with a dedicated space to support them holistically, from training to health and wellness," said Lisa Brummel, co-owner of the Seattle Storm. "This facility reflects our franchise legacy, our athletes' success, and aims to promote and grow the women's game and expand youth access to play."
The building design will take inspiration from the roots of its industrial neighborhood and the project will be designed to achieve LEED Gold certification, featuring all-electric operations and a rooftop photovoltaic array. Upon the building's completion, the franchise will continue its work with non-profit and community partners, welcoming them to its new home to collaborate in supporting community development.