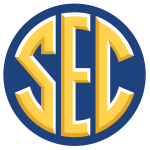 The Southeastern Conference will keep its Men's Basketball Tournament in Nashville through at least 2030—and possibly to 2035—in an extension signed with the Nashville Sports Council.
Under the terms of the extension, Nashville will host every year of the tournament through 2030, except in 2022, when the tournament will be played in Tampa, Florida. (The SEC Women's Basketball Tournament will be played in Nashville in 2022.) The deal also includes an option to extend the agreement through 2035.
"Nashville has proven to be an outstanding home for Southeastern Conference basketball and we are pleased to reconfirm this long-term relationship with Music City as the host for these championship events," said SEC Commissioner Greg Sankey. "Nashville provides tremendous support for this tournament, creates lasting memories for our student-athletes and offers an outstanding experience and venue for our fans."
Sankey said long-term hosting agreements may be in the conference's future. "The SEC has experienced success with long-term championship site agreements in Atlanta for football, Hoover for baseball and now Nashville for men's basketball," Sankey said. "Similarly, we expect to identify a long-term home for our women's basketball tournament beyond 2022."
The upcoming 2019 tournament will mark the eighth time that the SEC men's championship has been held in Nashville's Bridgestone Arena. Nashville has hosted every edition of the tournament since 2013 with the exception of 2014 in Atlanta and 2018 in St. Louis.
The Nashville Sports Council estimates that the extended contract will generate $350 million in economic impact. Over the life of the agreement, the deal is expected to attract 3.2 million spectators and fill more than 200,000 hotel rooms.
"On behalf of the Nashville Sports Council, Bridgestone Arena and the city of Nashville, we are appreciative of the SEC and Commissioner Sankey's confidence in making Music City the home of the SEC Basketball Tournament," said Scott Ramsey, president and CEO of the Nashville Sports Council.