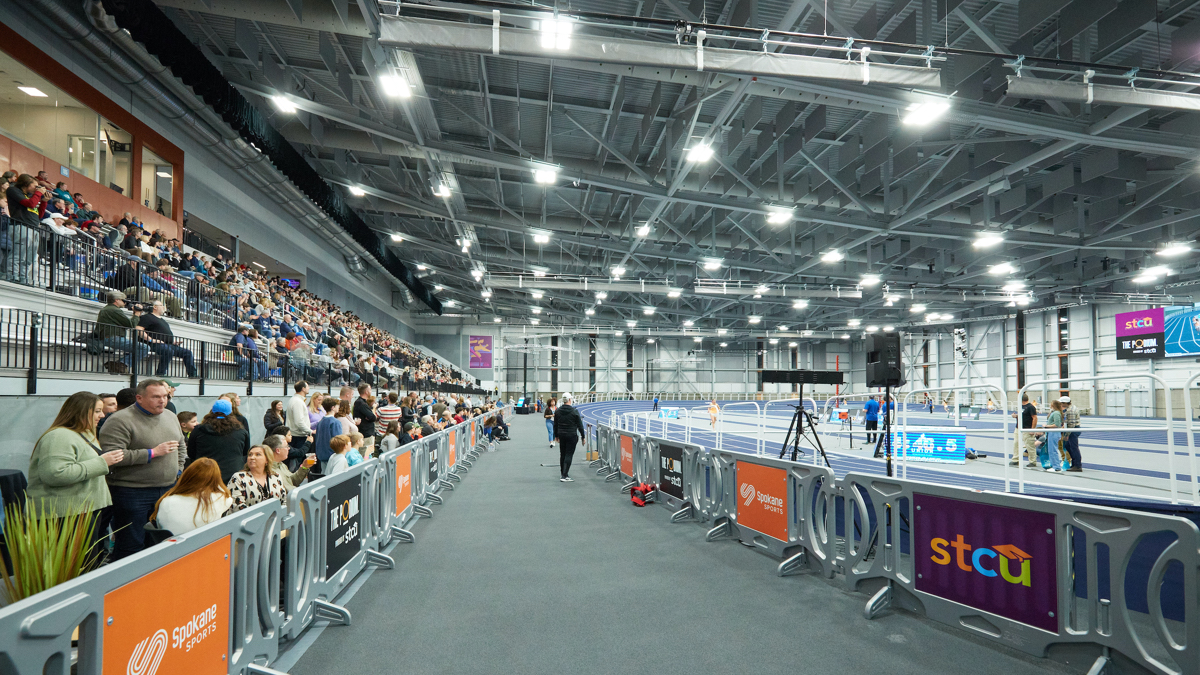 Spokane, Washington, is on quite a run—literally. The destination which has put itself on the map for indoor track events is looking to take its running events to the next level with the creation of a new cross country/cyclocross venue.
Ashley Blake, who started as an intern with Spokane Sports more than a decade ago, was named the organization's new chief executive officer nearly a year ago. In that time, Blake and her revamped team have committed to bringing more sporting events to Spokane than ever.
"December 5 is my one-year mark as CEO and it's been a good experience," Blake said. "I think the biggest thing for me is I have so many ideas going through my mind. So being with this organization that I started with as an intern and worked my way up, I have a unique perspective and it's been cool to put that to work."
The addition of The Podium, a 135,000-square-foot downtown venue that opened in 2021, has allowed Spokane Sports to take things up a notch. The Podium has already hosted the USATF Indoor Track and Field Championships and the USA Karate National Championships and Team Trials. The facility recently underwent upgrades to the acoustics, staging and lighting, which allows it to host non-sports events such as graduations and concerts.
"It evolved," Blake said of The Podium. "The intent initially was for it to just purely be a sports facility and then we started looking at the booking parameters and noticed that there were some other opportunities if we upgraded that facility. We're one of the few facilities that play on both sides of the fence. It's primarily a world class sports facility, but it also just hosted a Jimmy E. World concert, which is pretty cool."
The Podium, which won the SportsTravel Award for Best New or Renovated Venue in 2022, has given Sports Spokane the cache to bring in world-class events. But now, the organization has its eyes on another venue.
Going Cross Country
The Pacific Northwest has always been a hub for running. With The Podium providing an indoor venue for track events, Spokane is now looking to the east for a place to create a dedicated cross country running and cyclocross venue.
"Spokane has one of the largest road races, we have amazing trail running, our collegiate and high school programs have historically been strong," Blake said. "We have ongoing conversations with all of our collegiate conferences, the coaches, our officials, and really we thought about the next level that would make sense is a purpose-built facility for cross country running."
Enter Spokane Valley, a smaller community 15 minutes east of Spokane, and the potential of a cross country area and the ideal place for Blake to pursue her next big creation.
"The Podium is right for downtown Spokane — a $60 million brick and mortar facility in the downtown core," she said. "And a cross country facility would really be the right match and right asset for the city of Spokane Valley because it would highlight the terrain and natural features. It would complement and play into what The Podium is doing as far as putting Spokane on the map for running."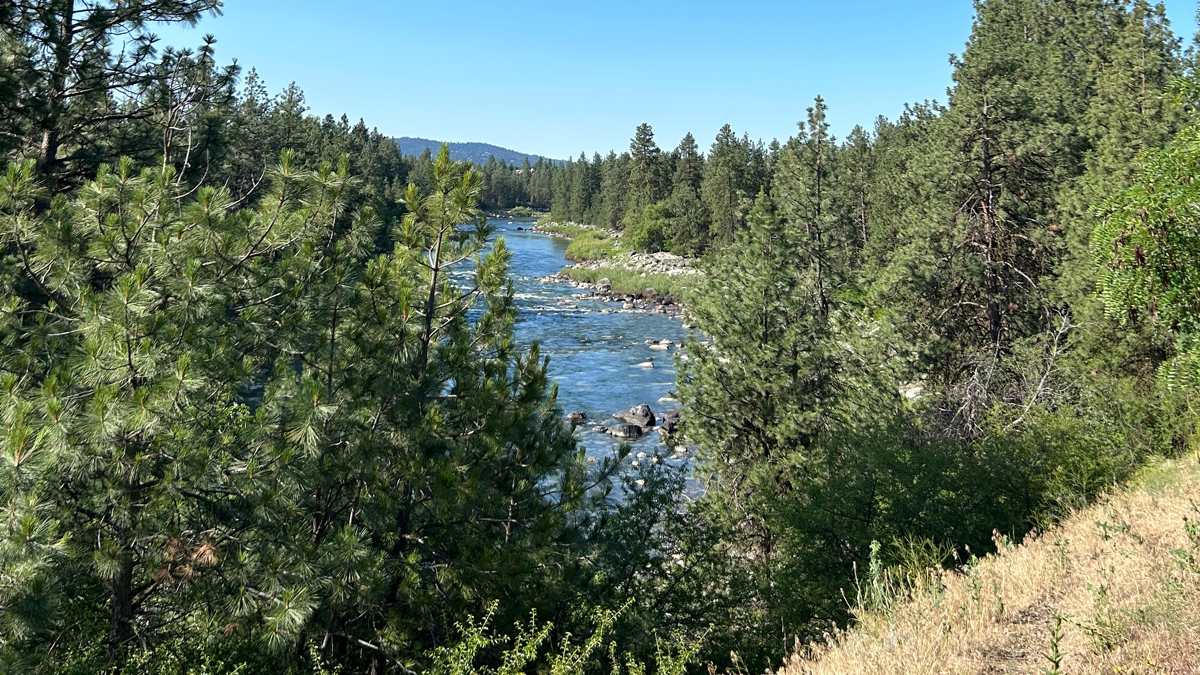 Spokane Valley owns 46 acres termed Flora Park, which the city purchased in 2020. Adjacent to it is another 14 acres that may be gained through land swap or lease from the state. Collectively, the site for the new cross country venue is about 60 acres.
The estimated cost of construction is $7 million, for both permanent competition trails and an on-site clubhouse. The plan is to use the course for 80% cross country running and 20% cyclocross biking. The course will include multiple loops of 2 and 3 kilometers that can be staged in various combinations and the venue will host events for every age group, from youth and middle school to post-collegiate and Masters races.
Blake and her team are hoping to break ground in Quarter 1 of 2024 and open the facility in the fall of 2025. Funding must be secured through a variety of channels.
"There's a lodging tax grant through the city of Spokane Valley that's been accruing for several years. So we just applied in partnership with the city for the amount of $4.4 million and presented to the Logging Tax Committee on it," Blake said. "The committee supported it and the Spokane Valley City Council supported it. So now it goes for the final rubber stamp on December 12. That gets us more than halfway there, which is significant."
There's also a $600,000 city of Spokane Valley legislative request to Washington State, which would bring the total to $5 million. Blake says the remaining $2 million would hopefully come through a handful of other grants that Spokane Sports is pursuing.
As it stands now, when Spokane wants to host a cross country or cyclocross event, it must retrofit a soccer complex, golf course or some other venue, which takes several days and costs a lot of money. The new proposed venue would give Spokane Valley its own crown jewel to attract athletes, while eliminating the leg work.
"The key for this facility in particular is that it's introducing a new revenue stream for the city of Spokane Valley," Blake said. "It's giving them something that's iconic and their own, while also playing into the community target of putting Spokane on the map. So I think it's really about giving Spokane Valley their own identity and asset, and the success of The Podium certainly supports that notion. This project was really about setting our sights on a national caliber, purpose-built turnkey facility."
Growing The Team
Blake also focused on expanding the Spokane Sports team during her first year as chief executive officer. A staff reorganization in April led to the team doubling in size to 10 people with six contractors also added.
"We now have a team of specialists rather than generalists and that's been a pretty cool transformation," Blake said. "We have this custom-built organization with a really clear vision, with new talent that we've paired with the wise old owls on our staff."
Blake says there's also been a change of hiring strategy, as the organization has typically developed people through the organization. They added three coordinators who are supporting the leadership team with efficiencies and functions, but also added at the top.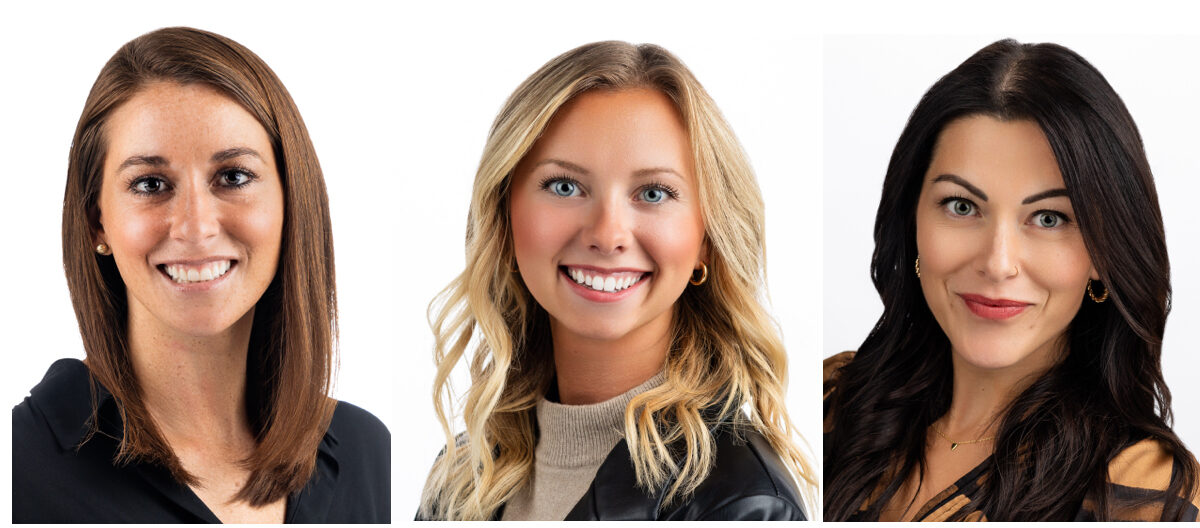 "We added a really talented director of marketing communication, Keytra Lewis, and a director of business development, Marit Jacobs, who is focused on sponsorships, strategic partnerships, brand alliance, grants and generating outside revenue," Blake said. "Keytra is supporting us with event hosting and production, but she's really looking bigger picture like the website, community awareness campaign, social strategy, and driving thoughtful brand engagement. So to have both of them as new hires and have them starting as basically an incoming class, has been really powerful."
Having a larger team is imperative right now for Spokane Sports between working like all destinations on bidding for future NCAA Championships plus — between The Podium and a new cross country venue — organizing youth, middle school, high school, collegiate masters and post collegiate events. Blake plans on creating new events as well.
"Having these facilities points to the fact that we have such a passionate community that is all about embracing sport and welcoming people to our market and doing it in a genuine and thoughtful way," Blake said. "Our community genuinely takes pride in rolling out the red carpet and welcoming people to our market to compete, to coach, to spectate, to officiate. And I think that's really, really powerful and also very unique."