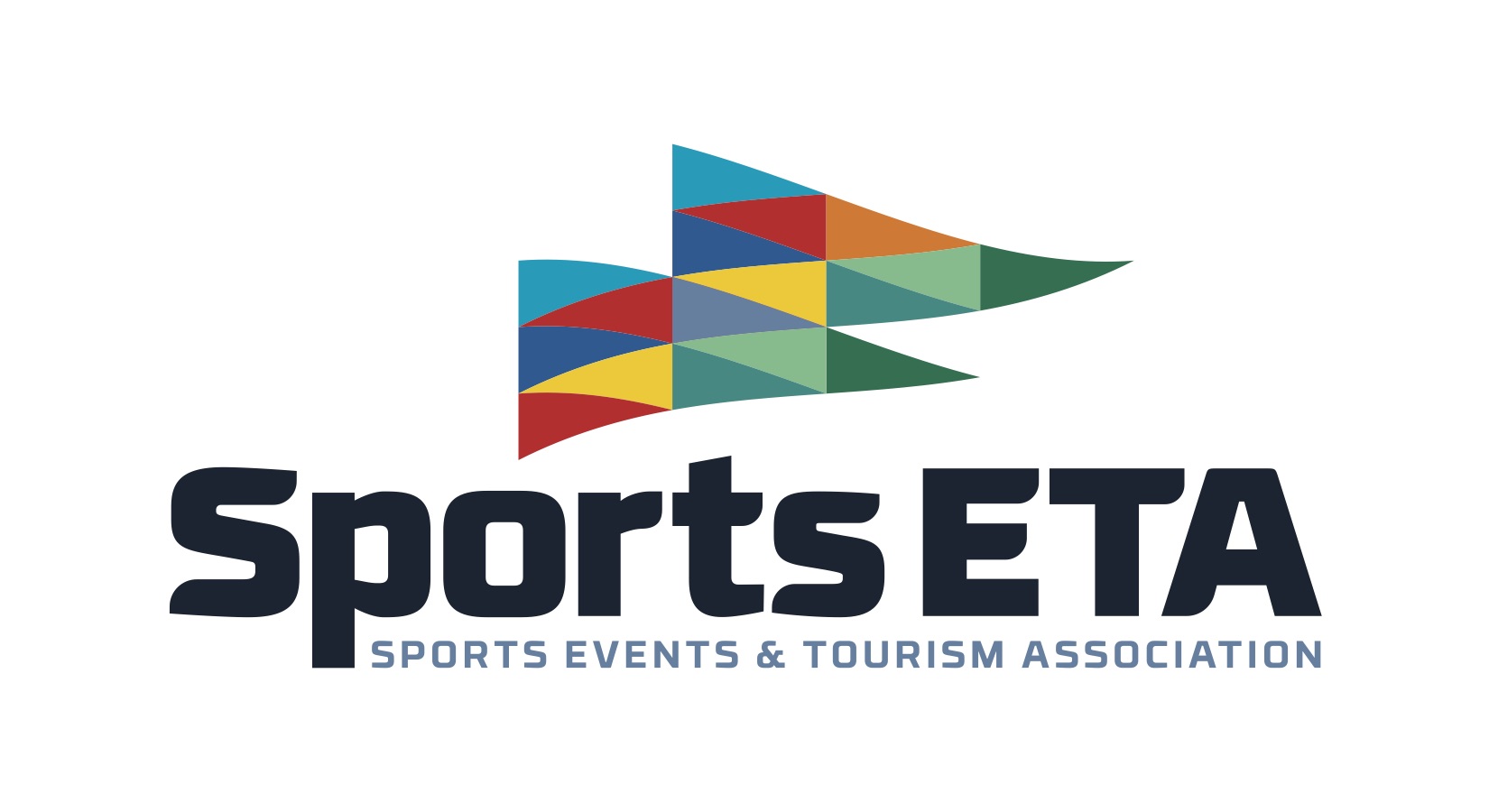 This year's Sports Events & Tourism Association Annual Symposium brought more than 900 attendees to the Kansas City Convention Center but in many ways, it was just another eventful week in what has been a historic year for the Missouri destination.
Between the hometown Chiefs winning the Super Bowl in February, a downtown parade in the days following, the Win for KC luncheon honoring girls and women in sports and the recent NFL Draft, "it has been a steamroller since the middle of January," said Visit KC and KC Sports Commission Chief Executive Officer Kathy Nelson, who admitted on the symposium's final day, "I never thought in my professional career we would be this busy, especially when it comes to sports."
The 2023 NFL Draft reportedly drew over 300,000 fans to Kansas City over the long weekend of activations and actual draft selections, a number that did increase thanks to local interest in the wake of the Chiefs' Super Bowl win.
"Even if they hadn't won the Super Bowl, Chiefs Kingdom certainly shows up," Nelson said. "What I hadn't come to appreciate was how much that would make an impression on the NFL. The weeks leading up to the draft, it was 'let's adjust some of our marketing, because so many people are downloading the OnePass app.' They were breaking records with how many people have signed up."
While not as front-facing as the draft, hosting the symposium also brings benefits to Kansas City. Between the hundreds that attended Royals games during the week and frequented restaurants and bars in the Power & Light District, it was a chance to showcase the city to those within the sports industry.
"I've spoken to three people in the last two hours who have said 'I've got to come back and vacation here,'" Nelson said. "The other important thing is the event owners who are here, to not only see how great the city looks and feels but to meet our staff. We have almost the entire sports commission staff here and a big portion of the Visit KC staff here. Now they get to meet more and more people — instead of us traveling with three or four people, we have 20 people here. So we're able to meet more, mingle more and network more, and people start to feel our heart a little bit and see how much we care about events."
The steamroller does not stop in Kansas City, however. This weekend brings the annual KC Triathlon, an event that the sports commission owns and operates. There are three weeks of girls sports camps after that with more than 1,000 participants and in early June, there is the commission's annual awards banquet honoring the best athletes and sports coaches and executives in the region.
"We thank Kansas City for hosting our annual Symposium where we convene our sports events and tourism industry leadership," said Al Kidd, Sports ETA president and chief executive officer. "We enjoyed a productive week of meetings and programs to discuss best practices, new trends and business opportunities."
—Matt Traub
State Money, Local Events
The session called "The Wave is Upon Us: State-Level Investments in Sporting Event Procurement" dove into how organizations can obtain state-level funding for events and how those funds are becoming more prevalent.
There were case studies and first-person experiences from the panel, which included Jonathan Paris, executive director of sports tourism for the Myrtle Beach Area Convention and Visitors Bureau; Mark Jeanneret, executive director for the Erie Sports Commission; Joseph Piotrowski, director of marketing/partnerships, Florida Sports Foundation; and Mike Mulhall, senior vice president of business operations for the Greater Cleveland Sports Commission.
Paris detailed the South Carolina Sports Tourism Advertising and Recruitment grant program, which provides financial assistance to nonprofit tourism or sports-related organizations for the recruitment of new events in South Carolina that will generate a significant additional economic impact on local communities through participant and visitor spending. Destinations must pay for expenses up front, with funds then being eligible for reimbursement post event.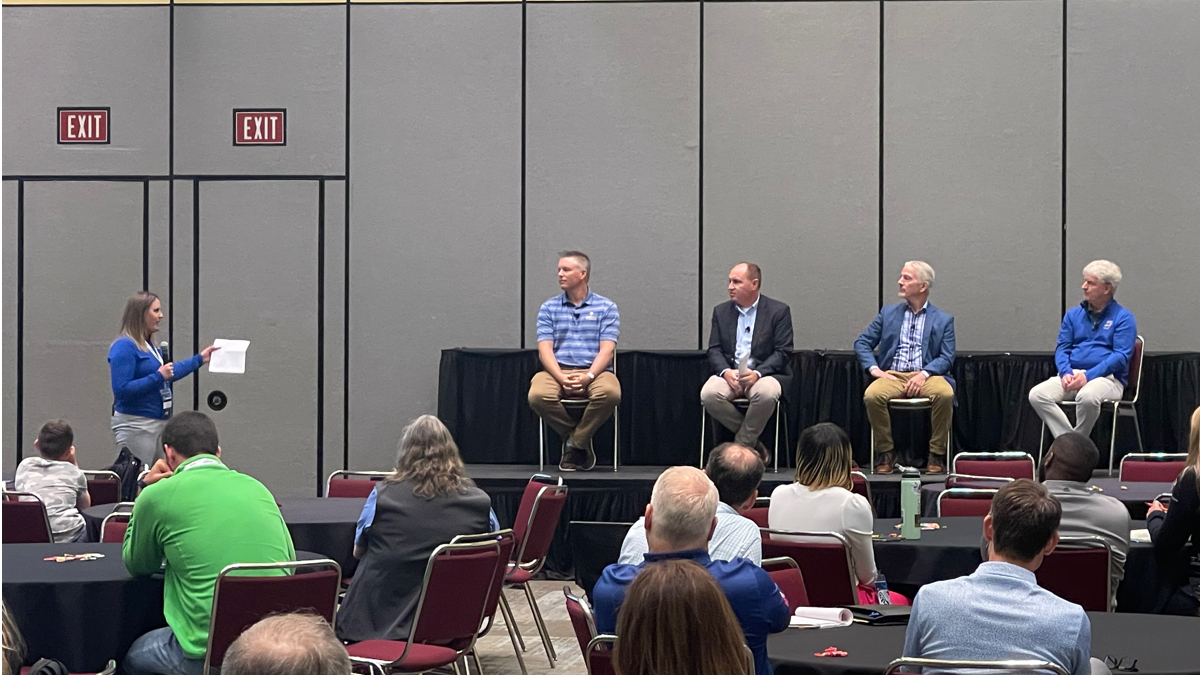 "We used our grant for the Myrtle Beach Bowl, which we produce in conjunction with ESPN Events, and we were able to recoup $50,000 back through the STAR Grant that we can use for smaller events," Paris said. "We took $7,500 of the STAR money and used it to fund a youth football league."
Mulhall says states that receive grant funding are seeing the price tag for bid fees continue to rise, noting that the NBA now has a seven-figure bid fee to host its All-Star game.
"As more states continue to gain access to these funds, the rights holders know about it, and are asking for more from us," he said.
Piotrowski added, "a martial arts event we're hosting might be $5,000 to host it, but for the World Cup — and I won't disclose how much that costs — but it's not $5,000."
Jeanneret sees both sides, as he leads a small market in Erie, while also working for PA Sports.
"One of the things we're focusing on in Erie now is if we got $200,000 in grant funding, that's like two million dollars to us and that makes a big difference in our community," he said. "Pittsburgh and Philadelphia can get $2 million in funding, and that's fantastic because of the impact those cities can have, but $200,000 in the Erie community is going to have just as big of an impact on that scale."
—Justin Shaw
Bringing Negro Leagues History to Life
Bob Kendrick, president of the Negro Leagues Baseball Museum, discussed the museum's rise from a one-room office space in 1990 to a Kansas City landmark with expansion plans on the horizon during a Wednesday chat with Kansas City Star columnist Vahe Gregorian.
"There are very few Negro League players still with us," Kendrick said. "This story was going to die when the last Negro Leaguer left the face of the earth. We cannot allow that to happen. It has to survive so we don't lose this precious piece of baseball americana."
The Negro League was initially composed of eight clubs, including the Kansas City Monarchs and featured some of the great players including Buck O'Neil, Satchel Paige, Josh Gibson and Cool Papa Bell. Jackie Robinson also played for the Monarchs before the Dodgers signed him in 1945 and baseball's integration began. Hank Aaron, Willie Mays, Ernie Banks and many others also got their starts in the Negro Leagues, which this year became part of the EA Sports' MLB The Show 23 to expose its history to a broader audience.
"I had no understanding how big that digital platform really is," Kendrick said. "This thing has gone absolutely bonkers. People are so excited about the negro leagues being in this video and I'll let you in on a secret: My cool level has gone up considerably. … We have made this amazing connection with a new generation of young folks and young adults who are falling in love with the Negro Leagues."
The Negro Leagues Baseball Museum was recently awarded a $1 million grant from Bank of America in support of the museum's $25 million capital campaign to build a new facility adjacent to the Buck O'Neil Education and Research Center. With help from the grant, the new NLBM will create a "Negro Leagues Campus" that will become the gateway into Kansas City's historic 18th and Vine District, where the Negro Leagues was founded at the Paseo YMCA.
"The Negro Leagues Baseball Museum is Kansas City's gift to the rest of the world," Kendrick said. "We think the new facility will only add to the excitement that is in Kansas City. We're thrilled about what we're going to do to create even more interest in our great city."
—Matt Traub
Teamwork at the Plate
Rick Hatcher, president and chief executive officer of Treasure Coast Sports Tourism, and George Linley, executive director of the Palm Beach County Sports Commission, discussed how the two entities came together in 2021 to host the U.S. Olympic Baseball Qualifier in south Florida at Clover Park in St. Lucie and The Ballpark of the Palm Beaches.
The event was supposed to take place in Arizona in June 2020, but the pandemic ruined those plans. As the event scrambled to find a new host for 2021, the two Florida destinations decided to jointly host.
"It's a special relationship that our two sports divisions have with each other. We collaborate all the time and have a lot of different types of conversations to help each other," Linley said. "I've been in Palm Beach County for quite a while and I can say that this event ranks at the top as far as experiences that I've enjoyed while working with our friends at Treasure Coast."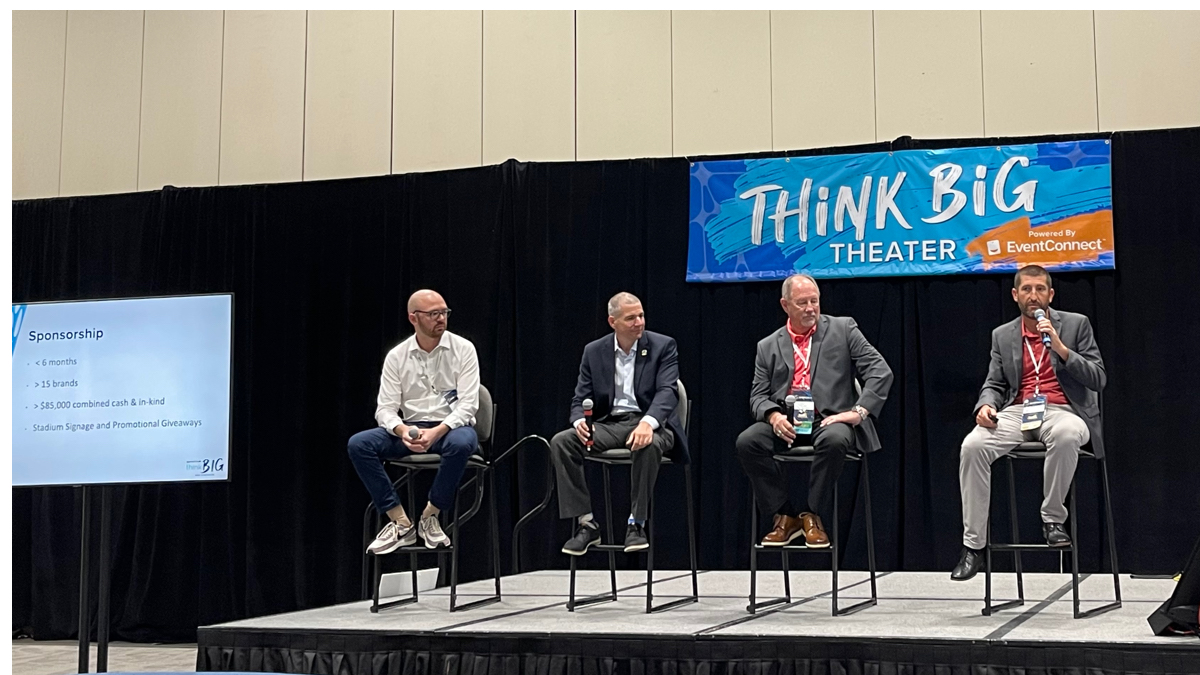 Eight teams converged in Florida from May 31 through June 5, highlighted by the United States, Cuba and the Dominican Republic. The opening day was historic, as it marked the first time that a Cuban national baseball team competed in Florida in more than 60 years.
"It was a highlight of my career to have Cuba play a game in my state," Linley said. "It was really special to be able to host them."
Even with pandemic attendance restrictions, the hosts managed to put 20,000 fans into the seats, with 9,000-plus hotel rooms and an $8 million estimated economic impact in Palm Beach County and the Treasure Coast. The event utilized Covid-19 protocols such as daily PCR testing. The U.S. team defeated Venezuela 4–2 to win the tournament and went on to take silver at the Tokyo Olympics.
"There were many times when we would be on a call and somebody would say, 'we're just not going to be able to do this.'" Hatcher said. "But then the others would say take a deep breath, we can do this together. And it was a home run for both communities, and for the USA."
—Justin Shaw
NCAA Bidding Draws Big Interest
Russ Yurk, president of 129 Sports, gave destinations, both big and small, some advice and tools for successfully bidding on NCAA championship events.
He outlined the timeline for the 2026–2027 through 2029–2030 bidding cycles, with the portal opening on July 19, 2023, followed by the NCAA host symposium in Indianapolis on August 29. The bid portal closes February 7, 2024, with host sites for the 86 championship events scheduled to be announced October 2.
Yurk addressed the four biggest myths surrounding hosting an NCAA championship; events are too big for their community, that the destination will lose money, that it's too much work and there's too much competition in the bidding cycle.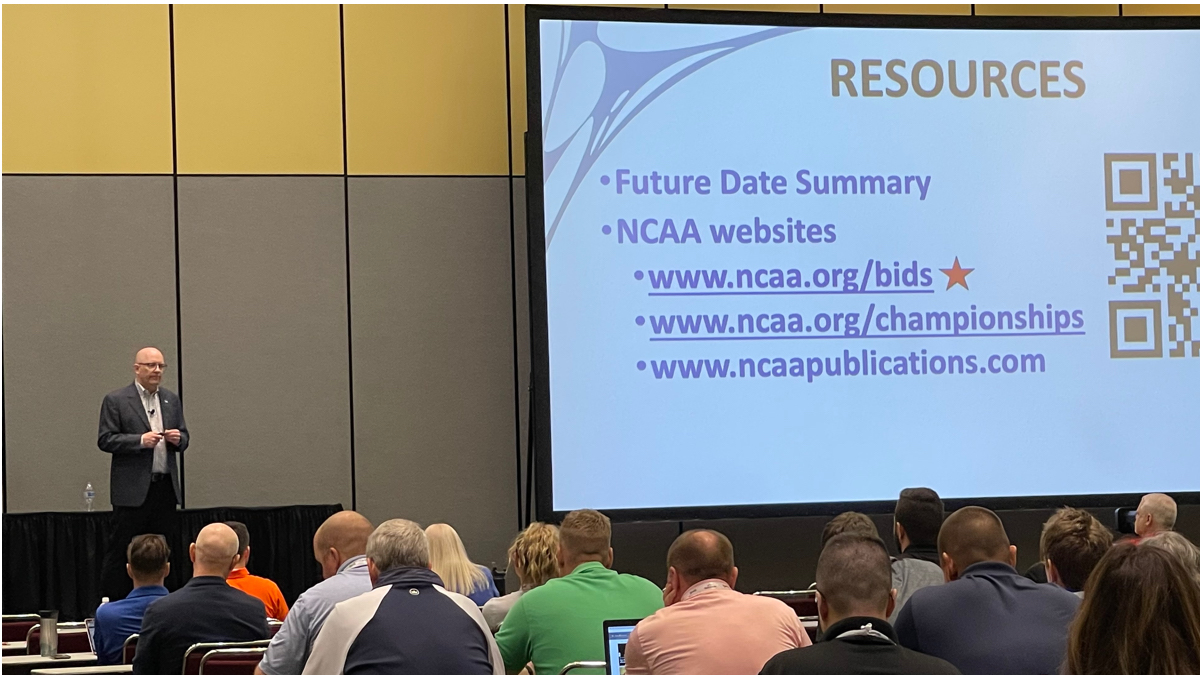 Yurk used Salem, Virginia, as an example of a small market that can flourish, as the destination is set to host its 100th NCAA championship this year. As for the losing money myth, "the goal is that nobody loses money, and the vast majority of championships are structured in a fashion that the host makes money," Yurk said.
Perhaps the most surprising part came when Yurk showed how many bids certain events are receiving. There were 21 events last bid cycle that had five or fewer bids; Division III ice hockey only received one bid for 2023, 2024 and 2025. As for keys to a successful bid, the creation of meaningful student-athlete experiences, adherence to bid specifications, competitive budget/grants and facilities all play a part.
"Researching or attending a current championship is very important," Yurk said. "Every NCAA championship is broadcast or streamed, so you want to see what was done at other places and what it looked like there, and how you can do that in your community."
—Justin Shaw
Hall of Fame Class Recognized
The fourth class of Hall of Fame inductees were recognized during Tuesday's opening breakfast with Susan Blackwood, Rick Hatcher, Suzann Stewart and the late Steve Ducoff honored. The Sports ETA Hall of Fame was launched in 2017 and there have been four induction classes with 14 honorees.
Blackwood started as executive director for San Antonio Sports in 1996 and solicited events such as the NCAA Final Four and the 2007 Pan American Games. Blackwood supported the development and maintenance of athletic facilities in San Antonio, and served as a catalyst in development of sports and fitness programs.
Hatcher is president and chief executive officer of Play Treasure Coast Sports Tourism. He has previously worked for PSA Sports & Event Partners, Lexington Area Sports Authority, the Bluegrass State Games and Tallahassee Sports Council. Before moving into the sports tourism industry was a pitching coach at the Tennessee, Georgia Tech and South Carolina.
Stewart founded the Tulsa Sports Commission in 1990 and was one of the founding members of NASC. Stewart helped land events ranging from PGA and US Open Golf Championships, to BMX, NAIA and NCAA championships and Olympic-related events. At the local level, she headed the VisionTulsa campaign that resulted in BOK Center which has hosted dozens of national sports events.
Ducoff was president and chief executive officer of the Colorado Springs Sports Corporation from 1994 until 2000. He at various times worked at USA Shooting, USA Boxing and USA Bobsled and Skeleton. He was a member of the USOC Board of Directors and chair of the USOC's Review Committee for International Games and Vice Chair of the USOC Member Services Committee. He was also the first CEO of the Association of Chief Executives for Sport.
—Matt Traub
Awards Handed Out
This year's winners of Sports ETA Member Awards announced during Wednesday's luncheon were the following:
Event or Program Impact of the Year under 500K: Tempe Tourism Office for the National Veterans Wheelchair Games
Event or Program Impact of the Year over 500K: Louisville Sports Commission for the Louisville Active program.
Superior Service Award: Gamechangers Consulting
Rising Star Award: Igor Bakovic (DuPage Sports Commission) and Shelbey Morris (Arkansas Department of Parks & Tourism)
Event Partnership of the Year under 500K: Visit Quad Cities for the Professional Disc Golf Association Tim Selinske U.S. Masters Championships
Event Partnership of the Year over 500K: West Michigan Sports Commission, Greater Lansing Sports Authority and Visit Muskegon, which combined to host the U.S. Bowling Congress' 2022 Junior Gold Championships.
Sports Commission of the Year under 500K: Erie Sports Commission
Sports Commission of the Year over 500K: Tulsa Sports Commission
Sports Tourism Organization of the Year under 500K: Warren County CVB
Sports Tourism Organization of the Year over 500K: Visit Charlotte
—Matt Traub
This 'n That
Tuesday's opening session included a surprise for the outgoing Kidd, who received a video tribute before his family surprised him on stage. Kidd will be succeeded by USA BMX Chief Strategy Officer John David later this summer. … More than 20 professionals were honored for the completion of the STS certification program … The 2023 Sports Legacy Fund beneficiary is Win For KC, which was honored at the Closing Luncheon of the Sports ETA Symposium with a donation of $9,100. … The 2027 symposium will be held in Salt Lake City, Utah, with the 2028 event heading to Cleveland, Ohio. The 2024 symposium will be April 23–25 in Portland, Oregon. Previously announced future hosts are Tulsa, Oklahoma, in 2025 and Las Vegas in 2026.