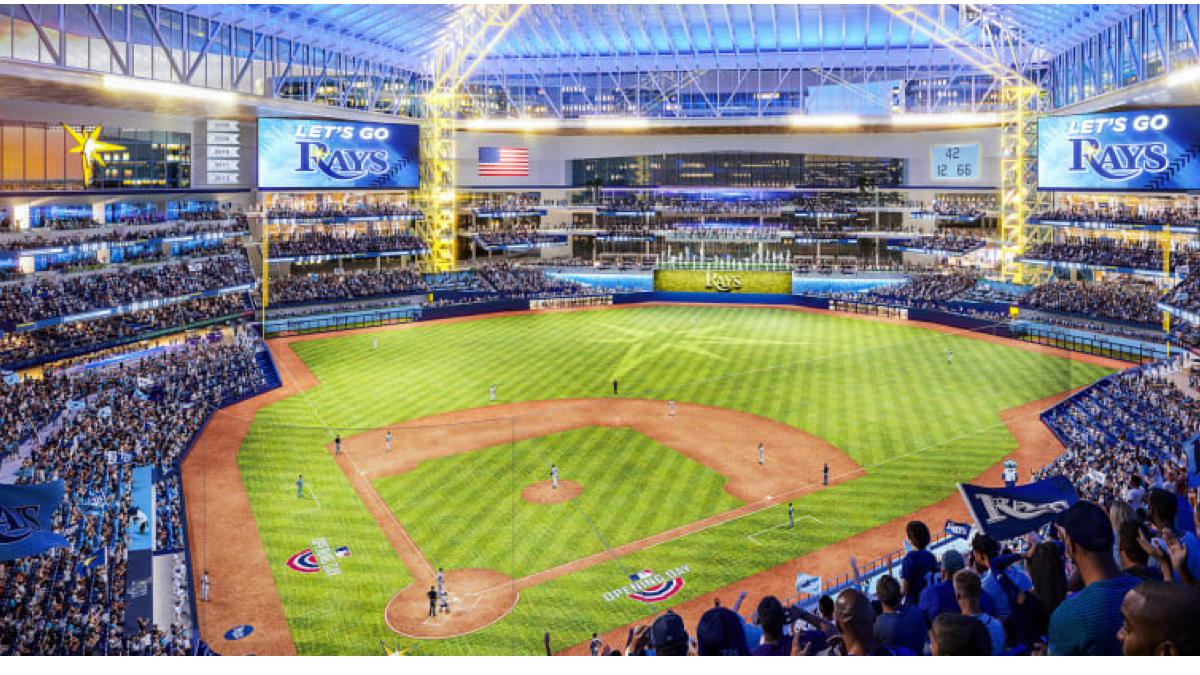 The Tampa Bay Rays have announced an agreement with the city of St. Petersburg, Florida, and Pinellas County that will see the team move forward with a new ballpark on the 86-acre site where the team's current stadium sits.
The announcement ends the saga of the Rays, who have been looking for a new ballpark for years and in 2021 floated the idea of having the regular season split between the Tampa/St. Petersburg area and Montreal. Tropicana Field, its current site, has been the Rays' home since the franchise started in 1998. It is the only non-retractable domed stadium in Major League Baseball and is the smallest MLB stadium by capacity at 25,000 with several sections covered by tarps.
The planned ballpark will have a capacity of 30,000 for baseball, continuing the years-long trend of MLB stadiums built with smaller capacities. The ballpark will have the ability to accommodate up to 35,000 for other events. The Rays will pay for more than half of the $1.3 billion ballpark and be responsible for any cost overruns.
Pinellas County and the City of St. Petersburg will combine to contribute approximately $600 million in equal amounts. Construction on the development is expected to begin in late 2024. The team will continue to play in the existing ballpark until the end of its current lease with the City of St. Petersburg in 2027. Phase 1 of the development and the new ballpark are projected to be ready by Opening Day 2028.
"This will be a transformative project for the Rays, St. Petersburg and Pinellas County," said Tampa Bay Rays Principal Owner Stu Sternberg. "We have proudly served as Tampa Bay's Major League team for 25 years and we are thrilled to be in position to do so for decades and generations to come."
The project will also include 1.4 million square feet of office, medical and commercial space; 750,000 square feet of retail; 750 hotel rooms and 100,000 square feet of entertainment space, including a concert venue. The agreement will be the largest mixed-use development project in Tampa Bay history. The plan includes the key aspects of an original proposal submitted by the Hines Historic Gas Plant Partnership that increases the number of affordable/workforce housing units to be built to 1,200, with at least half of that amount to be built on the Historic Gas Plant site. It also adds 600 on-site affordable units for seniors.
"Our transformational development of 86 acres in the heart of St. Petersburg will benefit St. Pete and Tampa Bay residents for generations to come," said St. Petersburg Mayor Ken Welch. "The Rays are here to stay and it's also critical to underscore that this impactful work is much bigger than baseball and extends far beyond the 17-acre ballpark."