You may not consider gravel roads an asset when it comes to sports events, but some of the biggest events in cycling are happening on those roads in some of the most remote destinations, as panelists detailed in the TEAMS Educational Session "Pay Dirt: How Gravel Racing Has Changed the View of Dirt Roads."
Several small- and mid-sized destinations have built enormous followings and attracted record numbers of visitors in the form of cyclists who crave the experience of riding on gravel. At TEAMS '22 in Oklahoma City, attendees heard how these events are organized, how they've grown and how their community can take advantage of one of its most under-appreciated assets.
The Panelists
Micah Rice, Tourism Strategies (Moderator): Rice has a 30-year history in cycling, starting out as a collegiate and professional racer and then running two professional U.S.-based teams. In 2009 he moved to Colorado Springs to oversee the National Events Department for USA Cycling. Rice is now the vice president of event strategy and operations for Tourism Strategies and is the executive director of the Pikes Peak APEX and the race director for SBT GRVL and FNLD GRVL.
Noah Collins, Visit Bentonville: Collins is a Colorado native who made the move to another cycling-centric community in Bentonville, Arkansas, to help put Bentonville on the map as a premier destination in his role as outdoor recreation sales and events manager.
Kristi Mohn, Life Time: Mohn started riding gravel in 2004 in Emporia, Kansas. Since then, Mohn has worked as a race director for Unbound Gravel in Kansas. She continues to work with Life Time on the company's gravel event series and is also establishing a series of gravel houses for people who are ready to adventure off-the-beaten-path.
Bobby Wintle, The Mid South Gravel Race: Wintle is the co-owner and co-founder of District Bicycles and The Mid South in Stillwater, Oklahoma. For the past 11 years he has helped facilitate the vibrancy and growth of the retail cycling and gravel/dirt road event scene in the middle of the United States.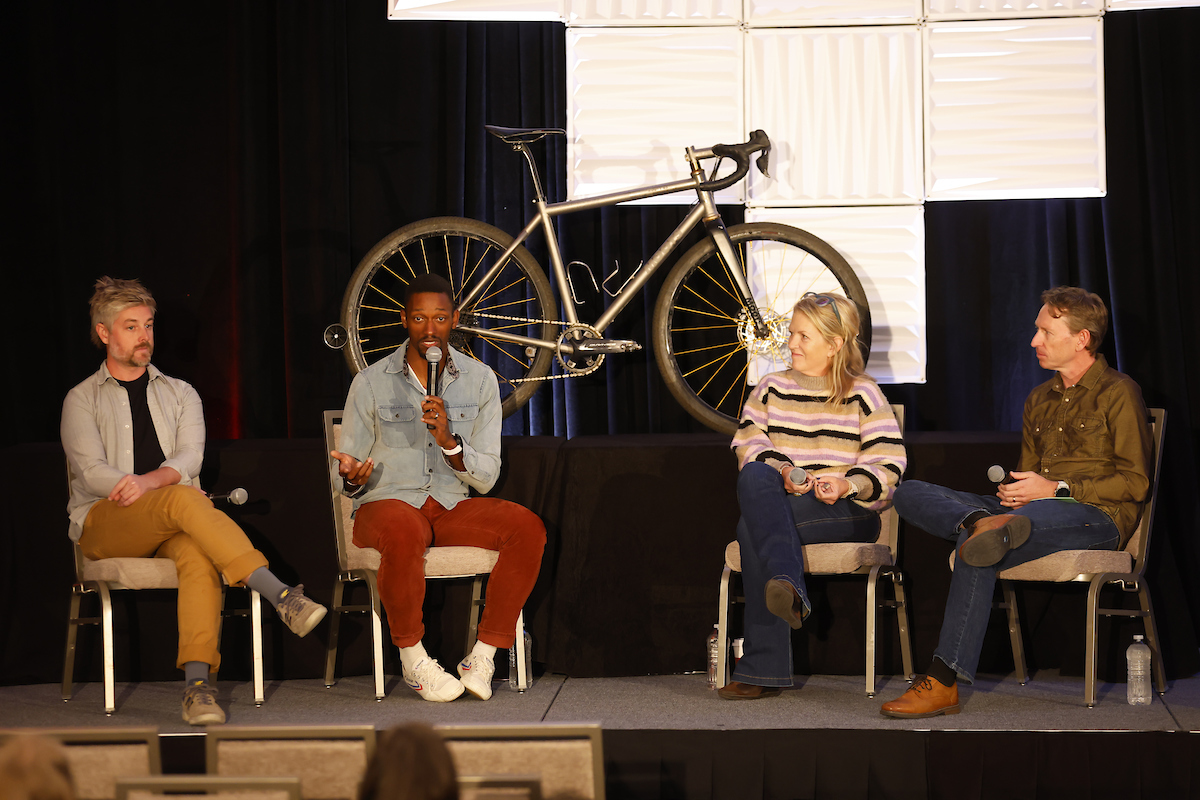 What They Said
Mohn: "We started with 34 riders … We're now 4,000 athletes" in a variety of distances and age groups. "These are all riders that come from all over, we had 50 states represented last year coming to the small town of Emporia, Kansas, to ride their bikes. It's quite the influx of visitors that come for a full weekend of gravel racing."
Wintle: "In 2011 my wife and I moved to (Stillwater) and I thought if our dirt roads are cool and if we have enough of them to string together a 100-mile race, we should have an event … Little did I know how unbelievable all these red dirt roads are in this part of the country. In 2016 we added a 50K ultra-marathon to the weekend of racing. We've watched this thing just snowball and grow and stay the same but also change in very small ways year after year to keep these vibes and letting the small town be the welcome center for these people and these events."
Collins: "The thing about the road is that it's fairly exclusive. There's categories to racing and you start out as a novice and you have to gain points and then points expire. … There's just these tiers to racing on the road and there's barriers. … What I found with gravel is that gravel racers say no matter who you are, no matter where you came from, no matter what your bike is, no matter how much money you have, you are welcome at the start line with pros. … What I found in my own journey is that gravel racing is a little more inclusive."