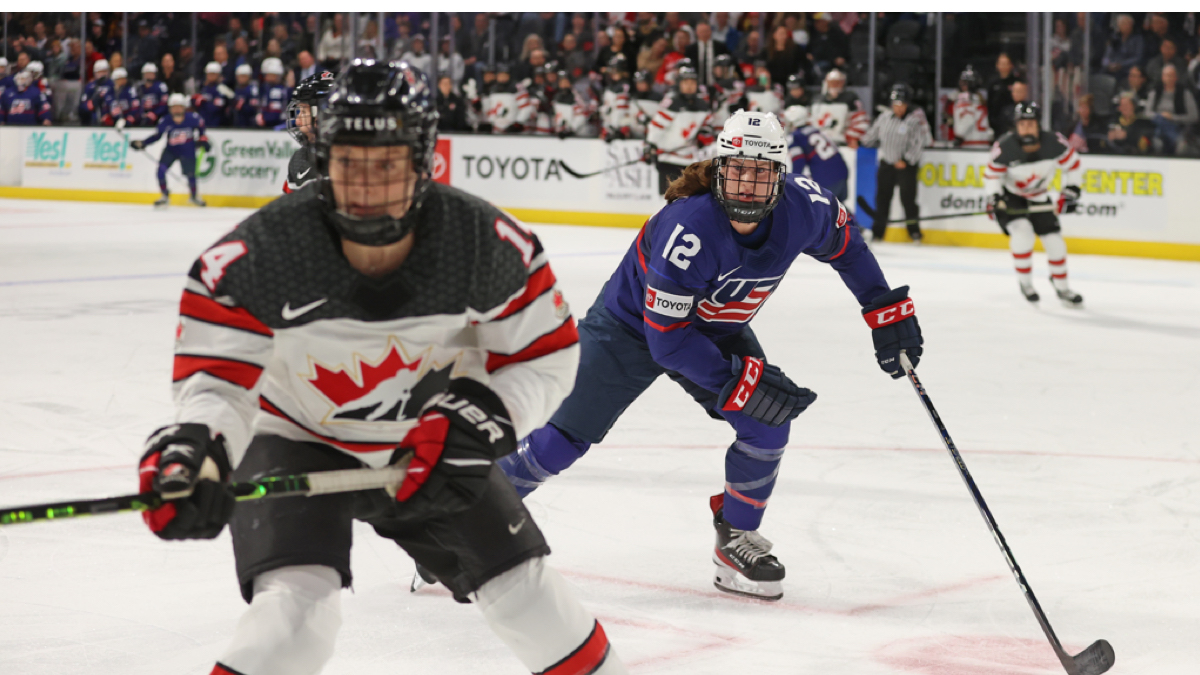 Hockey with a backdrop of palm trees and 80-degree temperatures in November would be jarring even now for purists. But Tempe, Arizona, is changing that narrative and the latest big hockey event takes place in the desert.
The Rivalry Series between the women's teams from USA Hockey and Hockey Canada was introduced in 2018 to provide additional visibility for women's hockey and showcase the top players in the world. The 2023–2024 Rivalry Series starts Mullett Arena in Tempe on November 8, a huge win for hockey fans in the region.
"I think people generally have this misconception that it's an East Coast sport and you need to have snow on the ground to have hockey," said Luchie Javelosa, senior sports sales manager at the Tempe Tourism Office. "It's a very exciting opportunity for us to be able to showcase women's hockey and be able to give the girls in our area an experience that doesn't come along often of seeing their role model play in person."
The Rivalry Series is a seven-game exhibition between what has traditionally been the two best women's hockey teams in the world. This year, the United States will host the first two games before the series switches to Canada for games 3-6. The final game would be in the U.S.
Women's hockey has never been more popular than it is right now with the Professional Women's Hockey League's inaugural season launching in January 2024 with teams in Montreal, Ottawa, Toronto, Boston, Minneapolis–St. Paul and the New York City area after the merger of an independent touring group and the PHF, which finished its 2023 season with a championship game in Tempe.
Canada won last year's seven-game series 4-3 after trailing 3-0, starting its comeback with a 3-2 win at Dollar Loan Center in Henderson, Nevada. The crowd was into the game from the opening faceoff and showed the development of hockey in general throughout the desert. The Arizona Coyotes pioneered the concept in 1996 when they relocated from Winnipeg and the Vegas Golden Knights took it to another level when they made the Stanley Cup Final in their inaugural season in 2017, then winning the Cup this past summer.
"Hockey has been around in the Southwest for a while now," Javelosa said. "We obviously have the Coyotes and Arizona State has a Division 1 program. There is a big hockey scene here and it is definitely growing."
Mullett Arena is a 5,000-seat venue which is the home of the Arizona State University men's ice hockey, women's ice hockey, women's gymnastics, women's volleyball and men's wrestling teams. It also serves as a temporary host for the Coyotes through at least 2025 while the team tries to find a place for a new permanent arena.
With so much going on, it was a challenge for Javelosa and her team to find a date that worked at Mullett Arena. But Tempe was aggressive and landed a premier event that should provide quite the atmosphere.
"Once we knew we would have the availability, we asked USA Hockey which events we could potentially host that would be a good fit for Tempe," Javelosa said. "It's a little tricky, especially during NHL season, to plug and play, but we were able to make it happen. We're stoked to be the first stop."
Game 2 of the series is November 11 at Crypto.com Arena in Los Angeles on November 11 with the last of the seven matchups at Xcel Energy Center in St. Paul, Minnesota, on February 11, 2024. All games will air on NHL Network starting with Wednesday in Tempe.
"We're lucky that we're already in snowbird season and we have people from cold weather climates coming down here," Javelosa said. "So that's a big draw. We are also reaching out to the Canadian consulate that's around here to reach out that fan base. We're just really excited. Tempe is a great place for not only hockey, but for a lot of other sports. So don't sleep on us."