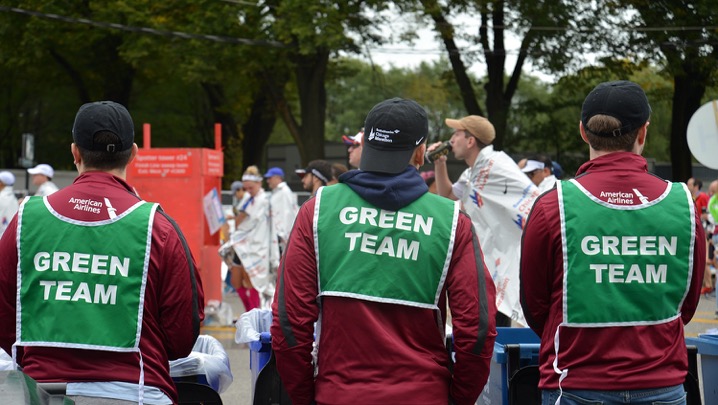 We've come a long way since the first recycling bin was rolled out at a sporting event. As the topic of climate change heats up (literally), the creation of more sustainable events has taken on increasing importance.
On a global level this can be seen with the December 2018 launch of the United Nations Sports for Climate Action Framework. The framework was created to promote a set of principles for the sports community to adopt in order to combat climate change, and to use sports as a unifying tool to drive climate awareness and action.
More than 40 sports organizations — including the International Olympic Committee, the New York Yankees, the NBA and the University of Colorado — have committed to adhere to the principles laid out by the initiative and incorporate them into their strategies, policies and procedures as a way to help mainstream them within the sports community.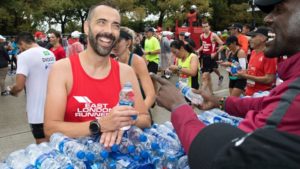 How exactly do sports events and organizations begin the process of becoming more sustainable? One way to start, according to Mike Nishi, executive vice-president for business development and operations for Chicago Event Management, which organizes the Chicago Marathon, is to use a checklist created by an organization like the Council for Responsible Sport. Under those criteria, the Chicago Marathon achieved silver, then gold and finally evergreen certification — the only event of its size (with 44,600 runners, 14,000 volunteers and 1.5 million people lining the route at last year's event) to achieve that status.
Nishi said one of the key things he's learned in implementing the Chicago Marathon's program is the importance of what he calls "closing the loop." For example, providing compostable cups is good, but even better is making sure the used cups are then sent to facilities that turn them into nutrient-rich soil that can then be used in city gardens.
[Download this handbook to learn all you need to know about how to make your events greener, brought to you by the editors of SportsTravel and the Visit Myrtle Beach Regional Sports Alliance.]
Equally important is making sure information about these efforts is shared, not only with the athletes, volunteers and spectators at the event, but also with other sports-event organizers, who can then implement similar efforts and communicate the details to even more people. "By telling our story," Nishi said, "people can create their own programs so all of us can make the world a better place to live."
Here are some of those stories.
Green MVPs: Events
U.S. Open: Green Leader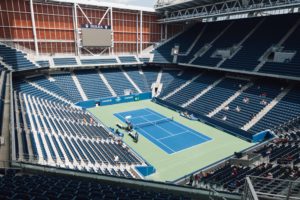 The U.S. Tennis Association recently signed on to the UN's Sports Climate Action Framework, the latest sign that the organization — and its signature event, the U.S. Open — has long been committed to sustainability. According to Lauren Tracy, director of strategic initiatives for the USTA, the idea for the U.S. Open Green Initiative was championed as far back as 2006 by Billie Jean King when the National Tennis Center in Flushing, New York, was named after her. The initiative was official created two years later.
"The goal of the program was to reduce the environmental impact of one of the highest-attended sporting events in the world," said Tracy. For their efforts, the USTA, Billie Jean King and Lauren Tracy were presented with this year's Environmental Leader Award from the Green Sports Alliance.
Key examples of their efforts include reducing greenhouse gas emissions by more than 100,000 metric tons through waste diversion, recycled paper use and renewable energy certificates; diverting more than 4,500 tons of waste from landfills; offsetting carbon emissions; and developing a green cleaning policy. In 2018, the U.S. Open achieved a waste diversion rate of 97 percent.
Some of the biggest environmental gains could been found in the multiyear renovation of the National Tennis Center, which culminated last year with the opening of Louis Armstrong Stadium. The new structure received LEED Silver status (the third building on the grounds to achieve LEED status) and was designed to consume 28 percent less energy and use 42 percent less water in its plumbing fixtures.
According to Tracy, the USTA is continuing to look for new and innovative ways to reduce its environmental impact. "As sustainability methods evolve," she said, "we try to evolve with them to ensure our greening efforts are as effective as possible."
Colorado Classic: Caring for Colorado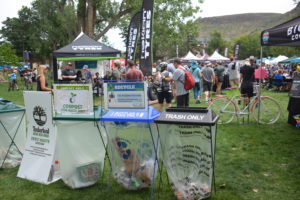 The 2019 Colorado Classic presented by VF Corp. was special in two ways: Not only was this year's race the only women's standalone stage race on USA Cycling's Pro Road Tour, but organizers also committed themselves to becoming as green as possible. "Our mission to becoming the best pro women's cycling race in the world includes making the race as sustainable and green as possible," said Lucy Diaz, COO for RPM Events Group, organizers of the race. "We are fortunate to have partners, sponsors and host cities who are aligned in that mission."
The four-day race, which was staged August 22–25 in the cities of Steamboat Springs, Avon, Golden and Denver, had more than a dozen initiatives supporting sustainability, energy efficiency, water conservation, resource management and sustainable transportation, and has already been awarded "Certifiably Green" status by the city of Denver. Among its environmental initiatives were eliminating the sale of bottled water and providing free water fill stations at the expo in Denver; reducing the amount of printed material and, when it was necessary, using 100 percent recycled products; onsite recycling with mandatory vendor compliance; an anti-idling requirement for on-site vehicles; donation of unused food and beverage to a local women's shelter; and promotion of bicycling to the event with safe routes and free bike-rack parking.
The race also partnered with Scraps — a women-owned, pedal-powered compost pickup service based in Denver. Scraps picked up all compostable trash from the race sites and the expo in Denver, and assisted or consulted with other host locations. The partnership was part of the race organizers' commitment to divert at least 60 percent of waste from landfills to compost and recycling facilities.
Organizers also purchased carbon offsets. Working with the Colorado Carbon Fund, the Colorado Classic removed an amount of emissions equivalent to that created by the vehicles needed to support the race, such as repair vans and pace cars. The Colorado Classic also encouraged fans to follow the Colorado Tourism Office's "Leave No Trace — Care for Colorado" initiative while enjoying the state.
Super Bowl in Miami: Protecting a Green Legacy
A year before the date of the 2020 Super Bowl, the Miami Super Bowl Host Committee was already working to make it as green as possible. Created in a partnership between the host committee, NFL Green, Ocean Conservancy and the Everglades Foundation, the Ocean to Everglades (O2E) Super Bowl LIV environmental initiative was designed to not only ensure that hosting the event doesn't negatively affect the environment in South Florida but also to create a positive and sustainable impact long after the Super Bowl is over.
The initiative's key objectives include reducing waste, mitigating environmental impacts and creating a green legacy in four categories: plastics, coastal protection, habitat and education. Community projects will include beach cleanups, coral reef restoration, tree planting and educational excursions to the Everglades, while those related to the event itself include mitigating food waste and recycling the building materials used for the game. At the event itself, an interactive, experimental environmental village will showcase the efforts of the partners, sponsors and community in the O2E initiative.
Eric Eikenberg, CEO of the Everglades Foundation, leads the host committee's environmental council, which drives the O2E efforts in partnership with NFL Green, which has been incorporating environmental projects into the management of the Super Bowl for more than 25 years. At an April press conference announcing O2E, Eikenberg said that "Super Bowl LIV will establish a new level of performance and accountability for future host cities."
"We are honored to host the Super Bowl in Miami next year," said Florida Governor Ron DeSantis at the launch of O2E. "I am thankful to the host committee and the partners involved in this initiative for putting a plan in place to ensure that our environment will be safeguarded from our oceans to the Everglades."
Green MVPs: Organizers
Tokyo 2020: Metals to Medals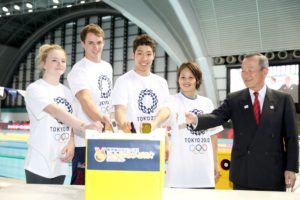 As part of its preparations for 2020, the Tokyo Organizing Committee of the Olympic and Paralympic Games (Tokyo 2020) has launched an impressive series of sustainability programs. These include signing on to the UN's Sports for Climate Action Framework; implementing energy-saving and renewable energy technology; promoting the reuse and recycling of procured items; and using sustainably sourced timber for the athletes' villages, which will then be reused in communities throughout Japan.
"Some 63 local governments have been cooperating with the construction of the Olympic/Paralympic Village Plaza, which will be built with timber loaned from locations throughout Japan that will be returned after the Games have ended," said Tokyo 2020 CEO Toshiro Muto.
But the most surprising program might be the one that is taking recycled metals extracted from electronic devices and turning them into the medals that will be awarded to the athletes. The program, launched in April 2017, involved setting up more than 18,000 collection boxes across Japan to collect discarded and obsolete electronic devices, including smart phones, digital cameras, handheld games and laptops. The bronze, silver and gold metal extracted from the collected devices will produce all of the medals to be awarded at the Games.
"The Tokyo 2020 Medal Project has attracted the involvement from many around the country," said Muto. "The project has been so successful that we will be able to secure all the metal required to produce the medals."
Tokyo 2020 also recently announced that the podium used for the medal ceremonies will be created out of recycled plastic waste and flower displays will replace traditional partitions at pedestrian screening areas in front of the venues.
"Tokyo 2020 is running numerous sustainability programs, with one of our goals being that 99 percent of items and goods procured for the Games should be reused or recycled," said Masa Takaya, a spokesperson for Tokyo 2020, who said the slogan for these efforts is "be better, together — for the planet and the people."
Major League Baseball: Greener Gloves
From deploying Green Teams during All-Star Week and the World Series to achieving LEED Platinum Certification, installing solar panels and adding gardens at a number of its ballparks, Major League Baseball and its 30 clubs have continued to step up their sustainability efforts. MLB clubs diverted more than 20,000 tons of recycled or composted waste during the 2018 season and now gives a "Green Glove Award" to the eco-friendliest club, which was the San Francisco Giants in 2018.
"Environmental responsibility is not only a business imperative for our sport, it is also a passion for those who operate our ballparks," said Paul Hanlon, senior director of ballpark operations and sustainability for Major League Baseball. "We look forward to further demonstrating our league-wide commitment in this space to our fans for years to come."
Examples of sustainability efforts found at the clubs include the Pirates' Rivendale Patio Garden at PNC Park in Pittsburgh (one of 12 ballparks to have their own garden), which produced more than 300 pounds of fresh produce last year. At in Seattle, more than 761 tons of food waste were diverted to composting and more than three tons of surplus food was donated to Seattle-area programs. Those programs won the Mariners the EPA's 2018 Food Recovery Challenge National Award for Sports and Entertainment Venues.
And the New York Yankees were the first major North American sports team to join the UN's Sports for Climate Change Framework. The club promotes a zero-waste economy and diverts 85 percent of its waste from landfills through composting and recycling. In January, the Yankees named Allen Hershkowitz — the co-founder of the Green Sports Alliance — to the new role of environment science advisor, the first of its kind in professional sports.
Major League Soccer: Reducing the Footprint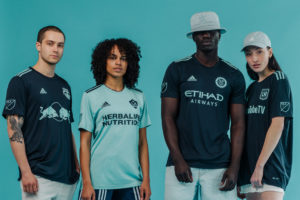 Last year Major League Soccer was named the most responsible football league in the world by Responsiball, an annual report that ranks leagues in categories related to governance, community and environment. MLS had the highest score in all three pillars. When it comes to environmental initiatives, MLS gained its high scores in large part because of the sustainability of its new stadiums — including Mercedes-Benz Stadium in Atlanta, which was awarded LEED Platinum certification (the highest level possible). Other initiatives that were highlighted in the report included San Jose's free charter bus, which brings fans from the downtown area to the Earthquakes' stadium.
The MLS has also made a commitment to measure, reduce and offset its greenhouse gas emissions while helping areas in need. As part of its efforts in 2019, MLS will be offsetting emissions associated with club travel for the entire season — which totals approximately 14,500 tons of carbon dioxide — by investing in high-quality carbon credits issued from the distribution of emissions-reducing, life-improving cookstoves in Kenya.
All 24 MLS clubs celebrated Earth Day in 2019 by wearing eco-friendly jerseys made from fibers created out of plastic waste through a partnership with Adidas and Parley Ocean Plastic. Additional team activations around Earth Day included volunteer club projects such as a beach cleanup by LAFC; collecting plastic bags to be transformed into useful items such as sleeping mats for the homeless community by FC Cincinnati; and the Philadelphia Union partnering with r for a park cleanup.
Longer-term initiatives include FC Dallas collecting rainwater in on-site retention pools that then irrigate the stadium and training grounds; Orlando City SC partnering with the city for food waste reclamation; Real Salt Lake utilizing a 2,020-kilowatt solar panel system that offsets approximately 73 percent of the annual stadium power needs; and the Seattle Sounders FC going carbon neutral for 2019 and beyond by developing plans to reduce greenhouse gas emissions and partnering with the Evergreen Carbon Capture program of Forterra and DIRT Corps to plant hundreds of trees in the region.