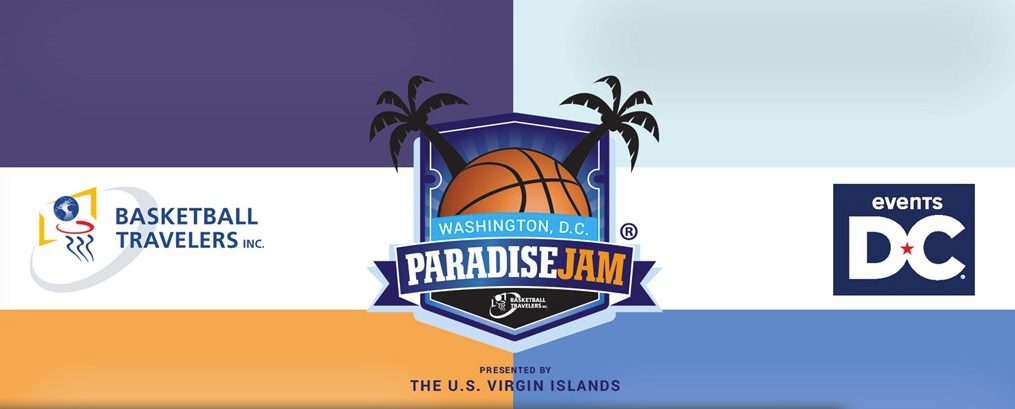 An early-season collegiate basketball tournament that typically takes place in the U.S. Virgin Islands will be relocated to Washington, D.C., the event's organizer has announced. Basketball Travelers, Inc. has reached an agreement with Events DC to host the event, which will be staged without fans November 26–28 at the Walter E. Washington Convention Center. The 2020 DC Paradise Jam presented by the U.S. Virgin Islands will feature both men's and women's teams.
"Sports have the power to unify and inspire during challenging times – and the 2020 DC Paradise Jam tournament is a prime example of us getting creative and continuing to showcase Washington, D.C., not only as the sports capital but as a hotbed for basketball events," said Gregory A. O'Dell, president and chief executive officer of Events DC. "We couldn't be more excited to host the Paradise Jam college basketball tournament at the Walter E. Washington Convention Center, while prioritizing the health and safety of all the participating athletes, coaches and staff in a controlled environment."
Basketball Travelers and Events DC said they work with city officials, the local health department and MedStar Health to implement comprehensive COVID-19 protocols. The tournament will feature two local teams — George Mason University's men's team and George Washington University's women's team — while other teams will be announced at a later date. Participating schools will be housed at the Courtyard/Residence Inn by Marriott Washington Downtown adjacent to the convention center.
"While we would have liked to keep the tournament in the U.S. Virgin Islands, we are pleased to have found a strong partner in Events DC," said Nels Hawkinson, owner of Basketball Travelers. "Safety and security procedures are at the utmost importance and the Events DC, Courtyard/Residence Inn staff and city officials demonstrate the capabilities and commitment to safety that we are looking for in a host city."
Washington also hosted the tournament in 2017 after damage caused by Hurricanes Irma and Maria forced a relocation.