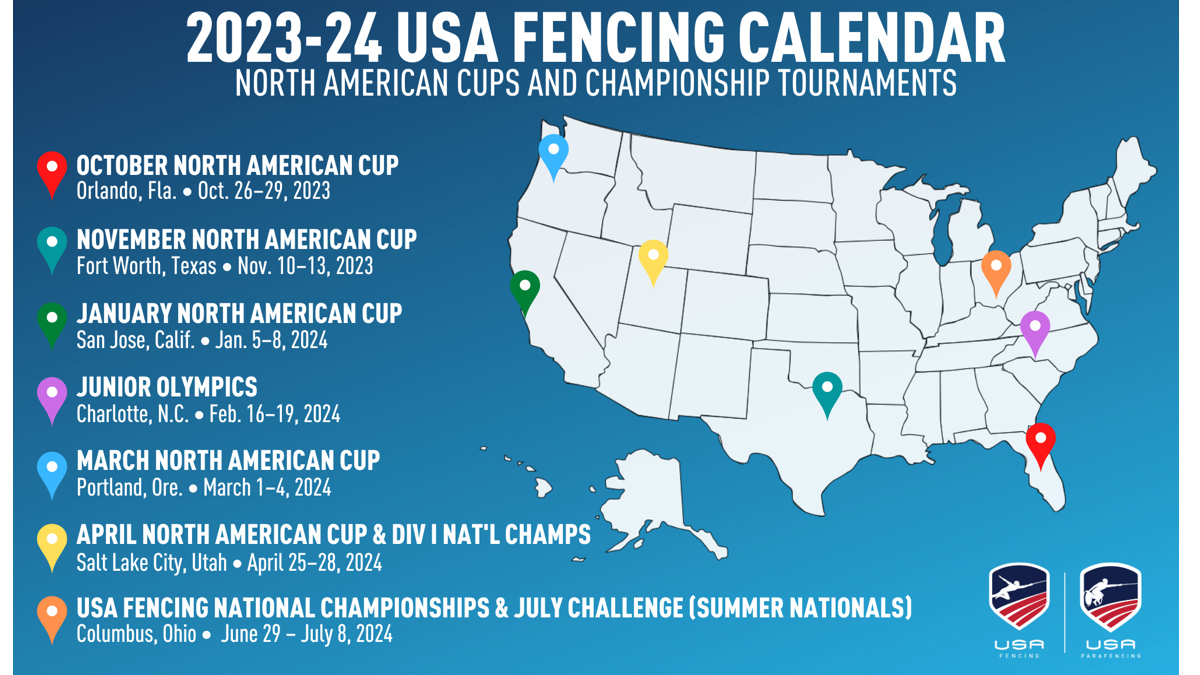 USA Fencing has announced the host cities for its 2023–2024 major events, with seven states getting in on the action across all four time zones.
The 2023–2024 calendar includes seven major tournaments across all four time zones. Each stop will feature America's top fencers, from Y10 fencers to Vet-80 athletes. The 2023-2024 calendar release also is three months ahead of when the 2022-2023 schedule was released, which USA Fencing admitted was a major point of contention for members. Event combos and day schedules will be shared in May.
The October 2023 North American Cup will take place in Orlando, Florida, from October 26–29, while the November 2023 North American Cup heads to Fort Worth, Texas, from November 10–13. The January 2024 North American Cup will be held in San Jose, California, from January 5–8, and the next month the 2024 Junior Olympics heads to Charlotte, North Carolina, from February 16–19.
The March 2024 North American Cup will be hosted in Portland, Oregon, from March 1–4, and the April 2024 North American Cup and Division I National Championships will both be held in Salt Lake City, Utah, from April 25–28. The season ends with the 2024 National Championships and July Challenge (Summer Nationals) in Columbus, Ohio, from June 29 through July 8, 2024.
In November 2022, USA Fencing said it would give preference when selecting host cities for national tournaments to states without laws that harm members of LGBTQ communities as well as states that do not have laws undermining the reproductive health of women beginning with the 2023–2024 national tournament season. USA Fencing has adopted a new Transgender and Nonbinary Athlete Policy that will allow athletes to participate in USA Fencing-sanctioned events in a manner consistent with their gender identity/expression, regardless of the gender associated with the sex they were assigned at birth.
USA Fencing said in releasing its 2023-2024 calendar that when using a MAP (Movement Advancement Project) Score for LGBTQIA+ issues in each of these states, California and Oregon were amongst the highest ranking states, while Utah, North Carolina and Ohio are in the Fair category. "While Texas and Florida do fall into the low category, they do not score in the eight states with a negative score," USA Fencing said.