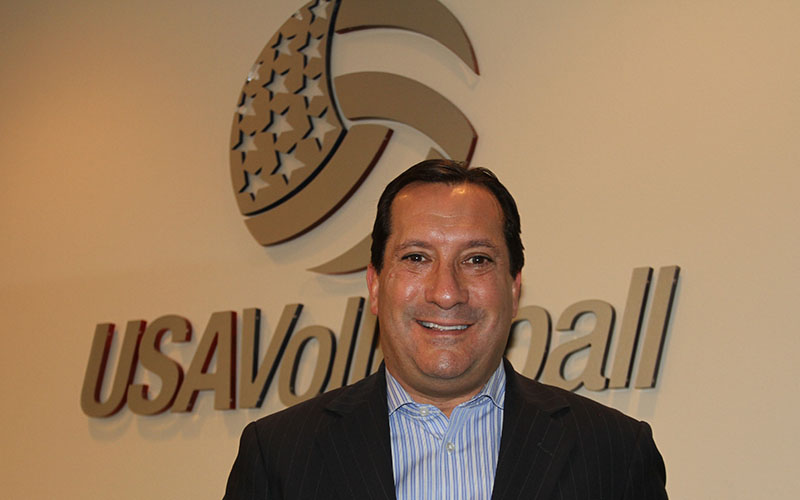 Three years after hiring Jamie Davis as a volleyball outsider to make change in the organization, USA Volleyball's Board of Directors has extended his contract through 2024.
"Since taking over as CEO in January 2017, Jamie's leadership has reached every realm of USA Volleyball's operations delivering solid membership growth, financial stability, enhanced partnerships with internal and external constituents and successes on the courts," said USA Volleyball Board Chair Cecile Reynaud. "He has been tireless in his pursuit of excellence and the Board of Directors believes he is the leader to continue our growth through the Paris Olympic and Paralympic Games."
Since Davis took over the top role of the Colorado Springs-based NGB, USA Volleyball's membership has reached a record 424,000 members. The NGB is also in a strong financial position, delivering a reported operating surplus of more than $7 million since 2017. USA Volleyball says the money is being reinvested into growing the sport at all levels, including a recent commitment to increase diversity and inclusion. USAV recently granted $400,000 to the Southern Intercollegiate Athletic Conference and six HBCUs that will begin men's volleyball varsity programs in 2021.
Davis joined USA Volleyball after a successful sports business career that included being an executive for online retailer Fanatics and as president of the Versus television network. "I am excited by what we have achieved as an organization over the past three years and heading into Tokyo," Davis said. "I appreciate the confidence that the board has placed in me and look forward to working with them, the USAV staff, our regions, NORCECA, the FIVB and our athletes to bring volleyball to even greater heights in the United States over the next quadrennial."