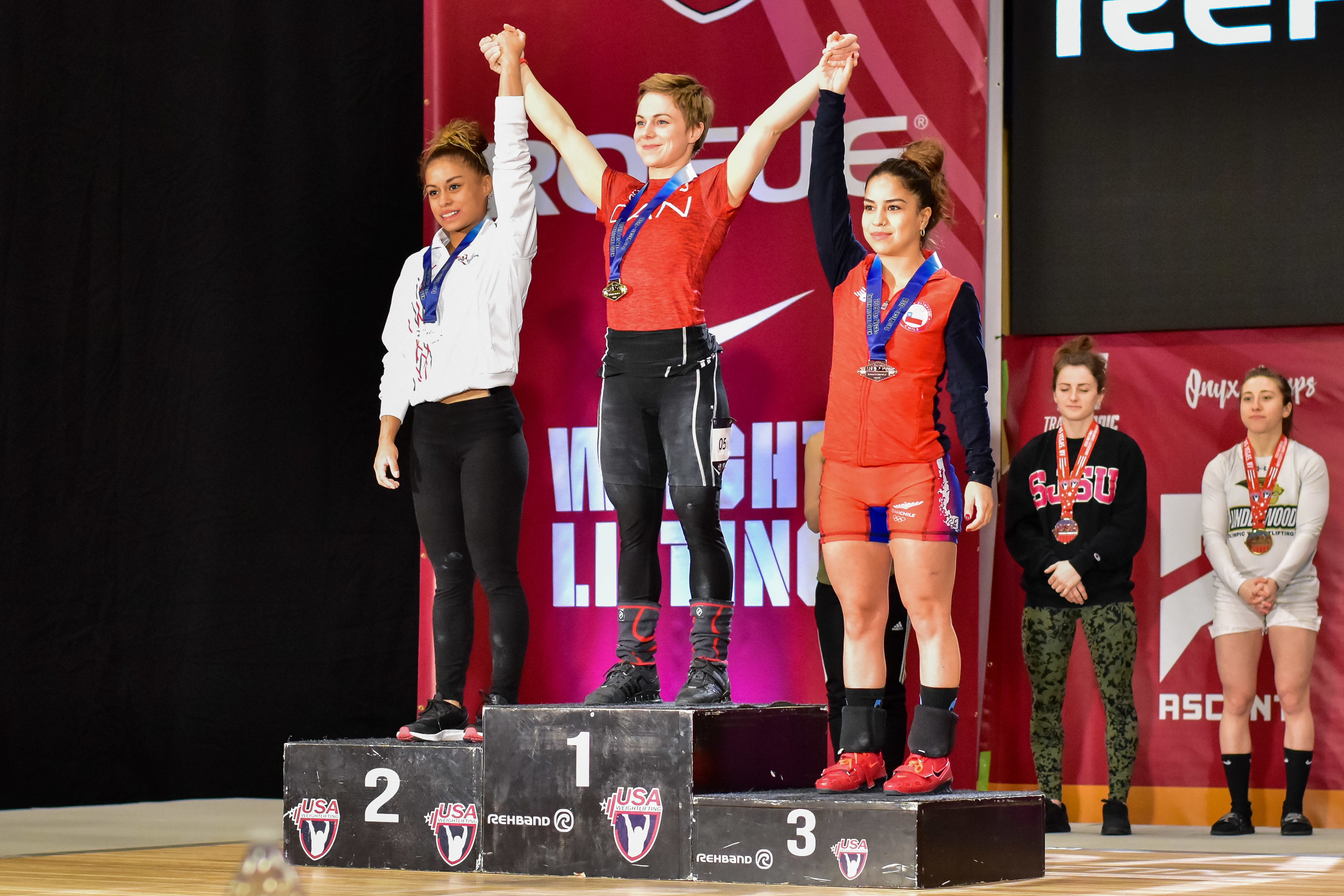 In weightlifting, it's a matter of seconds between the time an athlete attempts a lift and the time he or she finishes the move. But several recent efforts by USA Weightlifting to attract new athletes—including a concerted push to become a collegiate sport through the National Association of Intercollegiate Athletics—are designed for the long haul.
Promoting the sport at the collegiate level has been a challenge over the years for the Colorado Springs-based national governing body. "Our youth membership is growing every year, which is great," said Suzy Sanchez, a former collegiate athlete in the sport who now serves as director of grassroots development for USAW. "Where we're having an issue is from the youth to the junior transition."
In weightlifting, youth athletes are under 17 years old and juniors are 18 to 20. At the transition from high school to college—that shift from youth to juniors—USA Weightlifting is experiencing about a 33 percent drop off in membership. "That's a significant amount of athletes we are losing," Sanchez said. "What we've found through our membership surveys and direct contact with our athletes is that there aren't enough collegiate opportunities."
Several other sports are experiencing a similar phenomenon, and a handful of them have entered the NCAA's Emerging Sports for Women program, which is designed to increase collegiate opportunities. If an emerging NCAA sport reaches 40 participating schools, the NCAA will then consider offering a championship.
USA Weightlifting, however, has chosen to focus its efforts at growing the collegiate sport through the NAIA, the governing body for smaller universities and colleges. One reason is that the threshold to become a championship sport is lower than in the NCAA. At the NAIA, just 15 schools must offer the sport at the varsity level for the sport to be considered emerging. And when a sport can gain 25 schools, the NAIA will consider it for championship status.
Another key difference is the NCAA program is only for women's sports, whereas the NAIA effort includes men as well. "The NAIA as a whole seemed a bit more receptive to adding a new sport," Sanchez said. "In weightlifting we primarily target women's athletes because our women's team is much stronger than our men's team. But at the collegiate level we want to provide opportunities for athletes on both sides."
At the moment, six NAIA schools offer weightlifting as a varsity sport and three others offer it at the club level, making the goal of 15 feasible in the near future. In its efforts to focus on the NAIA, USAW has been attending the association's annual convention the past two years and has begun a concerted effort to contact athletic directors to tell them about the benefits of the sport. A guide to offering a new sport produced by the NAIA is also helping with USAW's messaging.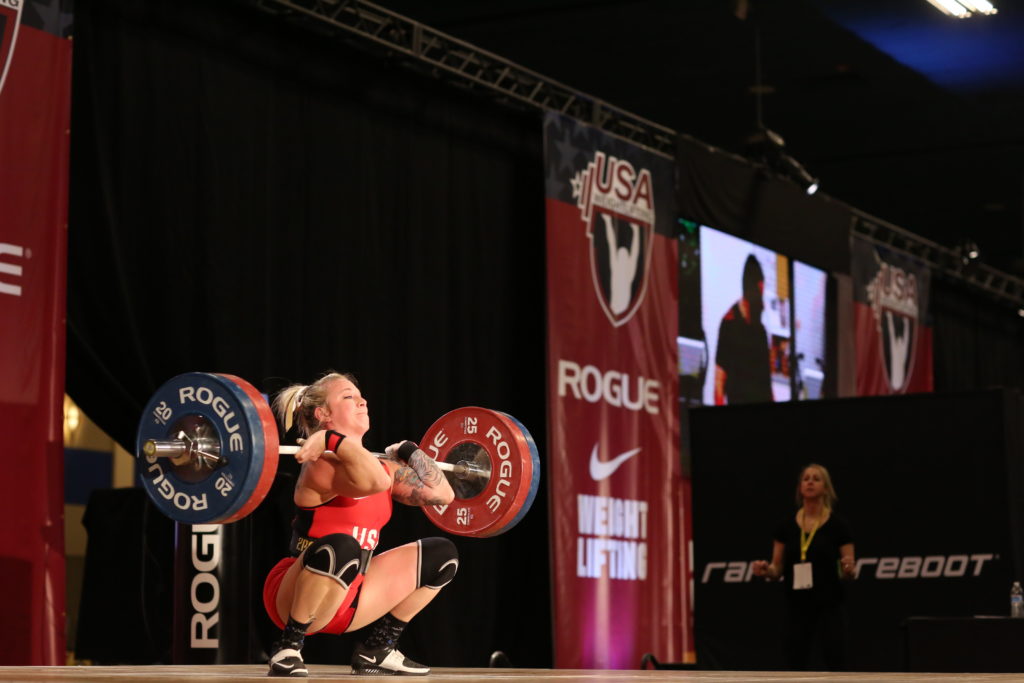 Still, there are challenges. In many cases, NAIA universities have limited resources. Strength and conditioning coaches are often the professionals needed to start a weightlifting program, and in some cases these coaches are already spread thin providing their expertise to other sports on campus. As a result, finding someone in the local weightlifting community willing to help start or maintain a collegiate program on campus has been important, Sanchez said.
In the absence of an NAIA or NCAA event, USAW has been organizing its own collegiate championship since 2014, placing it on college campuses that currently offer it, including LSU–Shreveport, a powerhouse in the sport. The event is typically staged in April.
Lifting a Sport
The NAIA push isn't the only effort USAW is making to grow the sport. In April it partnered with five other NGBs on a Pro Day series, where the governing bodies sent representatives to six college campuses across the country to scout potential athletes. USA Rugby, USA Cheer, U.S. Rowing, USA Bobsled/Skeleton and USA Triathlon also participated.
Sanchez said more than 80 athletes were tested and the NGBs were pleased with the turnout. "Some of them were athletes that had gone to the NFL Combine and didn't get picked for camps, so we had some pretty high-caliber athletes," Sanchez said. The NGBs expect the program to continue next year, with more participating NGBs and universities.
In addition, USAW has created several of its own programs targeting the potential athlete pipeline. A combine event, designed for high school athletes but open to anyone up to age 27, will enter its second version in the fall, with USAW supporting local clubs as they host events for new members. For the program, clubs invite athletes and test them on several skills—including a vertical jump, triple hop, 30-meter sprint, back squat and power clean—to gauge their potential. Athletes with the most promise are invited to a high-performance camp. USA Weightlifting helps with equipment and social media marketing for clubs that participate. The goal is to bring in new members who are not currently affiliated with a local club to introduce them to the sport, Sanchez said.
An online high school "throwdown" program is another effort targeted to help build the athlete pipeline. For that program, students can submit videos of their best squat, bench and power clean, disciplines that are most often used at the high school level. The top performers are then invited to a recruitment class in Chicago, and the schools receive barbells and banners to recognize their students' achievements.
Sanchez said those programs and the NAIA push are all aimed at creating a new pipeline of athletes to keep the sport in good shape for years to come. "At the end of the day," she said, "we're trying to provide opportunities for our youth athletes to continue participation in the sport of weightlifting after they graduate high school."