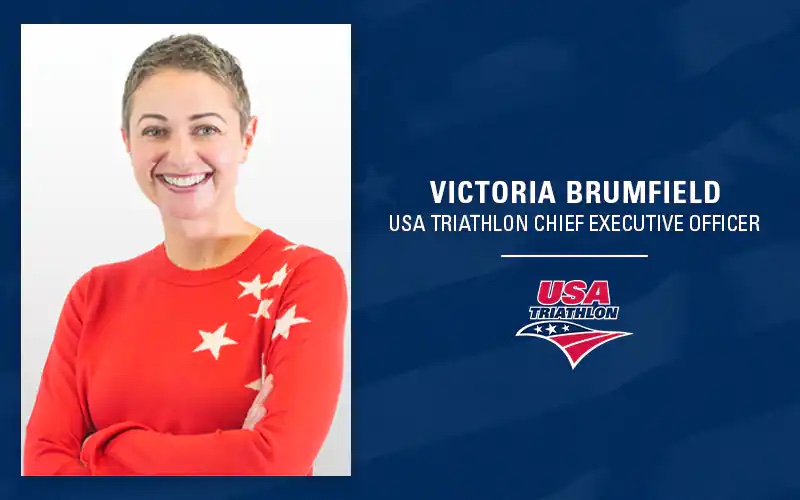 Victoria Brumfield has been named chief executive officer for USA Triathlon after serving as interim CEO since September. She will become the first female CEO in the national governing body's history.
"It became clear after a robust global search and rigorous interview process that Victoria is the dynamic leader USA Triathlon needs to continue to move forward," said USA Triathlon Board of Directors Chair Joel Rosinbum. "She possesses all the qualities we looked for in the organization's next CEO — collaborative, creative, forward-thinking, service-orientated, and passionate about the challenge. With a clear long-term vision for both the organization and the sport, a diverse skillset and unparalleled passion, and a distinct approach for uplifting and empowering our constituents, Victoria is uniquely suited to elevate both USA Triathlon and triathlon and multisport in the United States and deliver on the lofty goals set forth in USA Triathlon's 2028 Strategic Plan."
Brumfield took over as interim CEO following the recent departure of Rocky Harris, who left the NGB to become chief of sport and athlete services for the U.S. Olympic and Paralympic Committee.
Brumfield has worked for the organization for more than four years, leading the development and implementation of USA Triathlon's most recent strategic plan – Elevate 2028 – that sets the path for the organization through the LA 2028 Olympic and Paralympic Games.
"I'm honored to lead USA Triathlon during such an important time, and I want to thank Joel, the USA Triathlon Board of Directors and members of the hiring committee for the opportunity," Brumfield said. "Multisport is transformative, unifying and empowering, and I am proud and ready to wake up every morning and bring this sport and community to more people. I look forward to working closely with our constituents and team to continue to spread the virtues of our sport far and wide, serve our community in a way that enables everyone to prosper, build on the development programs for youth and junior athletes, and celebrate our sport and community every day."
When she joined USA Triathlon as chief of staff, Brumfield was the first female member of the USA Triathlon's executive leadership team. She has also been a staunch proponent of diversity, equality, inclusion and access during her time at USA Triathlon and worked to make DEIA a focal point of the organization's long-term strategic plan, annual priorities and hiring processes, among other areas. In 2020 she was named the chief business development officer, in addition to her chief of staff role, and led business development and partnerships. Under her leadership USA Triathlon led unprecedented commercial growth and strategic partnerships, even while navigating the COVID-19 pandemic.
As chief of staff, Brumfield was responsible for directing strategic planning, managing and streamlining the organization's operational plan, and overseeing cross-functional projects with large-scale organizational impact. She also directly oversaw business administration including human resources, finance, and information technology.
Prior to USA Triathlon, Brumfield worked in the endurance sports industry for nearly 20 years and was a founding member of the Virgin Sport start-up in Sir Richard Branson's global Virgin Group. Before Virgin, she served as event director for the New York City Triathlon, Ironman U.S. Championship, 2003 ITU World Cup in New York City, 2005 ITU Age Group World Championships in Hawaii, and the 2004 USA Olympic trials for triathlon, among others.
"Victoria Brumfield possesses a remarkable level of expertise and acumen about USA Triathlon and the varied constituents it serves, most notably race directors, and age-group and elite athletes," said Henry Brandon, USA Triathlon Board of Directors vice chair and search committee member. "She has demonstrated an impressive track record of success enhancing operations and driving measurable results throughout her career. She has been an incredibly valuable member of our team, and I am confident that her wealth of experience and passion for continuous advancement position her well to guide USA Triathlon through its next strategic growth phase as our CEO."