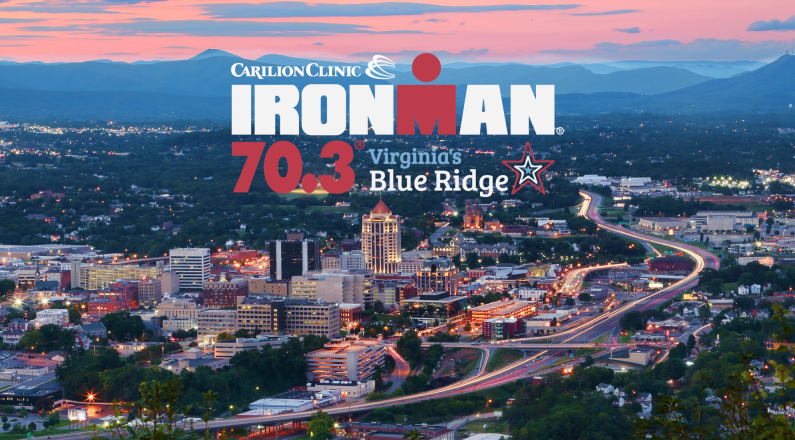 Ironman has announced that Roanoke, Virginia, will become a multiyear host of the Carilion Clinic Ironman 70.3 Virginia's Blue Ridge triathlon starting in 2020. The event was previously held in Williamsburg, Virginia.
Carilion Clinic is a Roanoke-based health care organization and will serve as the title sponsor of the event, which will be staged June 7, 2020. General registration will open August 13, 2019.
"The excitement surrounding the addition of Roanoke to the Ironman 'Ohana' is extremely high," said Keats McGonigal, senior regional director for The Ironman Group. "There is a long history of endurance events in Virginia's Blue Ridge area, including road cycling, mountain biking, and running. Bringing the Ironman 70.3 event to this destination provides a picturesque venue where athletes can achieve their dreams of crossing the finish line in the sport of triathlon."
Located in Virginia's Blue Ridge Mountains, Roanoke is the largest metropolitan area in Virginia's mountain region and is a hub for outdoor recreation. For the Ironman event, the 1.2-mile swim will take place in Carvins Cove Reservoir. Athletes will then embark on a 56-mile bike course through the rolling hills of Botetourt County before returning to downtown Roanoke. Athletes will then take to the Roanoke River Greenway, a paved trail alongside the Roanoke River, for the run course.
"Virginia's Blue Ridge is honored to be chosen as the only host destination for an Ironman 70.3 event in Virginia for 2020," said Landon Howard, president of Visit Virginia's Blue Ridge. "Becoming part of Ironman's elite global race series further establishes our region as a premier sports destination on a national and international level."