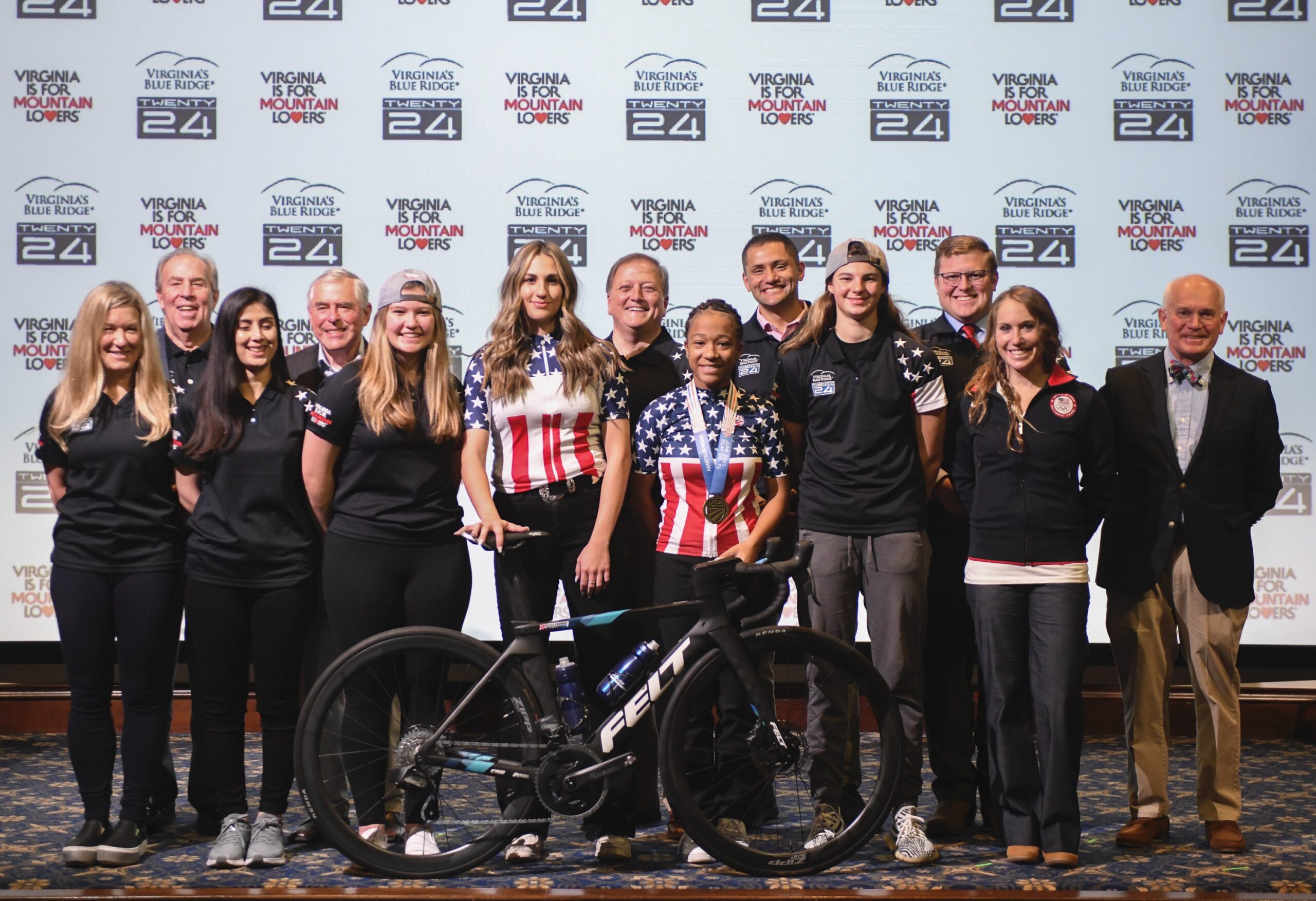 Team TWENTY24, a diverse team of female professional and junior cyclists, will relocate their base of operations from Idaho to Virginia's Blue Ridge and rebrand as Virginia's Blue Ridge TWENTY24, a move announced by leaders of Visit Virginia's Blue Ridge and the Virginia Tourism Corporation.
For more than 17 years, the women's cycling team has been responsible for developing and managing many of the most successful American female cyclists, establishing a consistent pipeline for talented road, gravel and Zwift esports athletes. The team's accomplishments have included 14 Olympic and Paralympic medals, 17 world championships and numerous national championships.
The team is led by Tokyo Olympic gold and bronze medalist Jennifer Valente, a 10-year member of the team. Valente will be joined by two-time Olympian and reigning Pan American Time Trial Champion Marlies Mejias, who will establish Roanoke, Virginia, as her home base while competing in the United States.
As part of the announcement, Visit Virginia's Blue Ridge will become Team TWENTY24's title sponsor for the next three years.
"On behalf of the Visit VBR Board, we are invested in Virginia's Blue Ridge TWENTY24 underscoring the diversity, equity and inclusion these athletes represent and the inspiration they will share with our community," said Landon Howard, president of Visit Virginia's Blue Ridge. "In addition to increasing the visibility of the VBR brand nationally and internationally, this will prompt many new stories about VBR as an outdoor destination playground."
The move became reality in part with the support of Virginia Tourism Corporation, which will become a platinum-level sponsor of the team.
"We are fortunate to become part of the road to Paris as we welcome some of the world's top cyclists to Virginia to train and prepare for the 2024 Olympic Games," said Rita McClenny, president and chief executive officer of Virginia Tourism Corporation. "This program supports female athletes at the highest level while spotlighting Virginia's Blue Ridge as an ideal destination for outdoor recreation. This relocation is the latest in a series of outstanding cycling news for the region and represents a major opportunity for economic impact. We look forward to showing the Virginia's Blue Ridge TWENTY24 Team why Virginia is for Mountain Lovers."
Virginia Blue Ridge recently earned a Silver-Level Ride Center designation from the International Mountain Bicycling Association and hosted the inaugural Carilion Clinic Ironman 70.3 Virginia's Blue Ridge triathlon in 2021.
"The vibrant cycling culture in Virginia's Blue Ridge makes it a natural fit for Team TWENTY24," said Nicola Cranmer, founder and general manager of VBR TWENTY24. "The rich mix of outdoor gravel and road assets solidifies VBR as a premier cycling destination for our athletes. Our first year in Virginia will have a strong focus on connecting with the community, developing our new athletes through training camps on the beautiful and challenging roads of the region."