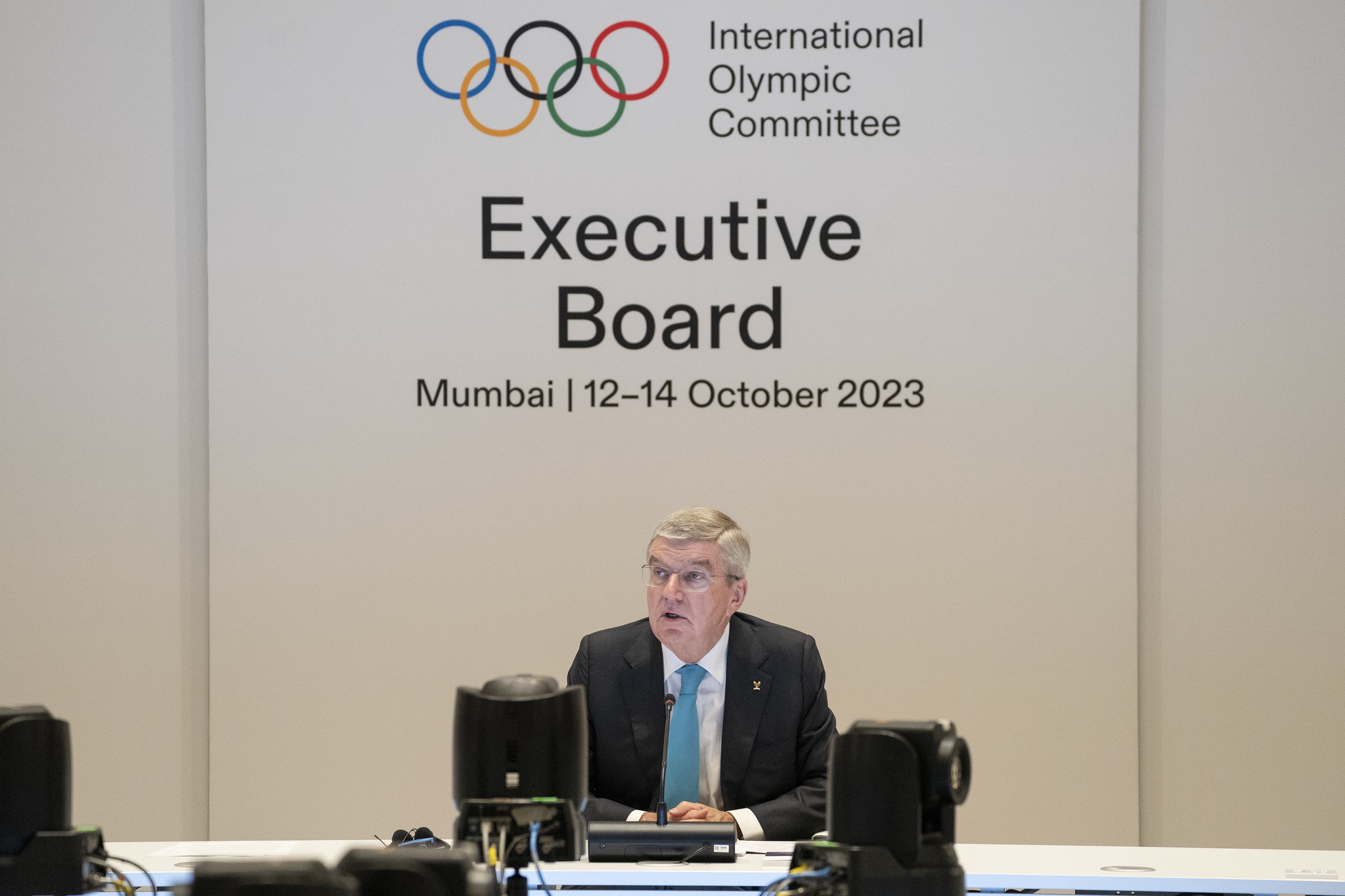 International Olympic Committee President Thomas Bach said the Olympic body aims to confirm hosts for both the 2030 and 2034 Winter Games at its meeting on the eve of next year's Paris Olympics, a gigantic boost for Salt Lake City organizers looking to bring the Winter Games back to the United States for the first time since 2002 when it was in Utah.
The double award proposal by the IOC executive board still needs approval by the full membership, which should be a formality at the Olympic body's annual meeting, which opens Sunday in Mumbai.
"The IOC Executive Board decision to pursue a dual award is yet another boost to our Salt Lake City-Utah ambition to host the Games in 2030 or 2034, and it provides all Interested Parties with a more succinct timeline," said SLC-UT President and Chief Executive Officer Fraser Bullock. "We now have a robust lineup of cities and regions interested in hosting the Games in 2030 or beyond, which is a valuable signal for winter sport. Our Games concept meets the IOC's sustainability goals of staging climate-reliable Games in all existing, world-class venues. We welcome today's decision which will aid us in carrying forward the strong public enthusiasm for the Games here in Utah."
Bach's announcement for a dual award cites climate change concerns that could change the entire Winter Games landscape for decades. Bach noted only 15 countries on three continents currently meet the criteria of having at least 80% of existing venues for snow sports and a "climate-reliable" outlook to host events in future decades.
"We need to address very quickly this dramatic impact of climate change on winter sport," Bach said in Mumbai. "By 2040, there remain practically just 10 NOCs who could host these snow events."
The next deadline for the 2030 and 2034 Olympics will come at an IOC executive board meeting in Paris scheduled to start November 28. A final vote by the full IOC membership could in theory be at next year's Session held before the start of the 2024 Games in Paris but there is one potential complication; should a French winter bid be deemed the best choice for 2030, the IOC Charter would prevent it from being awarded a future edition of the Games at a Session which it is hosting.
Cities in the Mix
The race for 2030 started with three main contenders in Salt Lake City, Vancouver and Sapporo, Japan. Sapporo was seen as the early favorite with Olympic observers believing the IOC would reward Japan as soon as possible after Tokyo held the pandemic-delayed Olympic and Paralympic Summer Games in 2021 without fans. The lack of fans was a contributing factor — although not the main one — in a budget that exploded with overruns.
But Sapporo's candidacy was wounded as a massive corruption and bid-rigging investigation began in Japan. Fifteen people at five companies face trial in the bribery scandal as officials from Sapporo and the Japanese Olympic Committee first paused their candidacy and eventually withdrew the bid because of the lack of public support.
Vancouver's bid was unique, being the first Indigenous-led bid process and with nearly all of its venues from the 2010 Games still in operation. But with budget questions came needed provincial guarantees for the bid to be viable. When British Columbia officials said in October 2022 that they would not provide support, the local bid officials continued their work but Vancouver was not seen as a viable candidate much longer.
With the Summer Olympics in 2028 in Los Angeles, the IOC has been wary of having the United States host back-to-back Games because of the overlap that would come in domestic marketing cycles for each U.S.-based Games. For its part, Salt Lake bid officials have said they would be willing to step in for 2030 if there is no other viable alternative while repeatedly stating a preference for 2034.
Keeping that in mind, the IOC began a not-too-subtle recruiting effort to find other countries and destinations that would be interested in bidding. As some initial interest was coming, the IOC announced in December 2022 it would postpone choosing a 2030 Winter Games host and potentially do a double awarding for both 2030 and 2034 while also commissioning a study on climate change, including a possible rotation of future Winter Games among a select few cities.
New Bidders Emerge
After the delay, three possibilities developed out of Europe. The first was Stockholm, Sweden, as following a four-month feasibility study, Swedish sports officials said there is a desire for the Nordic country to stage the Olympics in Stockholm. Stockholm's bid would use Are, a ski resort more than 300 miles away, and the bobsled, luge and skeleton track in Latvia.
Switzerland has also proposed a bid that stands out in its philosophy as being held in the entire country instead of one region. A September survey found 55 percent of Swiss residents supported the idea, a reversal of five years ago when a potential 2026 Games bid was stopped after a funding proposal was defeated. But a feasibility study will not be presented to the Swiss Olympic Executive Board until later this month, delaying a formal decision on whether to submit a bid.
That has left the late-developing French bid as the favorite. More than 100 elected officials have backed the bid centered on Auvergne-Rhône-Alpes' and Provence-Alpes-Côte d'Azur that was only proposed in June after IOC member and International Cycling Union President David Lappartient was elected as French National Olympic and Sports Committee President. While France has hosted the Winter Games three times – in Chamonix in 1924, Grenoble in 1968 and Albertville in 1992 — its last bid for the winter edition was embarrassing as Annecy won only seven of 95 votes in the race to host in 2018.
The dual award would be the second time the IOC has made an announcement in that fashion. When the IOC selected Paris as the host of the 2024 Games six years ago, Los Angeles was given the 2028 Games.