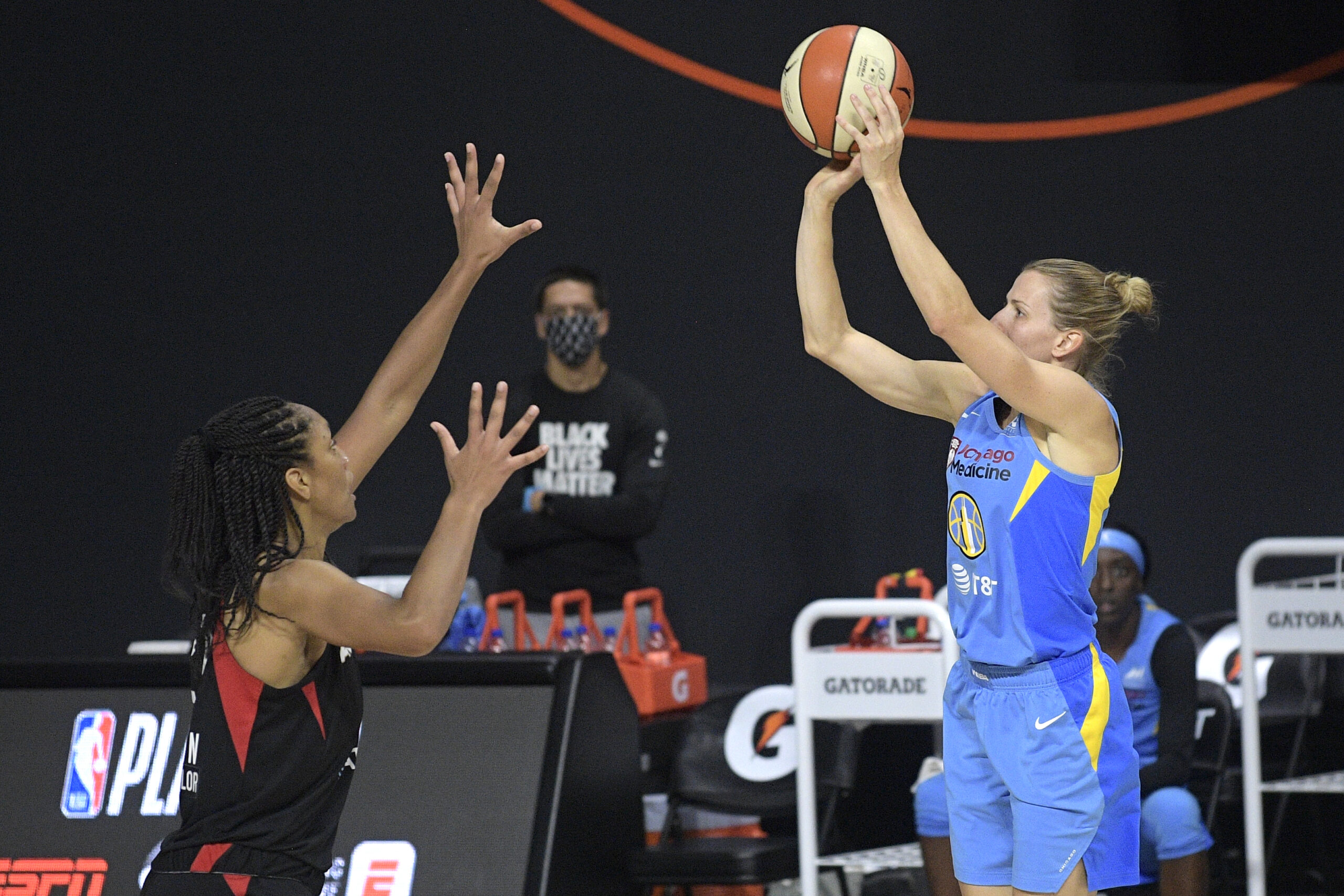 One of the professional leagues currently playing under a closed environment is the WNBA — but don't call it a "bubble." Instead, refer to it as the "wubble."
The league's 22-game regular season is being played at the IMG Academy in Bradenton, Florida, with teams playing every other day without fans. The playoffs will retain its usual format with two rounds of single-elimination play, then going to best-of-five series for the semifinals and finals. There have been no positive COVID-19 tests in the "wubble" — as players are referring to it. And the television ratings so far have been strong with the opening game on July 25 drawing more than a half-million viewers, the league's best opening weekend audience since 2012. ESPN's average opening weekend viewership was up 63 percent over the 2019 season.
"I really hope that (new fans) see how passionate we are about playing but also using our voices to truly impact our communities," WNBPA President Nneka Ogwumike said during the Sports Business Journal's The Road Ahead webinar series. "The WNBA is unique in that we have several athletes who do way more than just play basketball. Wanting to be a part of women who know their value and speak to the value of others in their community is quite inspirational for others to follow. Seeing women support women is inspirational as well."
The league is holding the season on the upswing of also having agreed to a new eight-year CBA that includes pay raises for players, improvements in travel accommodations and a new paid maternity leave policy for players plus an initiative to build diversity pipelines for coaches and front offices for players.
"This is a pivotal moment for our league," Ogwumike said. "We're being introduced to a lot of people who may not have been following us before. Not just basketball but because of how we choose to use our platform," pointing to the league's emphasis on Black Lives Matter and dedicating the season to Breonna Taylor with her name on the back of every player's jersey.
Clear of COVID in Canada
When the National Hockey League held its general managers meetings in Florida in early March, one of the topics discussed was the spread of coronavirus throughout the world since the NHL had started seeing its impact in European hockey circles with leagues shutting down.
"We were in a position where we hoped we would be able to complete the season before the virus impacted us or professional sports in North America generally," NHL Deputy Commissioner Bill Daly said. "In retrospect, that was a naive view. The dominos started to fall pretty quickly following those meetings."
The NHL suspended play on March 12 and did not resume until two bubble environments were secured in Edmonton and Toronto. Since then the league has not had a positive test in more than a month — last week's round of 5,640 tests returned no positives — with a modified end to the regular season. The league's return to play includes an expanded playoffs with a preliminary best-of-five round before going to the traditional seven-game series from the conference quarterfinals on through to the Stanley Cup Final.
"We were aiming or targeting having one bubble venue in Canada and one bubble venue in the United States," Daly said. "… As some of the markets in the U.S. started to resurge with the virus, we ultimately decided the safest place for us to put the bubbles was two Canadian cities."
Daly said the 2020–2021 regular season is targeted for a December 1 start but that has flexibility depending on talks with the players association but also health and safety officials.
"We hope to be in a position where we're playing games in front of fans again, that's our guiding priority right now," Daly said. "Hopefully we can get there. … Playing in front of fans both from a revenue perspective but atmospheric and environmental perspective is important to the appeal of our game. We're going to try and do everything we can to get to that point."
PGA Proud of San Francisco Success
PGA of America CEO Seth Waugh was able to bask in the success of his organization's holding the PGA Championship, this year's first golf major, at Harding Park in San Francisco without incident in a tournament that had — at one point — a seven-way tie for the lead on the back nine of the fourth round.
"We hadn't been to the West Coast in 20 years, had a great story with Harding Park and it's a municipal golf course, which speaks to a lot of what we do," Waugh said. "The theater inside the ropes was incredible. It was perhaps the most important event we've ever done."
The PGA's ability to hold the first major of the year with the U.S. Open and Masters to come in the fall comes after the organization did have to make the decision to cancel the Ryder Cup, which was scheduled for Whistling Straits in Wisconsin. The Ryder Cup will be held next year and in odd years going forward with the Presidents Cup also moving to even years.
"We tried everything we could to try and do it," Waugh said. "When it became clear that it would not be responsible to have fans, then we said, 'What is the Ryder Cup without fans?' The Ryder Cup is so built by fans on the first tee and beyond — it's a golf match but it's also like a rock concert. It became clear as we spoke to the captains and players that without fans, no Ryder Cup (this year)."