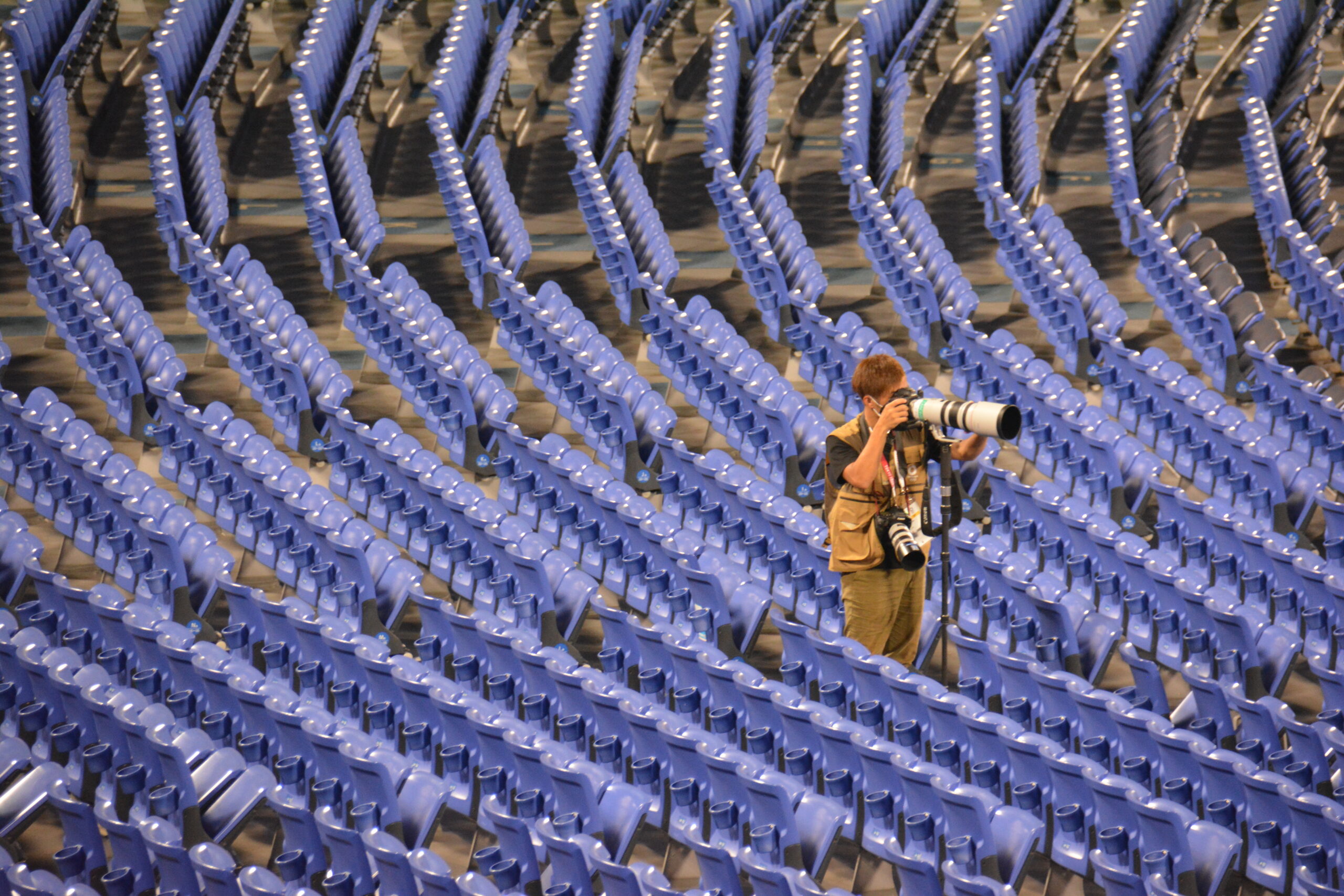 The 2021 Olympic Summer Games will go down as one of the most unusual in history. Staged during a worldwide pandemic whose positive rates were only going up in Japan during the course of the event, the lack of spectators made for a surreal scene on-site, as I discovered over 10 days on the ground in Tokyo for SportsTravel. But the quiet from the stands wasn't the only unusual scene in Tokyo.
As the Games reached their conclusion with Sunday's Closing Ceremony, here are 10 memories and observations from one of the strangest Olympic Games ever staged, but an event that nonetheless still managed to create the kind of athletic drama that fans of the movement have come to expect.
Tokyo 2020
Let's start with the name of the event itself. For seven years, "Tokyo 2020" had been the unofficial name of the organizing committee and was the phrase planned for all signage, merchandise and branding. When the Games were postponed to 2021, the IOC's announcement came with the caveat that the event would continue to be known as Tokyo 2020.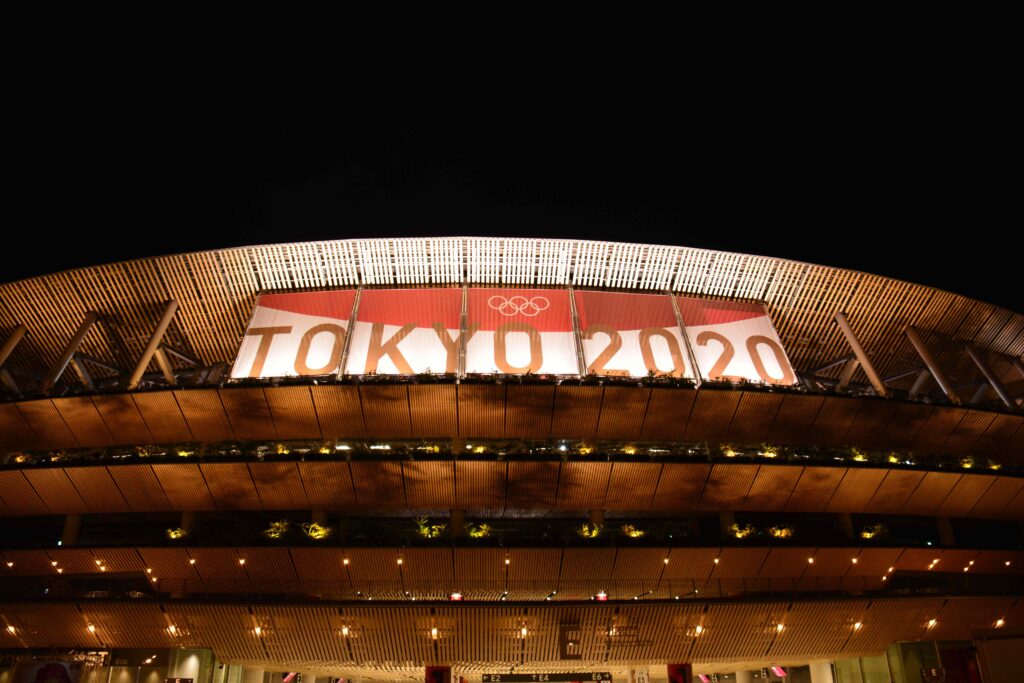 Seeing the sheer amount of Tokyo 2020 signage around the city, not to mention the warehouses of merchandise that contained the phrase, one can understand the expense that would have been necessary to change that last 0 to a 1. But from a distance, hearing IOC officials continue to make reference to "Tokyo 2020" all the way through 2021 was a strange optic under strange circumstances.
Inconsistent Artificial Noise
One question mark heading into the Games: With all fans banned from attending, would the IOC pump in crowd noise to make up the difference and give athletes the feeling people were still there? The answer ended up being yes … sort of.
Most events I attended did not have artificial noise. The judo competition gave it a shot, although "pumping" is not a verb I would use to describe the volume at the Budokan. It was so muted, it almost sounded like part of the HVAC system was on the fritz. After a minute or two in the arena, your ears had pretty much put it out of mind entirely.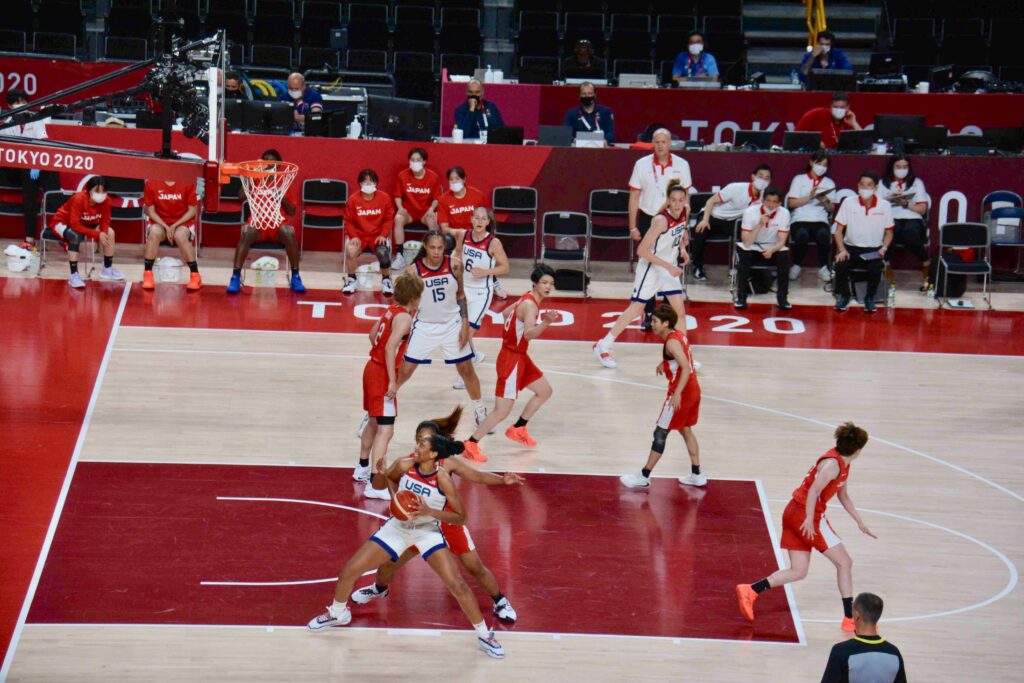 At the women's basketball game I attended, however, the noise was more audible. But I wouldn't describe it as crowd noise. Instead, it sounded like a family was having dinner somewhere near the arena and had somehow accidentally called into the speaker system on their cell phone. As someone in the arena, I found the effort more of a distraction than anything else.
DJs and Dance Cams for No One
Pity the scoreboard operators at the Olympic venues. They no doubt had plans to rile up the crowds, until they learned there would be no crowds. That didn't stop them from trying though. At the rugby sevens competition I attended, a DJ was on the big screen at Tokyo Stadium to spin the tunes for a crowd that couldn't have numbered more than 150.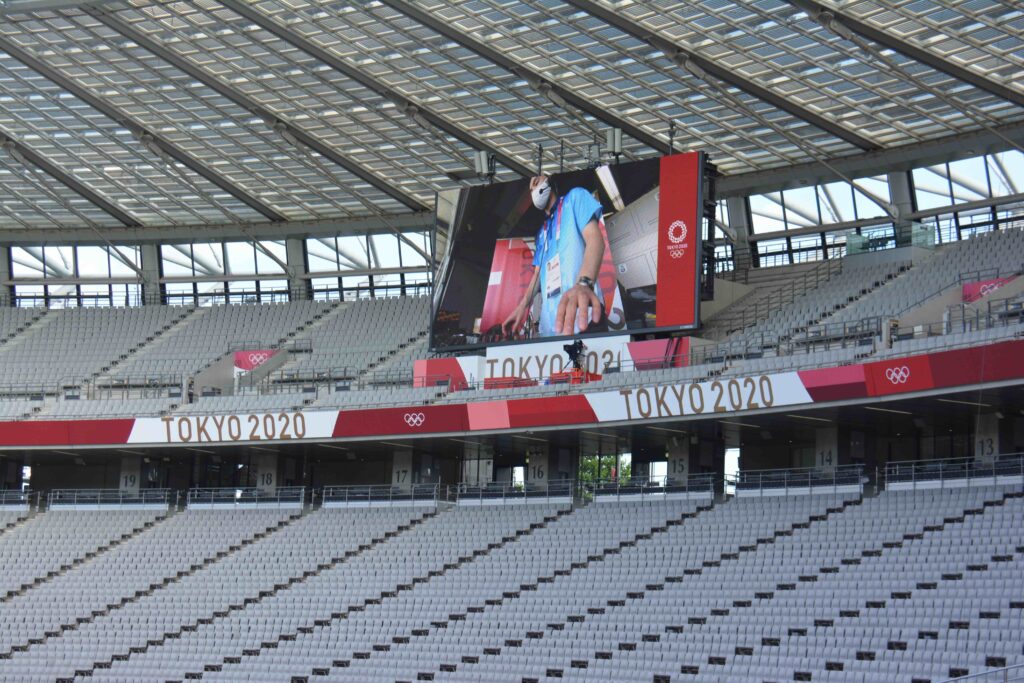 When the screen later turned to a Dance Cam, the camera spanned the crowd until it came across a few federation officials who didn't seem terribly interested in dancing. I saw this same phenomenon at the softball game I attended at Yokohama Stadium as well. At least it wasn't a Kiss Cam.
Back-of-House Bicycles
Olympic venues are notorious for providing spectators and other Olympic Family members with the most circuitous route possible upon entry. Indeed, I had several long and confusing walks from the bus drop-off site to a seat inside the venue. Some were so labyrinth in nature that they were nearly impossible to reverse your course when it was time to leave.
At the Tokyo International Forum that hosted weightlifting, the route took you across two different buildings via a skywalk — twice. It also took you on four different floors of the building. When it was time to leave, I lost my way back and eventually found the real front entrance of the building. The problem was that it wasn't the front entrance being used for the Olympic Games. I was stuck and it took about 20 minutes to find the way out after a very broken conversation that was lost in translation with some volunteers there who had no idea how I had gotten where I was.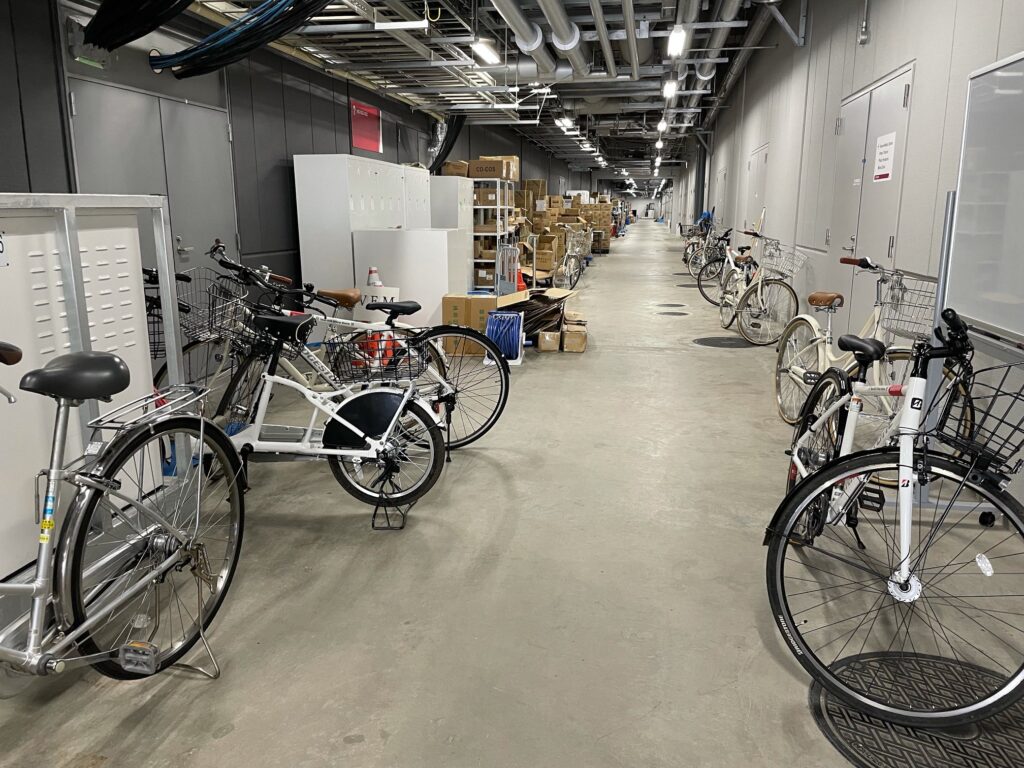 At the indoor volleyball venue, I noticed that one back-of-house area they routed us through had dozens of bicycles along the walls. It wasn't until I saw a volunteer hop on one to ride down the hall that I realized their purpose in shortening the trip. I wasn't sure if I was supposed to use one so I stayed on my feet. But the thought on hopping one was awfully appealing.
So Much Sanitizer
Give credit to Tokyo 2020 for this: They embraced hand sanitizer. One could argue the effectiveness of hand sanitizer in the big picture as a deterrent to COVID-19 but overall, of course, it was nice to have around. But it was everywhere.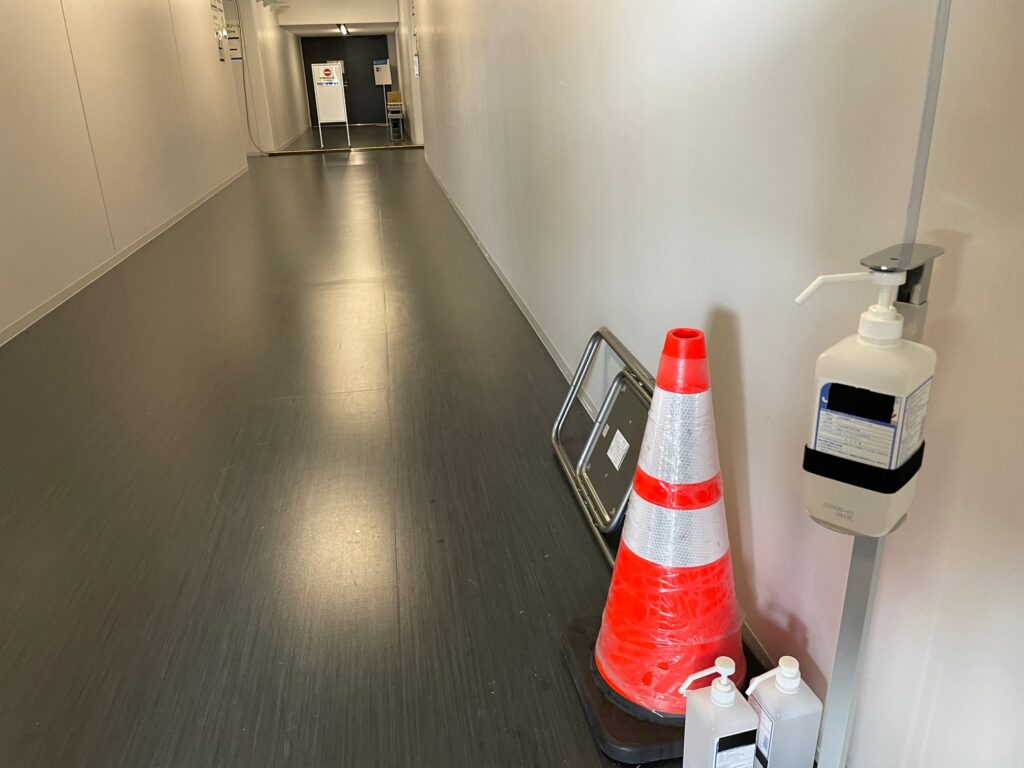 Pretty much any time you entered a door into a new room, there was a bottle of sanitizer, often with a foot pedal to produce the squirt, often with a volunteer directing you to the foot pedal. They were also at every security stop at the front of every venue as well, with a volunteer there to make sure you took a squirt. And any time you got on a bus, there was another bottle, often with a driver pointing you to give it a shot.
Integrity of the Seating Bowl
One of the many unusual parts of this Olympics was how empty the seats were. For journalists, it was often ideal. Photographers pretty much had free reign to get whatever angle from whatever seat they wanted — a rarity at a big sports events like the Olympic Games. At the softball gold medal match, I could sit in the front row if I wanted. That was the same for rugby and most other events I attended.
But not all.
At the indoor volleyball arena, I had worked out to meet up with USA Volleyball CEO Jamie Davis for a story we wrote. But Davis had a federation credential and I had a media credential, meaning we had access to different parts of the arena. Those access points met at the top of a seating aisle about halfway up the arena. When we met after a Team USA match, there couldn't have been more than 50 people in the entire venue. But a worker in the arena wouldn't allow Davis to go above the top step of the aisle, or for me to go below that step.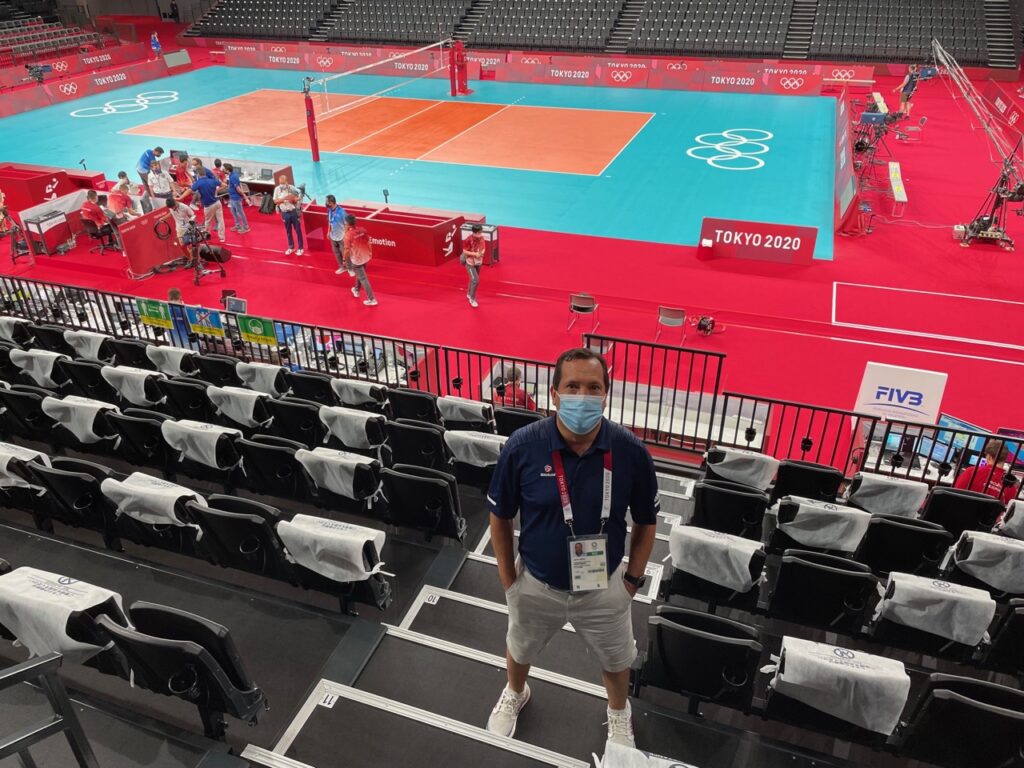 "Can I sit in that seat over there to talk to him?" I asked the worker, pointing to an empty row of seats about 10 feet below us. The answer was a firm no. So I interviewed Davis with him standing on the top step of the aisle and me on the concourse, a rope placed on the top of the aisle to further prevent our interaction. The worker listened in on the conversation and no doubt was pleased with maintaining the integrity of the seating bowl. But in a nearly empty arena, it was a bit ridiculous.
The One Fan
The closest I came to seeing a true fan came during a boxing match I went to watch. In the top section of Kokugikan Arena came a sound so jarring considering how quiet all the venues were: a snare drum.
Sure enough, up in the rafters during a match between fighters from Uzbekistan and Azerbaijan was an Uzbek fan who had brought in not only two giant flags but that snare drum and a pair of sticks. He would rap his drum, yell out some phrases and stand up to wave those flags.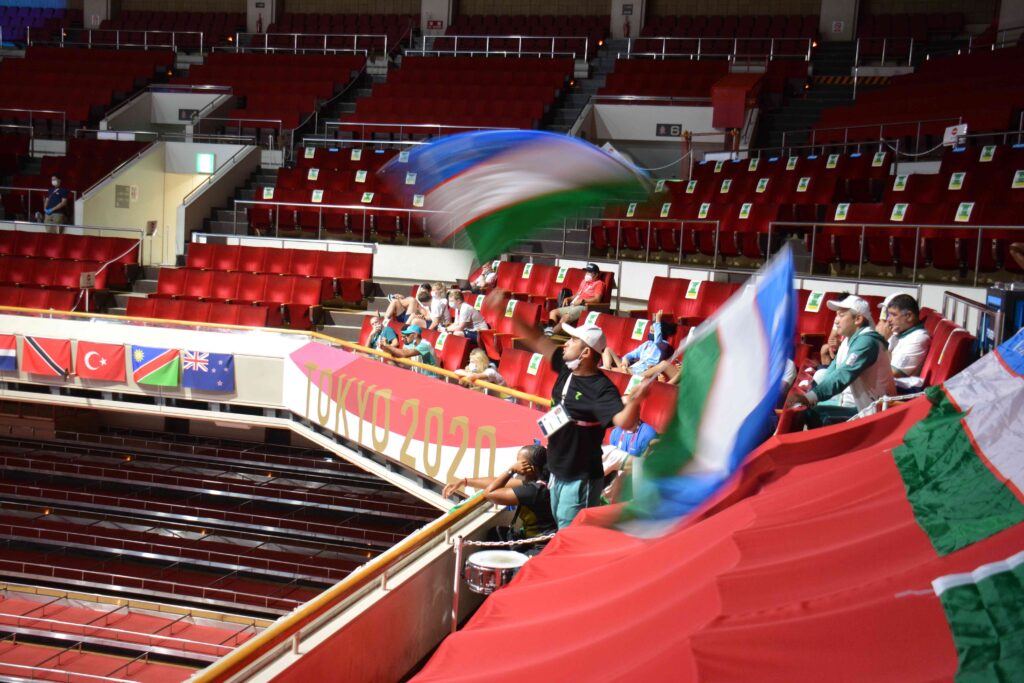 Upon further inspection, he had a credential with the Uzbek boxing federation so was part of the Olympic Family. But I gave him credit 1) for bringing in that drum and 2) having the nerve to play it in an otherwise empty venue. It must have worked: His fighter won.
Easy Celebrity Spotting
One benefit for journalists from empty arenas: It was easy to spot the few people that were there. That's how I ran into USA Softball's Craig Cress for a Q&A we did with him at the game. It was as simple as looking to the right to see him enter the stadium. When he walked in with USOPC CEO Sarah Hirshland and Chief of Sport Performance Rick Adams, it was an added bonus to get some face time with them as well.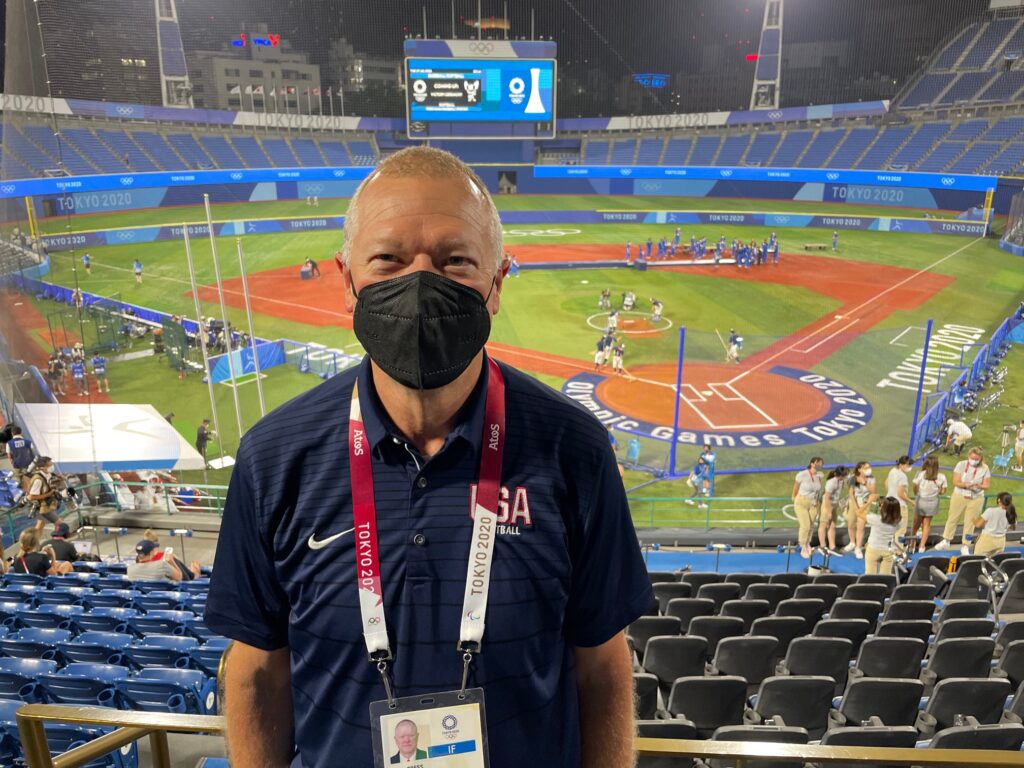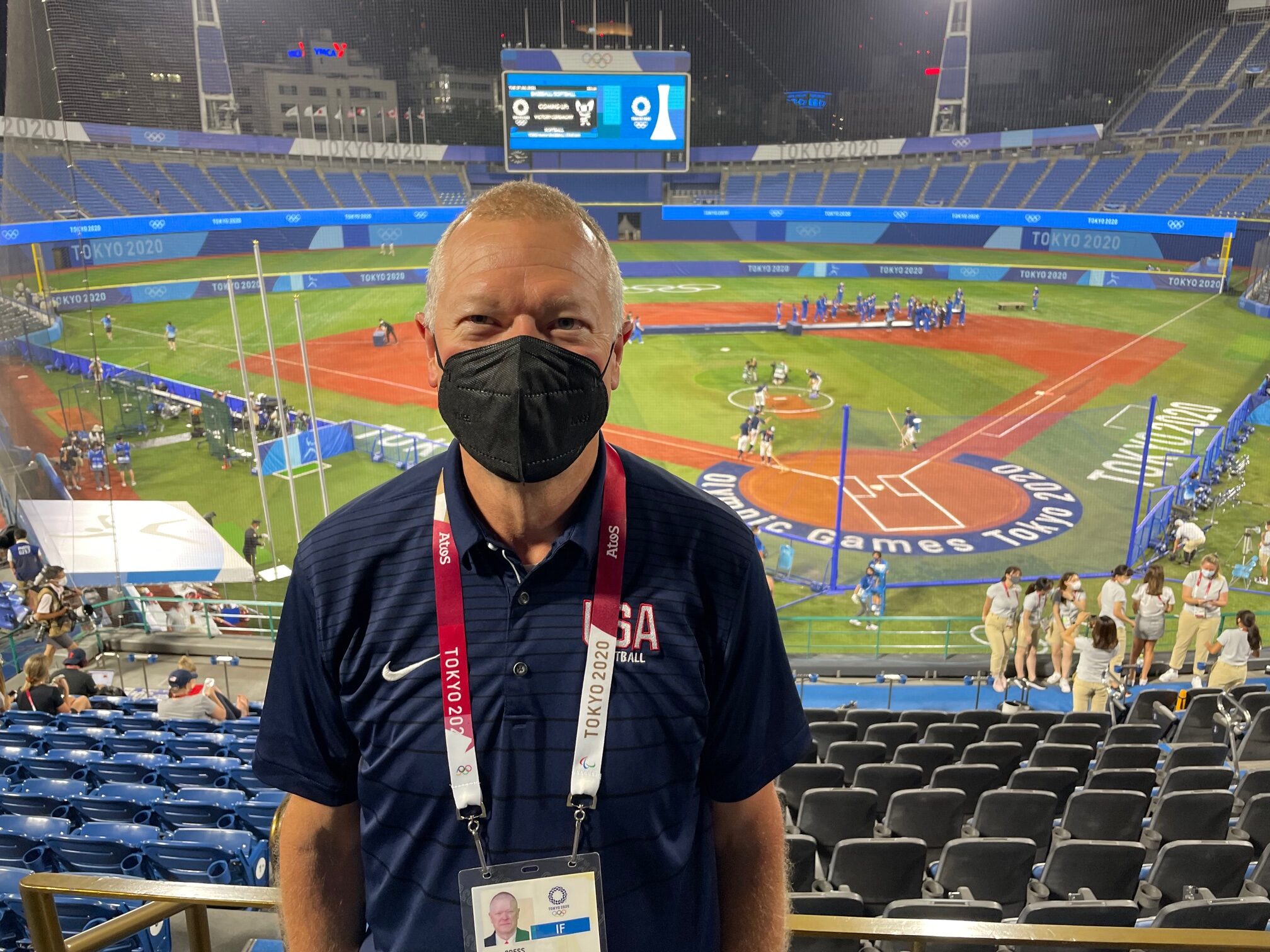 At the gold medal match for table tennis, a similar experience happened when the unmistakable IOC President Thomas Bach walked into the venue. But unlike Hirshland, Adams and Cress, who sat in the bleachers for softball, Bach managed to have his own secluded part of the Tokyo Metropolitan Gymnasium in which to watch table tennis with his own private entourage.
ABBA and the Clapping Media
At every Olympics, there seems to be at least one event that surprises me in how compelling the competition is. This time around, for me, it was the discus event. Sweden finished first and second in the riveting contest that wasn't settled until the final throw.
Eventual gold medalist Daniel Stahl did his best to work the crowd as he was preparing for his final toss. Encouraging some claps, he actually got quite a few from the media in attendance — an act of fandom that you will never see among the press corps at a sports event. But with no one else to cheer these people on, why not? It was actually a great moment to see and experience.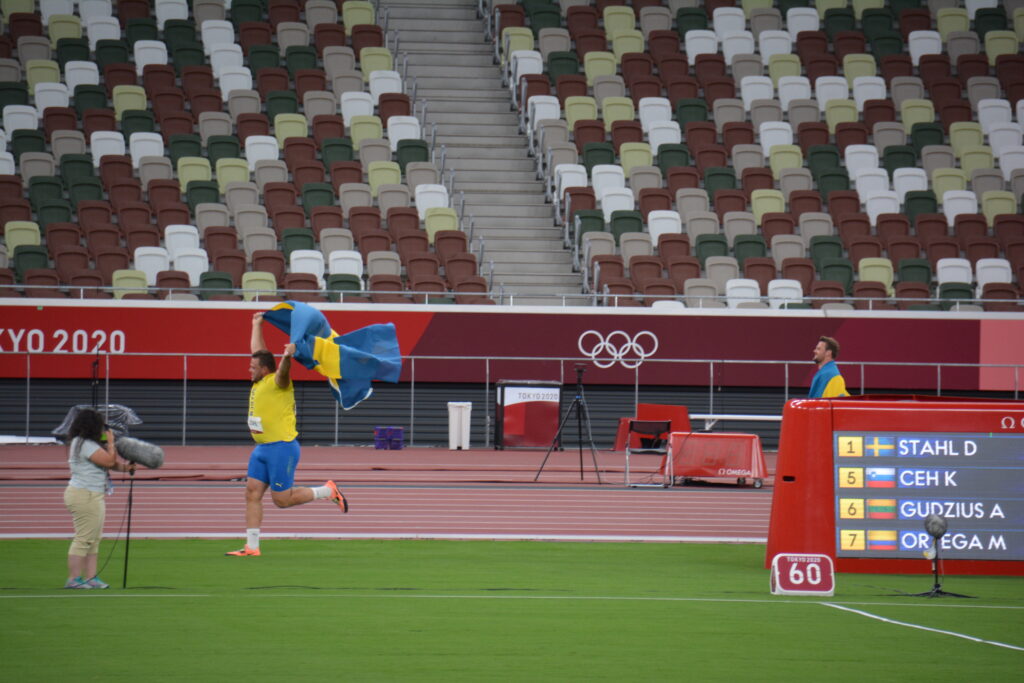 But it wasn't as great as when Stahl secured his gold and his native ABBA started playing over the loudspeaker. ("The Winner Takes it All," of course, although for some reason that was followed by "Dancing Queen.")
Perhaps Stahl was feeling the dancing part. A big lug of a guy with a gut that suggested he may not be too into crunches for his training, he took his Swedish flag and ran in glee down the length of the field, gut bouncing the whole way. It was a moment of pure joy and was amusing to witness.
A Reminder of Why They Play
The table tennis finals I went to were gripping, and not just for the championship match, which itself was great. Two Chinese athletes met for gold, including Ma Long, the 2016 gold medalist, and Fan Zhendong, the No. 1-ranked player in the world. Long defended his title, the first Olympic champion ever to do so in men's singles. The match was everything you would imagine as two legends fought it out in a sport that looks nothing like what you used to play in your basement.
But the real drama was in the bronze medal match. That's where 32-year-old Dmitrij Ovtcharov of Germany battled 19-year-old Lin Yun-ju from Chinese Taipei for the medal. Ovtcharov is the most accomplished Olympic table tennis player in history not from Asia, having previously won four medals. But he faced four match points in this one, fighting his way back each time until eventually winning bronze.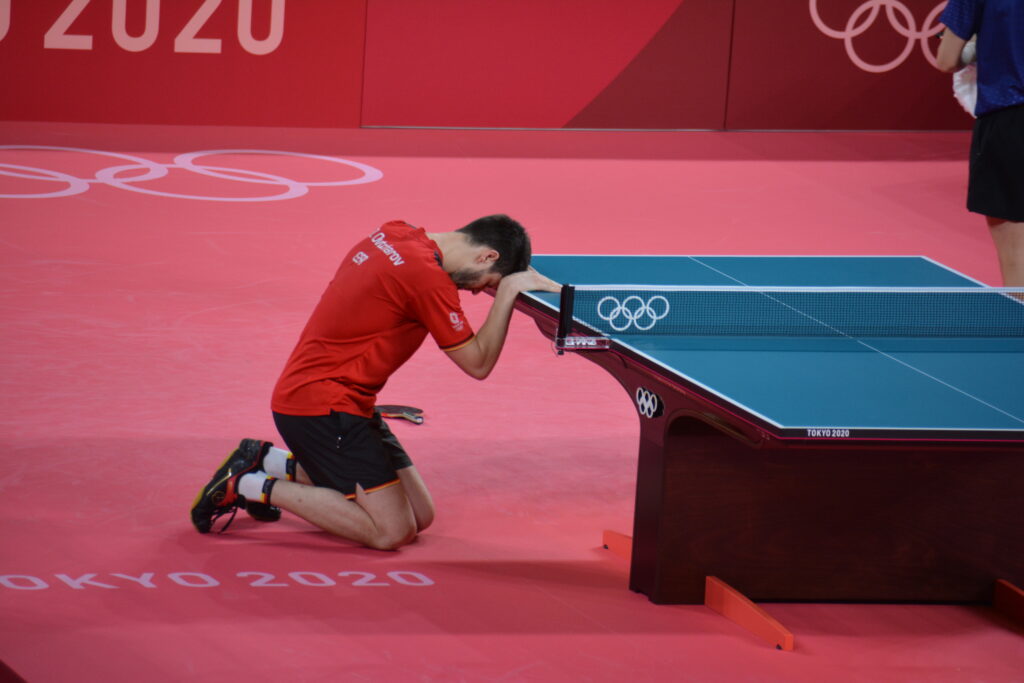 On that final point of the match, he put his racket down and collapsed to the ground with his head in his hands as if he just won gold. To him it didn't matter what color his medal was. It was a stark reminder that most Olympians don't go home with anything at all. And at this most unusual of Olympic Games, seeing Ovtcharov react with such emotion and humanity was a reminder that the heart of the Games was still intact, no matter how strange the circumstances surrounding them.