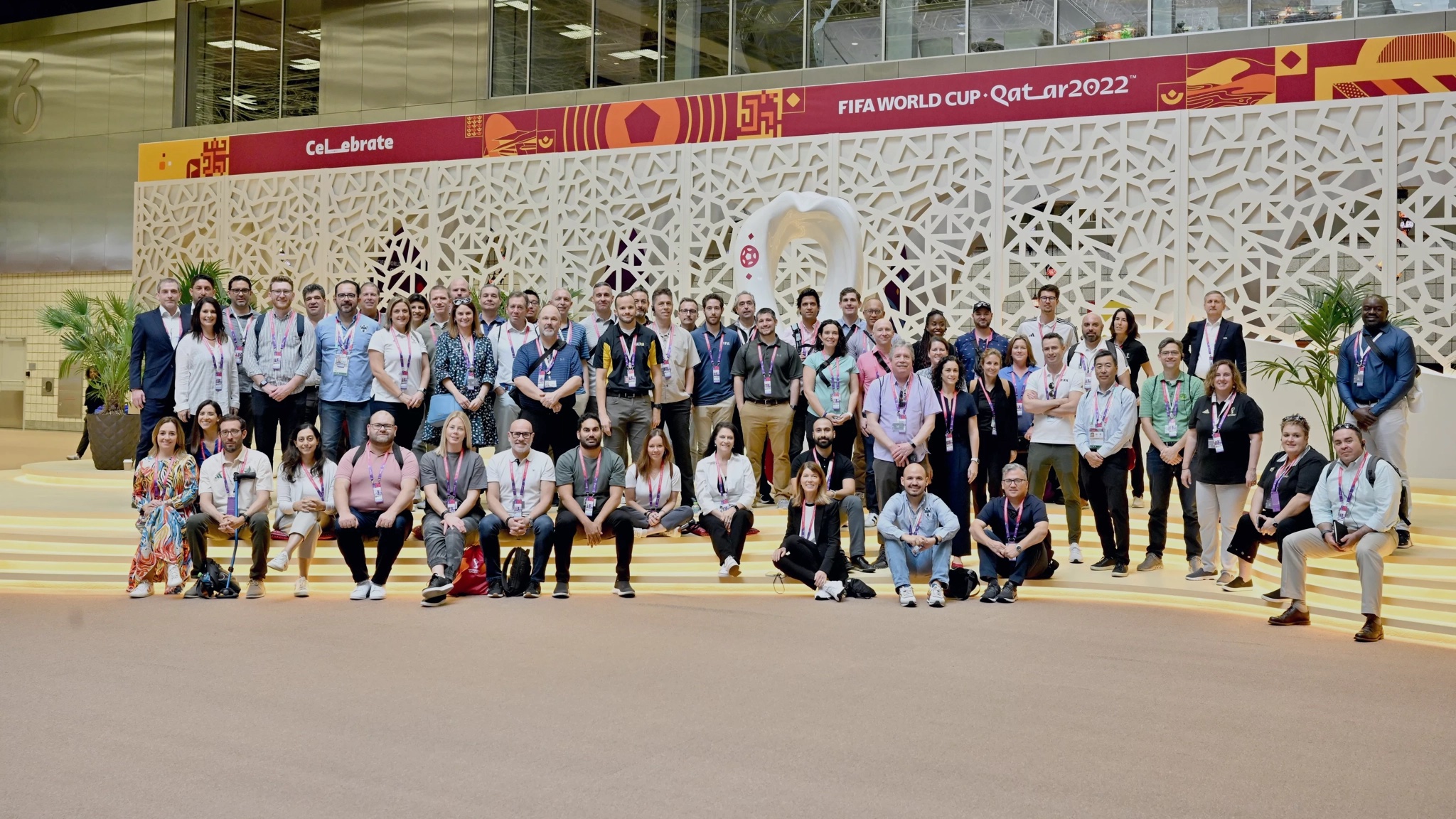 The 2026 FIFA World Cup has been billed as the biggest yet with 48 teams, three countries and more host cities than ever before. And throughout the process from FIFA's visiting host city candidates, to the day of the announcement last July of which cities will host games and an inside view of what it was like for the cities, SportsTravel has been detailing the saga.
There is still plenty to be determined on the road to 2026. But first, we recall from those who were there the experiences of the FIFA Observer Program, which included 180 participants from the FIFA Women's World Cup 2023 and FIFA World Cup 2026 organizing committees.
"This is the biggest sporting event in the world, hands down, no competition," said Meg Kane, manager of bid coordination and external affairs for Philadelphia Soccer 2026. "You do not appreciate the size, the scale, the immersion of the experience until you're there."
Qatar Impressions and a 'VVIP' Experience
In Qatar, observers were taken to a series of games in the Round of 16 that for each left memories. For Dallas Sports Commission Executive Director Monica Paul, it was watching players with FC Dallas ties as the United States lost 3-1 to the Netherlands and hearing the National Anthem and the way fans responded in the stands. For Seattle 2026 Chief Executive Director Peter Tomozawa, being at the Japan-Croatia game was an emotional moment from an ancestry standpoint. While the Croatians' victory in a penalty shootout was a "massive disappointment," he acknowledged that "it was such a well-played game."
Still, "the best thing I saw in the whole trip was the electric atmosphere all around Doha and the excitement that people were there, from all walks of life, all parts of the world, having a great time," Tomozawa said. "One of the things that FIFA and the World Cup does is unify the world in a positive way and we got to see that."
Part of the stadium tours also included time in what was one of the most-discussed but least-visible parts of the World Cup: The VVIP sections for the elite of the elite with chefs preparing meals in real time for guests and a giant patio platform to eat, drink and watch the game before heading to what was less of a seat and more of a giant, cushioned recliner.
"It was unlike anything I've ever seen," said Destination Toronto President and Chief Executive Officer Scott Beck. "But when you understand the impact that FIFA has globally in terms of brand, you understand why they're so proud of what they present. And they genuinely treat their partners in a way that is commensurate with their impact."
Even for those who had been to a World Cup before, December 2022 was something that does not compare.
"Until you're able to see a World Cup, it's different than any major event that we've hosted in terms of the magnitude and overall footprint," said Paul, who had been to the 2018 World Cup in Russia. "In Qatar, you saw immediately upon arrival that the World Cup was taking place. You felt that all throughout Qatar whereas I thought there wasn't as much signage that I was able to see when I was in Moscow."
What Qatar was able to do for hospitality and the fan experience overall is a taste of what FIFA will expect each city to offer in 2026. But there maintains one obvious difference.
"It will be very difficult to replicate what happened in Qatar in the U.S. because of the city aspect of it," said Adolfo Romero, vice president of event programming at SoFi Stadium and Hollywood Park. "Qatar was the Olympic model where they put all the resources in one city."
"It's a takeover of a region," an official with New Jersey Governor Phil Murphy's administration said. "It's what they wanted to achieve in Qatar and what we hope to achieve to. Even if you're not at the games, you're feeling the World Cup around you. They were able to create a one city feel — the hotel, the minute you got to the airport, you felt like you were at a World Cup. You drove around the streets and you found signage. They had the awesome projections on the hotels. You heard, saw, felt the World Cup. That was unique and we'd love to create that in our region as well."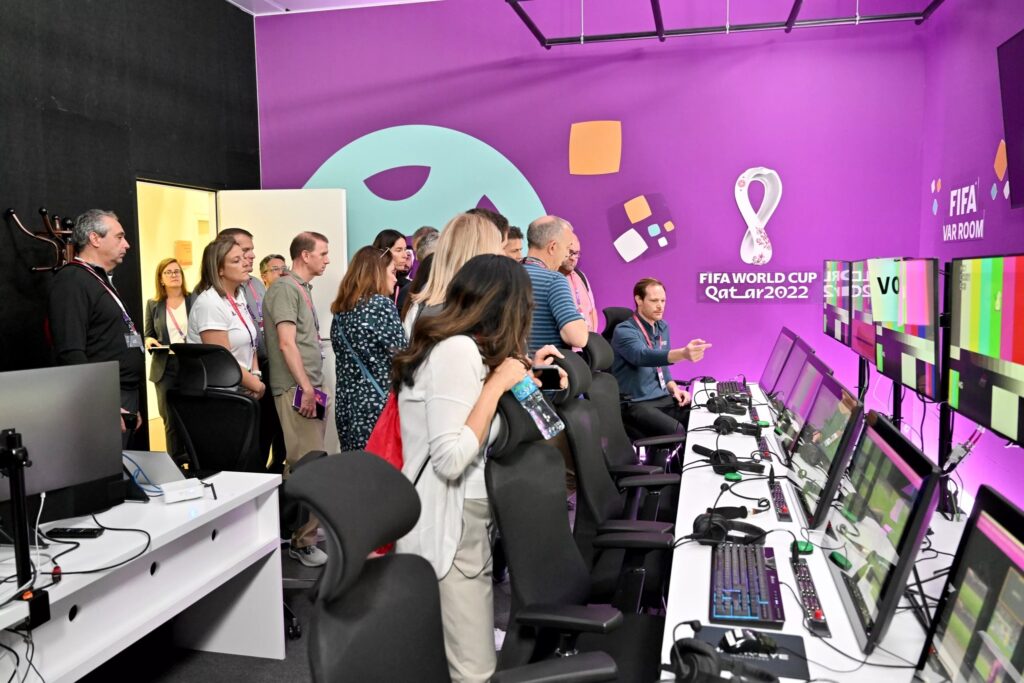 A Peek Behind the Curtains
Along with going to games, a detailed tour of Lusail Stadium allowed observers to see the full back-of-house operation including the VAR room, team rooms and the experience players would have as they walked out onto the pitch.
"Probably the favorite thing I saw was the VAR room," said Tomozawa. "The VAR room is a space-age marvel. … (The stadium tour) was very focused on the operational aspects of hosting games but they showed us all the fan engagement, the festivals and the amount of detail that goes into hosting a mega event like this."
For any major event, the game is one detail and the World Cup is no different. Observers also spent time at the accreditation and volunteer centers, tournament headquarters, the International Broadcast Center, fan festivals and the French national team training site.
"The fan festival stood out and we took a lot of notes in terms of what the layout is, the different activations that FIFA partners do," Paul said. "What FIFA puts in place in each different venue — I don't mean just stadiums but the IBC, the training venues for the teams — it was very in-depth with a lot of notes taken on the transportation system as well."
Again, some things observers saw in Qatar will not be replicated in North America. While there was only one main press center, each city will need a media headquarters in addition to the International Broadcast Center, which is likely to be located in either Dallas or Atlanta. Each city will have its own fan fest every day of the World Cup. The difference in hotels and other infrastructure also stood out.
"Some of the hotel properties had literally opened at the start of the tournament," KC2026 Bid Director Katherine Holland said. "One hotel that we visited, the VVIP hotel, their first guests were the folks that were attending from FIFA. We talked to the hotel manager and I asked him 'How was that? You didn't even get to do like a dry run.' And they were like, 'I wouldn't recommend it.'"
It was also one of the first chances, short of the host announcement, where each of the cities was able to be in the same place in person.
"That was the best part about the program," Beck added. "Having 16 cities make the same ask of FIFA is easier than if one city's making the ask of FIFA," adding with a laugh, "I don't know if FIFA intended that because they kind of opened up a Pandora's box by having us all in the same room."
The Transportation Piece
The differences between the 2022 and 2026 FIFA World Cups could not be starker. Qatar's eight stadiums were located within a 21-mile radius of the city center of Doha. In 2026, the tournament will be held across four time zones in stadiums separated by as many as 3,500 miles. That is why for the cities that host games, extra focus and planning attention will be spent on transportation.
"If you don't get transportation right, the whole experience would be negatively impacted," said Holland. "And that's the last thing that we want. We want everybody coming to Kansas City and having this incredible sporting experience that really drives them to want to come back for another event post-World Cup. Transportation will be key and very involved and it will be a big undertaking."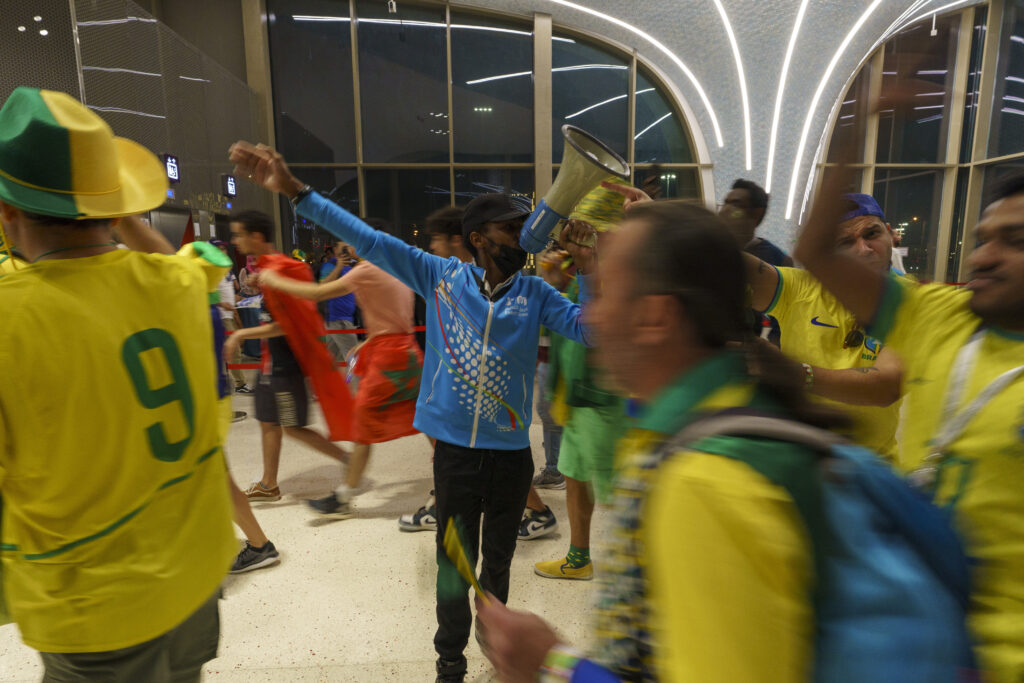 In part because of the compact footprint in Qatar, mass transit was the major mode of transportation for visitors. FIFA and local organizers had what one person called a 'Star Wars room' where it tracked all mass transportation to make sure everything was moving smoothly.
"With all the stadiums being in close proximity to each other, we know that it's something that will never happen in a World Cup again," said Mat Ratner, director for sports and entertainment tourism at the Greater Miami Convention & Visitors Bureau. "From a fan experience, just seeing that everyone could possibly get to three matches in one day and do it on a constant basis, that was something very interesting to see."
Bus transit from downtown areas to suburban stadiums will be a focus for nearly every city. While there are some stadiums such as Seattle's that are located downtown and have easy walkability, others will need to take the lessons of Qatar — and from other major events — and apply them in 2026.
"For those of us that did experience F1 here in Miami, the Dolphins at Hard Rock Stadium created a really great transportation experience setting up the satellite parking," Ratner said. "We had bus companies from all over the southern part of the United States where you drive to a location, you park, you hop on a bus depending on what location you need to go to, and they drop you off right inside the gate. And when you're ready to leave, you hop right back on a bus right back to that parking lot. And it was seamless."
That type of experience will also be needed at airports in each city once the hosts know what countries will be playing in their cities so they can prepare for fans around the world to arrive.
"If South Korea is in the group that is going to be traveling to Los Angeles, we'll want to have a lot more Korean speakers at LAX or at the hotels," said Romero. "That's the level of guest service that I saw in Qatar that we're looking for in L.A."
The observer program also allowed future host cities to chance to discuss takeaways on transportation needs — especially for cities in the Northeast where Toronto, Boston, Philadelphia and the New York/New Jersey bid are connected via a variety of methods.
"They are cities that you are going to be able to move between with relative ease," Kane said. "Amtrak makes it possible to leverage some of that infrastructure along the Northeast Corridor plus international airports to be able to move fans that might want to see matches in Toronto and what matches are in Philadelphia or New York or Boston."
"We would love our region to a hub for all of that and spoke out and go up and down the corridor," a Murphy administration official said. "That'll take some planning with our city partners. We really think we can give fans a great experience on this corridor. We have already started those conversations with Boston and Philadelphia and Toronto to create a sort of ease for the visitor, the fan, to enjoy the games. … How we manage public transportation is a huge focus of ours."
New Sponsorship Packages
One other thing that will be groundbreaking about the 2026 tournament: For the first time, each of the host cities will be selling individual sponsorship packages in an attempt to defray some of the costs that come with hosting games.
"The commercial rights package really allows us to do a couple things," said Beck. "It can minimize the commitment that's already been made by public dollars from all three levels of government. But in enhanced areas, it allows us to make the experience better, to have additional pageantry, to have additional legacy programs that exist."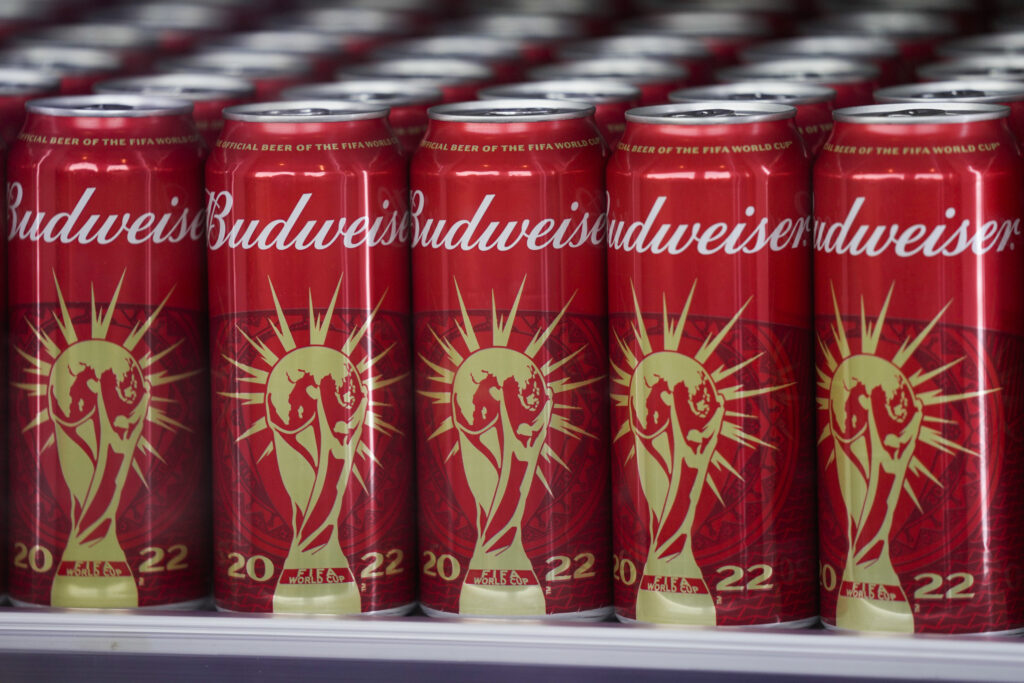 Each city will be able to sell 10 packages that include local IP rights and tickets to games. A business can sponsor a maximum of two cities. As to how the sponsorship would work, Burke said the Super Bowl is the best comparison for an event.
"We were given certain allotment of tickets that we could use to help attract sponsors," Harris County-Houston Sports Authority Chief Executive Officer Janis Burke said. "The Super Bowl has its own fan fest with its own sponsors, but we were able activate outside of it — in other words, once they entered the convention center doors, that was the NFL experience. But outside the doors we could have our own activation and that's where our sponsors could be. … I think it's new for (FIFA). It's new for us. When it's new like this and you're walking through it, sometimes you want answers quicker than you're able to get.
"And then, FIFA has said, 'OK, we're probably going to have a bank sponsor, so none of you can get a bank sponsor. We're going to probably have an airline sponsor, so none of you can get it.' So then looking at the categories that are left, how do we go out and raise (money)."
FIFA's global sponsors — categories or which local hosts cannot get competing sponsors — include adidas, Coca-Cola, Wanda Group, Hyundai/Kia, Qatar Airlines, Qatar Energy and Visa.
Most cities will be able to package a World Cup local sponsorship with other sports teams; Holland said in Kansas City, organizers will collaborate with the NFL's Chiefs and MLS' Sporting KC "to build those packages and then sell and manage them."
"I think we're in agreement here locally that we probably need to leverage some other assets to build out those sponsorship packages," said Holland. "We need more assets to justify sort of the cost that we will be asking companies and organizations to invest. (FIFA) has provided some direction, but there's also some flexibility that they're giving the markets to leverage those assets to fundraise."
What each city will also be able to charge depends on simple market demographics and the economy. There will be issues to resolve as the sponsorship packages are developed by each city.
"We don't even know where our tickets will be," Burke said. "You're going out and trying to sell a sponsor and they're asking 'Where would my tickets be? Are they lower level, upper level, is it a suite, what are we getting?' So, all of this is new for everybody. Those are all really complex things that we're trying to work through right now, because, let's face it, fundraising is a thing that everybody's got to get out in front of."
Experiences Linger
Still, months later, the lessons and learnings but most importantly the experiences linger for those who were in Qatar. Burke remembers one such experience from when she arrived early for the observer program and went to the U.S. vs. Iran group stage match.
"We were walking through the neighborhoods and I thought, do I have to feel a little bit uncomfortable? Because about 75% of the stadium I felt was going to be probably there for Iran because of the part of the world we were in," she said. "Then it really hit me. Everybody was seeing the red, white and blue USA jerseys and they were all like, 'We wish you success today.' As people were walking in with their flags around their backs side by side, you had Iranian people and American people peacefully walking in. And as much as those cultures can be so different or we can have our differences in politics or whatever, all of that was set aside as people were going in.
"I have one video that is really special to me. It was Americans and those from Iran dancing in the streets with their flags together before we went in for the game. And not knowing what the outcome would be, but everybody just dancing together and just celebrating being here and how great this is. And I think that it's really hard to replicate that with any other sporting event."