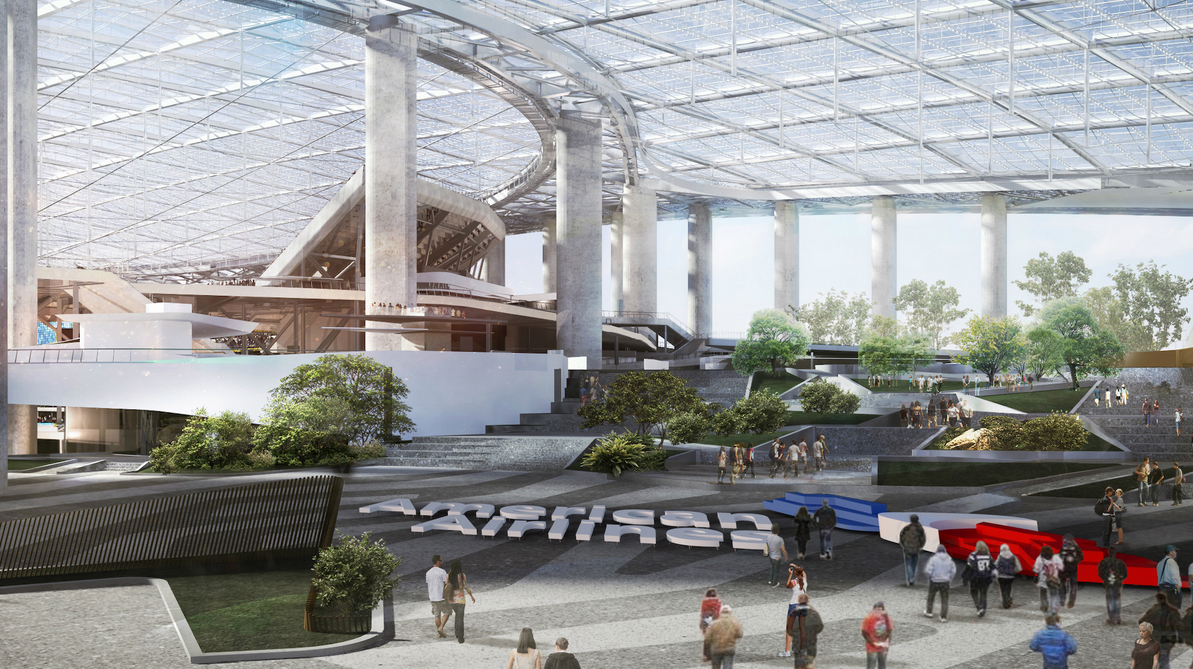 Part of the massive sports and entertainment complex that will host the Los Angeles Rams and Los Angeles Chargers will be sponsored by American Airlines as part of a 10-year, $90 million agreement.
American Airlines will get the naming rights to a 2.5-acre, open-air plaza area in front of the new NFL stadium in Inglewood that will be the main entrance into the stadium and into an adjacent VIP entrance. American Airlines will be the "first official partner" of the facility, and be known as the official airline of the two NFL squads.
American Airlines Plaza measures 10 stories tall and has a capacity of approximately 15,000 guests. The plaza will be open to the public year-round, on event days, as well as nonevent days.
"For decades, Los Angeles has been one of American's most important markets and has played a major role in connecting Southern California to the rest of the world," said American Airlines President Robert Isom. "It is our mission to give our customers the world-class experience they deserve, and we are committed to doing so both at the airport and within the community."
The NFL stadium, built by Rams owner Stan Kroenke, will open in 2020 and reportedly is closing in on a naming rights deal with online personal finance company SoFi that could be worth $20 million annually. It has already been named host of the 2022 Super Bowl, the 2023 College Football Playoff championship game and the 2028 Olympic Summer Games opening and closing ceremonies.
American Airlines has naming rights for the home of the NBA's Dallas Mavericks and NHL's Dallas Stars in Texas, a deal worth $5 million per year according to the Dallas Morning News. The airline also has naming rights for the American Airlines Arena in Miami, home of the NBA's Heat, a deal that expires at the end of 2019.