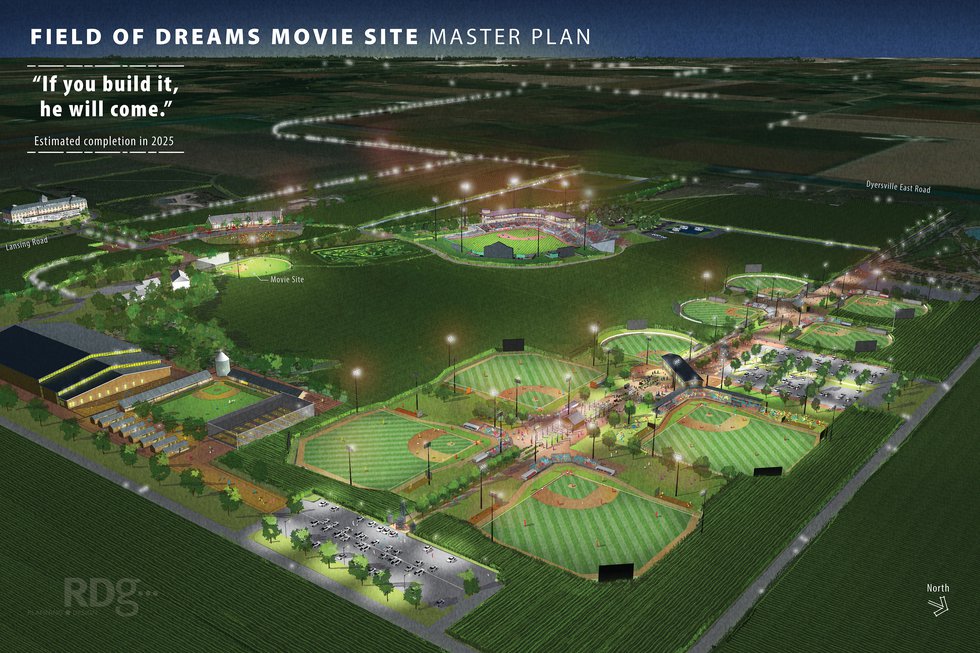 The site for the movie "Field of Dreams," used to great effect by Major League Baseball with a special game last season with plans for another game this season, will be expanded as part of an $80 million private investment plan to include more baseball fields, dormitories for visiting teams and a hotel.
The expansion will add nearly 100 acres to the 190-acre site with work completed in phases. The full complex will be finished by the end of 2023, according to Go the Distance Baseball, LLC, which was acquired last year by a group headed by Baseball Hall of Famer Frank Thomas.
"I am grateful for all that the game of baseball gave me throughout my career, and now I am proud and excited to lead a team that is building opportunities for players, fans, and families to enjoy our national pastime and for teams to train and compete," said Thomas.
Additional phases through 2025 include a 100,000–square–foot fieldhouse, an outdoor concert amphitheater, RV park, a park inclusive for children and adults with disabilities and jogging trails through the cornfields.
"The opportunity is here now to ensure the experience of the Field of Dreams endures for generations," said Rick Heidner, an initial investor in the movie site with the late Denise Stillman, whose family sold controlling interest in Go the Distance Baseball last summer. Future MLB games are being discussed, the new owners said, along with a permanent stadium to host the game, as well as college and high school tournaments and championships for men and women.
In addition, Go the Distance Baseball is establishing a charitable organization, Field of Big Dreams, for children with cancer and military veterans and their families with the mission of providing resources and support to turn dreams into reality.
"Preserving and enhancing one of Iowa's top tourism destinations makes this project a win–win for the local and state economies," said Keith Rahe, president and chief executive officer of Travel Dubuque. "Emerging from the pandemic, the multi–billion–dollar youth sports industry has shown its resilience and will continue to grow, so these plans will ensure that the movie site's place in the lore of America's pastime is secure for future generations."