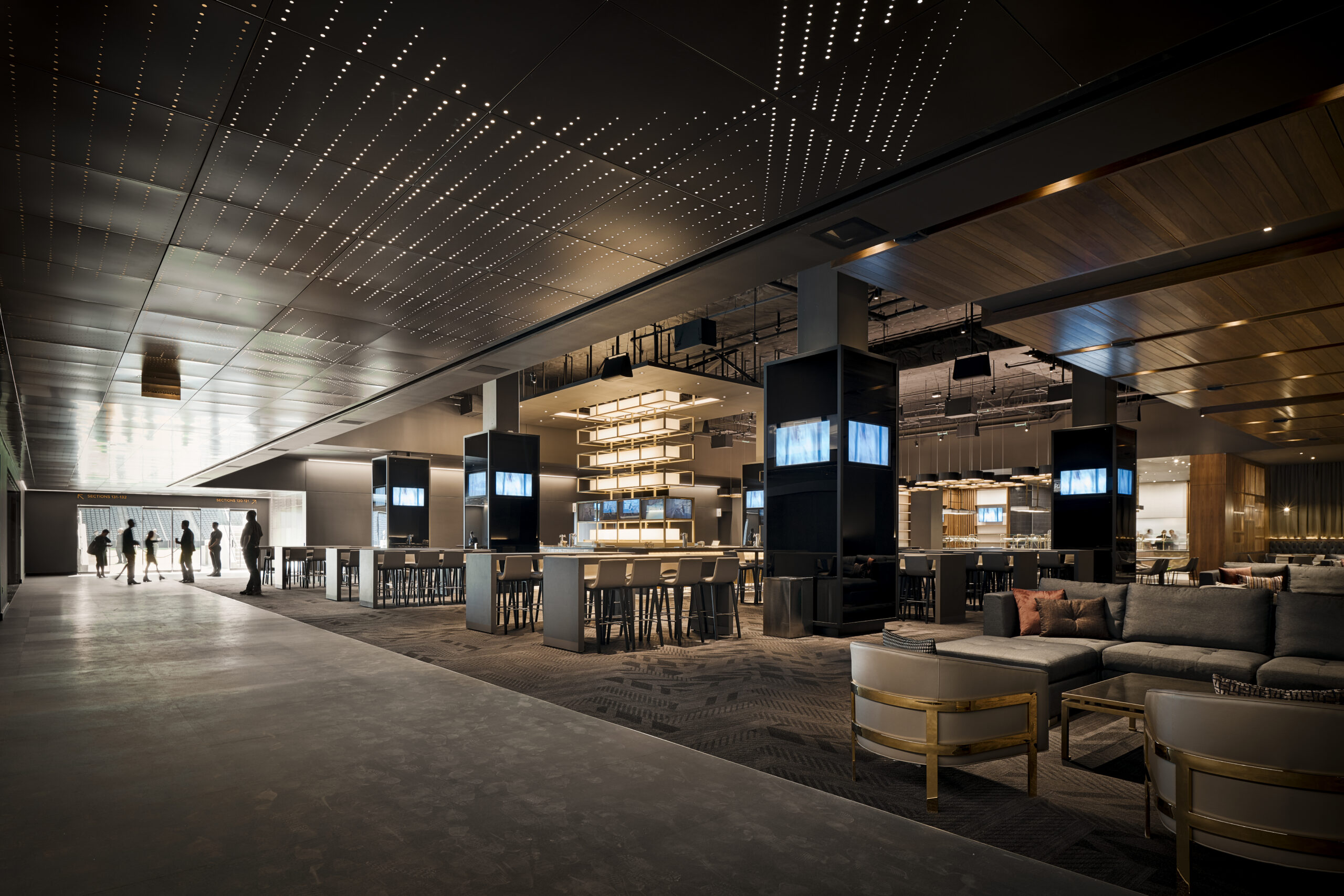 The sports industry has undergone a major transformation and with the increased desire and development of sports venues in the United States, there is a strong need for owners and operators to diversify and elevate offerings. A key differentiator in venue design has been to integrate hospitality design strategies that attract new audiences and enable venues to be activated beyond game day.
New sporting venues are designed to optimize an immersive fan and guest experience through unexpected premium and lifestyle spaces. This take on venue design seeks to personalize the guest experience and becomes the driver for financially and socially sustainable venues. Three trends include enhanced seating options, food and beverage programming, and the storytelling and branding of venues. The most successful examples are rooted in the local culture and integrate the community.
Every venue needs a story and every space is a chapter that brings guests along for a journey, which can be unique depending on the experience they'd like to enjoy. Here are four venues that exemplify these trends.
Banc of California Stadium: Setting a New Benchmark for the Premium MLS Experience
Completed in 2018, Banc of California Stadium became more than a home for Major League Soccer team Los Angeles Football Club. The stadium encompasses 37,000 square feet of new development, including a restaurant, merchandise store, lounge and bar areas, suites and a private party terrace — creating social hubs for attendees to celebrate the team and connect with fans. The stadium offers a variety of exterior and interior spaces that take design inspiration from a California aesthetic, with each level offering a distinct look and feel.

Inspired by the Art Deco movement, the Field Club (left) uses a darker palette and brass accents to create a posh atmosphere. The space provides fans an exclusive experience with premium seats that are steps from the field and centrally located for breathtaking views of the game. Chef's tables serve seasonal menus that change game to game. As guests make their way up the stadium, the Sunset Terrace (right) provides panoramic views of the Hollywood sign and skyline views of downtown Los Angeles. Spacious suites reflect light, summer‐ready colors throughout with a water feature, grass lawn and table tennis tables suggesting a breezy California retreat.
Chase Center: Bringing an Unprecedented Level of Luxury to Venue Design
Chase Center is a new 18,000‐seat professional sports arena in San Francisco completed in September 2019 as the new home for the Golden State Warriors. Chase Center creates a true hospitality feel reminiscent of high‐end hotels and lounges. The arena showcases elevated hospitality through public and VIP spaces that supports Chase Center's multifunctionality to host events from concerts and galas to executive gatherings and team celebrations. An elevated experience in club suites, lounges and spaces throughout is created by materials and textures of warm woods, natural stone and brass metal accents; while cool gray tones and brass reflect a sophisticated take on the home team's colors.

The Theater Boxes (left) provide in‐seat service and a perfect vantage point for games and concerts. Mini-boxes that face the court include a full buffet and bar, as well as restaurant‐style seating. These spaces are lined with an exclusive dining area, along with plush and private balcony seats, making the perfect perch to take in all the action. The Courtside Lounge (left) displays design and palette elements that reflect the luxury and comfort of wine country. Inspired by the interior of a wine barrel, guests are greeted by a dramatic vaulted ceiling barrel and an oversized media wall. The suites also feature a private bar, harvest table and shared wine vault.
San Diego State Aztec Stadium: Offering a New Way of Experiencing Collegiate Sports
The new 35,000‐seat stadium will be the home of San Diego State University's football team. Aztec Stadium represents the first project on the university's Mission Valley Campus expansion, converting the old Qualcomm Stadium site into an entertainment and education district that is anchored by the stadium. The design is deeply tied to the distinct and local culture of San Diego.

A key feature of the stadium is the Craft Gardens (left), which is inspired by iconic San Diego outdoor venues such as Balboa Park and Petco Park, and will offer authentic, well‐crafted food and beverage experiences. The design takes cues from informal beer gardens that will become social destinations on non‐game days. Another signature element of the new stadium will be The Piers (right). Inspired by the San Diego coastline and the city's shore and surf culture, The Piers will offer a standing room to view the field, with easy flow between indoor and outdoor spaces, as well as private spaces for social gatherings and events.
Q2 Stadium: Providing Top‐Tier Indoor/Outdoor Hospitality Amenities
Opening in June, Q2 Stadium is the home of Austin's Major League Soccer team, Austin FC. "Austin is an outdoor city, and Q2 Stadium reflects the ethos of Austin in numerous design aspects," said Andy Loughnane, Austin FC president. "Q2 Stadium is designed to create a world‐class experience that accounts for the climate of our region, and the combination of comfortable outdoor spaces blended alongside a variety of conditioned spaces helps to achieve that core objective."
Hosting 20,500 fans on game day, the stadium offers multiple, landscaped outdoor spaces, including an amphitheater and stage for live music where fans come together. Other amenities include a beer hall featuring local food and beverages, as well as spaces equipped with large video screens for pre‐ and post‐game entertainment.

The Captain Morgan Club (left) is a premium space with an outdoor patio area overlooking a terraced amphitheater and providing a multipurpose community space, reflecting a uniquely Austin backyard vibe. A raw industrial concept is integrated into the club interior, with rough finishes and roll‐up doors providing a true indoor/outdoor vibe to the space. This brand‐new, state‐of-the‐art bar and club will provide members with a top‐flight food and beverage experience during Austin FC home matches and events hosted at Q2 Stadium.
The Loge Terrace (right) provides panoramic views of the stadium. The design concept, from furniture and lighting touches, was inspired by the front porches seen locally in Texas. The space provides outdoor loge seats and a variety of lounge seating that have the colorful backdrop of assorted "Verde" sunshade louvers and an iconic façade on the exterior, creating an intimate experience for patrons. The Loge Terrace takes advantage of Austin's sunny climate and fresh air while providing plenty of shade — perfect for social gatherings.
The shift in the sports industry and fan preferences have taught us the value of a people‐first design approach to create fresh, new experiences that reflect the destination by elevating the hospitality experience. This year‐round activated model is an opportunity to design resilient sporting venues that go beyond game day to revitalize their communities.
---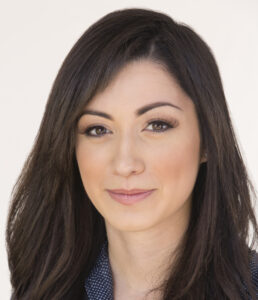 Edith Ponciano is an Associate and Interiors Design Director at Gensler and has been with the firm for more than a decade. Edith's work includes The Star, Dallas Cowboys World Headquarters and Training Facility, Banc of California Stadium, BMO Field Expansion, as well as the LAFC Performance Center. She recently completed the interior design effort for all premium club and VIP entertainment areas for the Golden State Warriors at the Chase Center. She recently led the interior design effort for Q2 Stadium and SDSU Aztec Stadium.