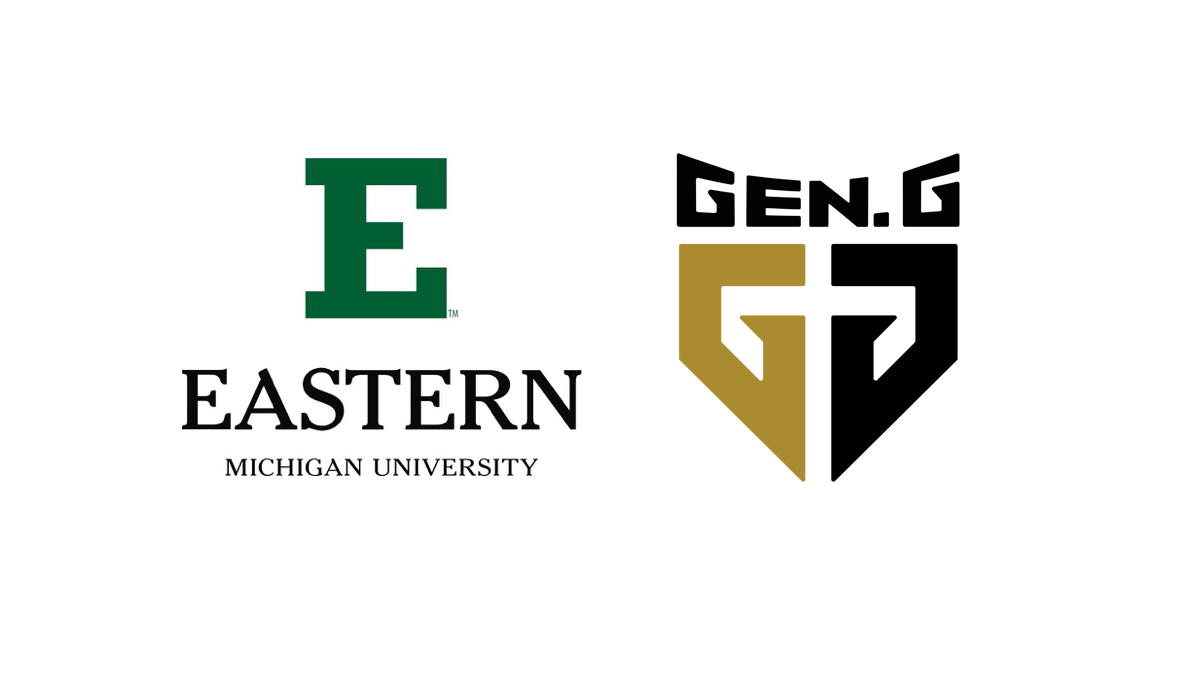 Gen.G will be partnering with Eastern Michigan University for a multiyear program that brings esports to the school along with several high school and women's gaming initiatives, the latest move into the collegiate gaming space for the global esports organization.
The program will include a Futures Program, High School Invitational and Women in Gaming Summer Camp and will connect students, faculty and alumni to build a community on campus for gamers to compete. Founded in 1849 and currently with nearly 18,000 students, Eastern Michigan is the second oldest public university in the state of Michigan.
"We're proud to be the first in Michigan to truly integrate esports and gaming into our campus life and offer our students a platform to find a community here," said Calvin Phillips, associate vice president for student affairs at Eastern Michigan University. "We know how important selecting a college or university is for a student, and we want to differentiate ourselves with a meaningful opportunity and educational platform at EMU."
Gen.G owns and operates teams in China, South Korea and the United States. The organization has begun increasing its collegiate presence, partnering with the University of Kentucky on a gaming and esports program. Gen.G worked with UK on a NBA2K tournament in March and also partnered with the University of Pennsylvania on the virtual Penn Relays. Its portfolio of teams includes the world's top all-female Fortnite team and the NBA 2K League's expansion franchise in Shanghai.
"Gen.G continues its commitment to promote education as a viable place to take esports and gaming to the next level to connect their communities," said Jordan Sherman, head of revenue operations for Gen.G. "We're honored to have Eastern Michigan join the University of Kentucky and University of Pennsylvania within our family to provide competition, curriculum and connections."
The partnership between Gen.G. and Eastern Michigan will start with a 30-day social media relay on Instagram and Twitter showcasing student success stories along with Gen.G-hosted discussions on Discord. "It's so incredibly exciting to see my alma mater recognize the power of gaming and esports with today's students," said Zach Wigal, founder of Gamers Outreach Foundation. "We've seen first hand through our philanthropic mission how much our gaming community, especially students, wants to connect with one another."
In June and July, the High School Invitational will activate with Super Smash Bros. tournaments every two weeks hosted by Eastern Michigan with high schools throughout the region challenging the EMU Super Smash Club in competitions to be streamed live on Twitch.
"Gaming and football have a lot in common in terms of practicing, competing, but most of all, sharing a common experience and having fun together," said Maxx Crosby, defensive end for the Oakland Raiders and two-time all Mid-American Conference honoree with EMU. "It's really cool EMU wants to help high school students elevate their game and provide a safe place for them to compete while we stay home during the pandemic."
The third part of the summer's rollout will be a Women in Gaming program including digital camps on June 15–17, July 6–8 and August 10–12.  Topics will include lessons from top women in the industry, tips from streamers and pros and insights on producing esports events.