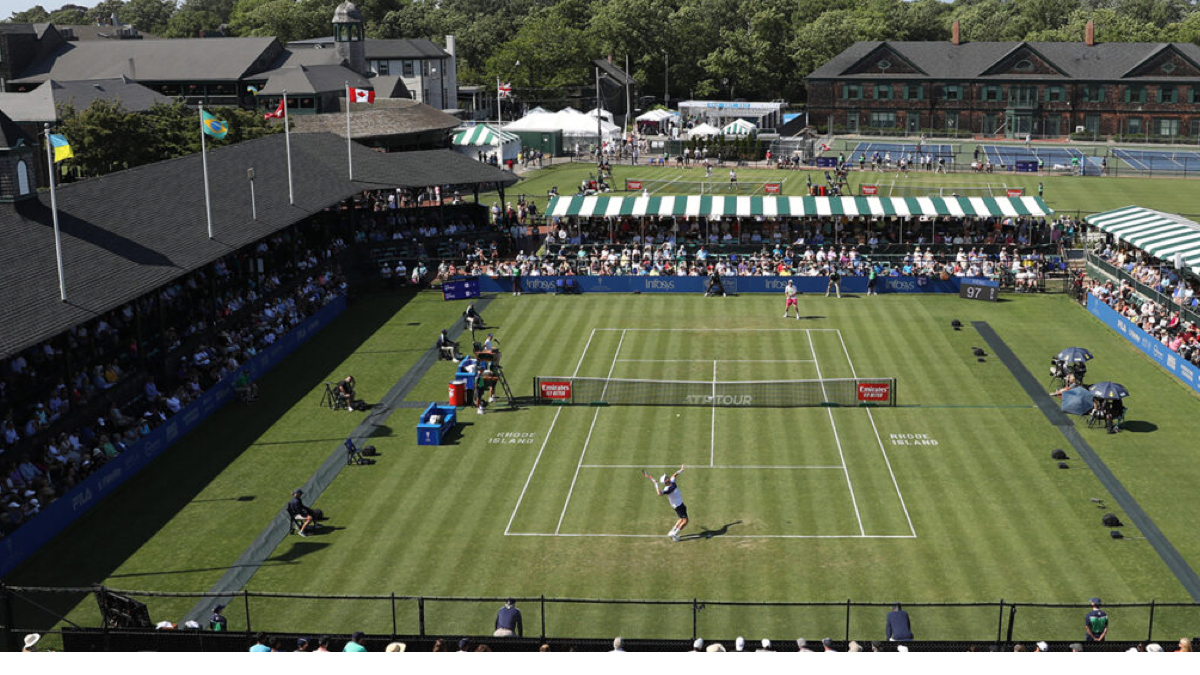 The International Tennis Hall of Fame and 11th Hour Racing, a sustainability company focused on cleaner oceans and ecosystems, have announced a year-round sponsorship to increase sustainability efforts across the ITHF organization.
Aspects of the sponsorship include increased composting and recycling on the grounds of the Hall of Fame, offices, club and museum, eliminating the sale of single-use plastics on property and implementing the use of sustainable and recycled products.
Since 2020, 11th Hour Racing has served as the sustainability sponsor for the Infosys Hall of Fame Open in Newport, Rhode Island. In this new agreement, the ITHF will work with 11th Hour Racing year-round to expand its sustainable initiatives.
"It is vital that we do our part to minimize our footprint and act responsibly throughout all business units at the International Tennis Hall of Fame," said ITHF Chief Executive Officer Dan Faber. "The International Tennis Hall of Fame is taking an important step forward in our sustainability efforts to become a leader in Rhode Island and in the sport of tennis. We are proud to further our relationship with 11th Hour Racing to support us in reaching our goals."
Since 2010, 11th Hour Racing has taken part in sponsorships to create leaders in ocean health, provide grant giving to local pilot programs that model best practices of sustainability, restore coastal ecosystems and advance ocean stewardship.
"Our support of the International Tennis Hall of Fame enables us to expand our reach beyond the sport of sailing and have a wider impact within our coastal community and beyond – because if together we can turn a tennis fan into an ocean advocate, the ocean wins and we all win," said Alessandra Ghezzi, communications director of 11th Hour Racing. "We are honored to support and work with the ITHF, developing stronger sustainability initiatives that make a tangible and measurable difference for ocean health. Because everything we do on land affects the ocean."
In 2022, with 11th Hour Racing's support, the Infosys Hall of Fame Open diverted nearly 75% of its waste from landfills. This year, the tournament aims to reach 80% diversion through a variety of actions:
A comprehensive waste management system that includes composting and recycling
Water refilling stations on the grounds and encouraging fans to bring and use refillable water bottles
Educating fans and visitors on the impact their actions have on the planet in everyday life
Eliminating the sale of all plastic bottles, and instead providing canned beverages
Implement training for all volunteers to be ambassadors for sustainable practices
Weighing and tracking all recyclables, compost, and waste
Requiring all vendors and caterers to sign a sustainability pact outlining standards for waste reduction and responsible product sourcing
Offsetting the tournament's carbon footprint, including guest travel, player travel, on-site fuel use, waste and electricity
Fans have the opportunity to offset their personal carbon footprint in purchasing their ticket, which goes toward the offsetting of the overall tournament footprint. Public transportation options are also encouraged, along with biking and walking to the event.
The Infosys Hall of Fame Open, the only ATP Tour tournament played on grass outside of Europe, will take place July 16–23.