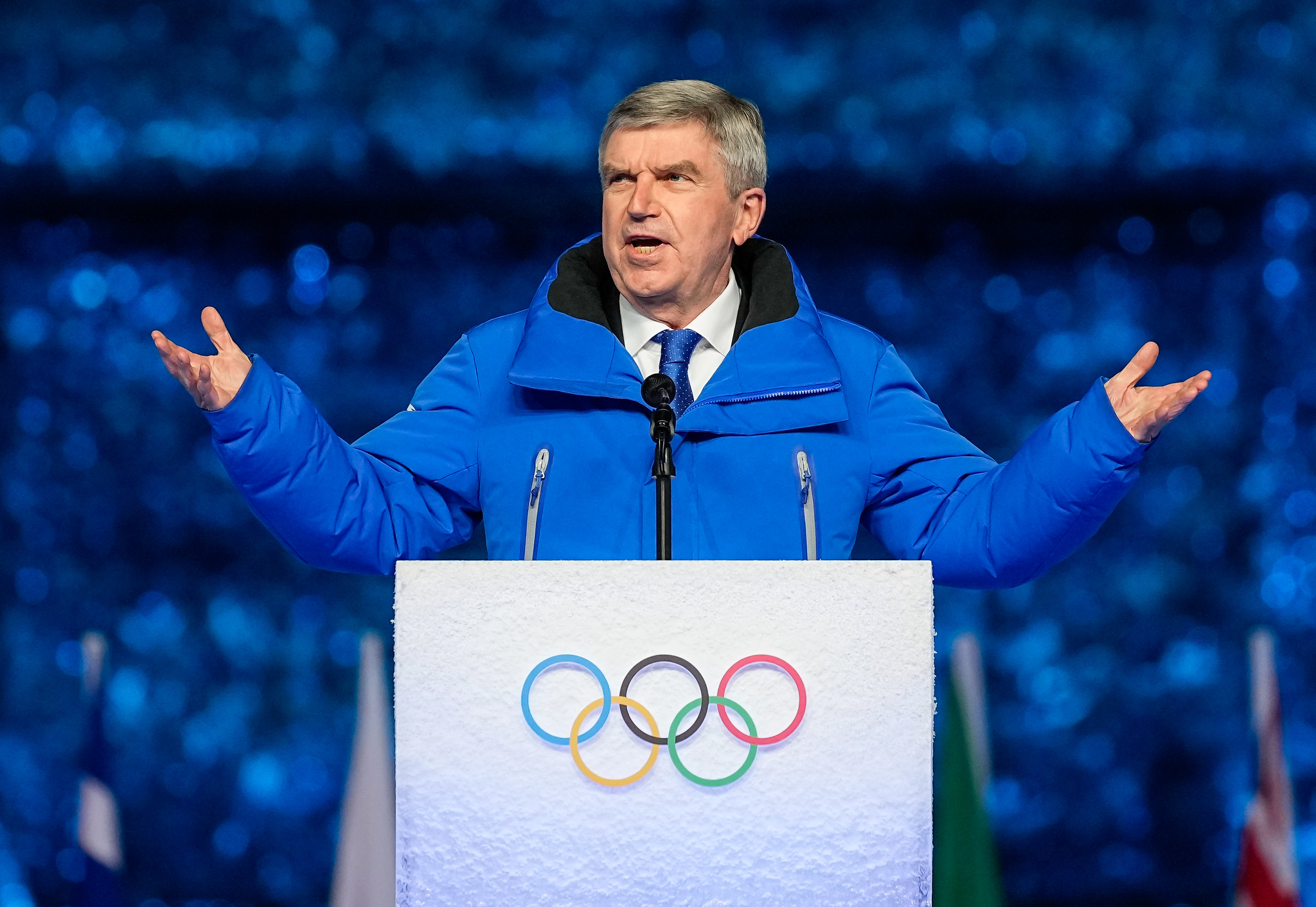 In the midst of fierce criticism from the Ukraine and trying to thread the needle between being hard on Russia but not as hard on its athletes, the International Olympic Committee tried Thursday to explain why it believes Russian athletes should be allowed at the 2024 Olympic Summer Games in Paris.
The IOC executive board last week declared no athletes should be banned from the 2024 Olympic and Paralympic Summer Games in Paris, its clearest signal yet that it plans to allow Russian and Belarussian athletes to compete next summer even as it maintains that the two countries should not be allowed to host international sporting events in the wake of Russia's ongoing invasion of Ukraine.
The IOC's stance is in opposition to Ukraine President Volodymyr Zelenskyy's call to exclude Russian and Belarussian athletes. In a social media post, Zelenskyy said he told French President Emmanuel Macron last week that "athletes from Russia should have no place at the Olympic Games in Paris." Ukraine Sports Minister Vadym Guttsait has raised the idea of a boycott, which has gained support from neighboring countries.
Publishing a series of explanations and rebuttals, the IOC responded to Zelenskyy's invitation for his IOC counterpart Thomas Bach to return and see the ruined city of Bakhmut, saying "there are no plans for another visit to Ukraine" and adding of Ukraine's boycott threat "it is extremely regretful to escalate this discussion with a threat of a boycott at this premature stage."
Olympic officials in Latvia and Poland have also threatened a boycott. Those countries were joined by Estonia and Lithuania in a statement Thursday.
"It is natural that there are dissenting voices coming mainly from neighboring countries of Ukraine, given their specific situation," said the IOC.
In trying to explain how Russian and Belarussian athletes would be allowed to compete in Paris, the IOC last week cited the example of Yugoslavians competing at the 1992 Barcelona Games as "independent athletes" while the nation was under United Nations sanctions during a civil war. The IOC did not mention in its statement how South Africa's athletes were banned from 1964 until 1992 because of the country's apartheid policies.
The IOC responded to the comparison, noting "there are no U.N. sanctions in place against Russia and Belarus at this moment in time," the IOC said. Russia, as a permanent member of the U.N. Security Council, can veto any of its proposed resolutions.
At the White House on Thursday, press secretary Karine Jean-Pierre said the United States had "worked to hold Russia accountable for the brutal and barbaric war" before acknowledging the IOC's position.
"In cases where sports organizations and event organizers, such as the International Olympic Committee, choose to permit athletes from Russia and Belarus to participate in sporting events, it should be absolutely clear that they are not representing the Russian or Belarusian states," she said.
Russians and Belarusians were banned in February 2022 by most international sports federations after an IOC recommendation once Russia invaded Ukraine. But as qualification events for the 2024 Paris Games approach, Bach encouraged a proposal at the Olympic Summit to allow Russian and Belarusian athletes to compete as neutrals at Olympic Council of Asia qualifying events. Russian athletes have not competed under their country's name at any Olympics since the 2016 Rio de Janeiro Games because of the fallout from a prolonged doping saga.
The Olympic statement suggested responsibility would lie with individual sports governing bodies to ensure that any Russian athlete supporting the war is removed from competition, suspended and reported to the IOC for further action. World Athletics, which oversees track and field and therefore is one of the most powerful international federations in the Olympic movement, said its council would only consider allowing Russian and Belarussian athletes to compete in Paris if it feels able to lift a separate suspension linked to state-sponsored doping in Russia.