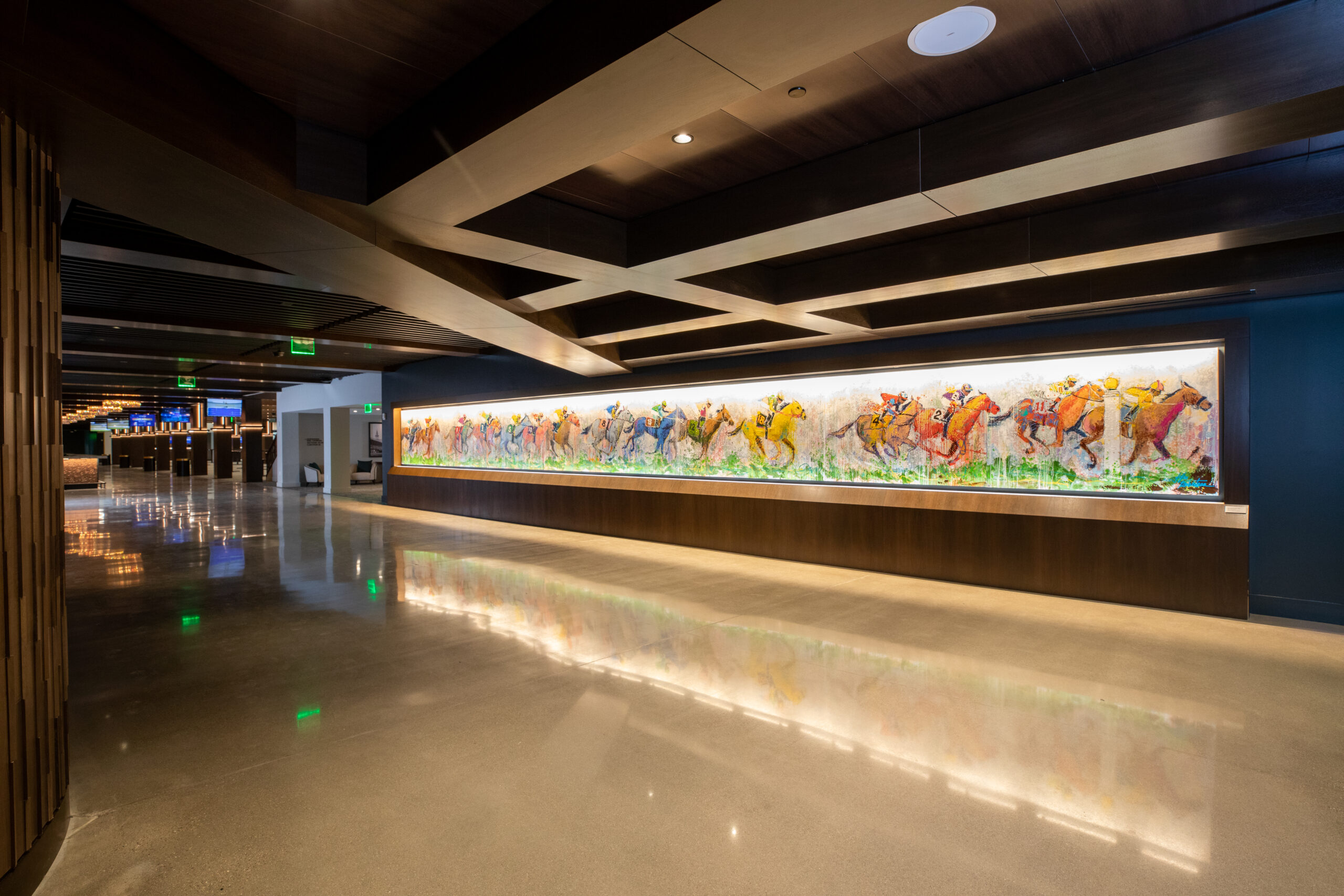 The Kentucky Derby has trademarked the phrase "The Most Exciting Two Minutes in Sports" as its main marketing slogan, but Derby week at Churchill Downs is much more than those two minutes.
The Derby is run May 7, but it's officially a week-long event that leads up to those two minutes, with plenty to keep fans occupied at the first "real" post-pandemic Derby weekend. Chief among new activations this year are partnerships with BMW, Red Bull and Woodford Reserve.
"Big events are back' we've seen that with the Super Bowl and Masters this year, and the Kentucky Derby will be no different," said Casey Ramage, vice president of marketing and partnerships at Churchill Downs. "Over the course of the week, we'll welcome more than 300,000 people here."
The biggest activation of 2022 is BMW debuting its new E Series (Electric Series) car, the BMW i7 sedan. The car won't be available until 2023 but Derby fans can get an up-close view this week in the Paddock area near the VIP gate. The display will also include 7,000 red roses, which pays tribute to Kentucky Derby traditions and offers a tremendous photo op for fans.
"We're absolutely thrilled to partner with BMW — we both have traditions in luxury, passion and performance, so this is a natural fit for us," Ramage said. "This is the first time we've had a luxury auto partner. We have a very strong partnership with Ford as the official truck of the Kentucky Derby, and now we welcome BMW as our luxury auto partner."
Red Bull has signed a multi-year deal and will be activating in the infield of the track. Red Bull is known for bringing energy and will provide its DJ booth and music to keep patrons invigorated. Also on hand will be internet sensation Dude Perfect, a group of trick-shot artists who never disappoint with their creative show.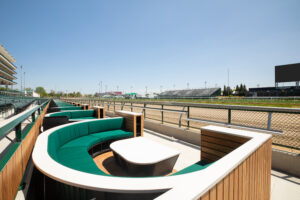 New partnerships and activations are part of Churchill Downs' efforts to improve the event. The venue is set to unveil the first part of its three-step facility upgrade plan in 2022 with the Homestretch Club, which features club seating and access to VIP amenities including the longest bar in Kentucky.
"We sought out how the younger generation wants to be entertained these days, and we found that people want more of these community-oriented spaces," Ramage said. "We have the new Horseshoe Rail lounges, which are right up on the rail, so it's the courtside seats feeling. But you can also retreat inside."
A 148-Year Tradition
This will be the 148th installment of the Kentucky Derby, which is the longest continually held sporting event in the United States. A major event doesn't make it that long without reinvesting into its product, which is what Churchill Downs is doing.
The Turn 1 area will have new seating in 2023 and in 2024, for the 150th anniversary, Churchill Downs will put upward of $200 million into its new paddock.
"When we benchmark ourselves, we look at Wembley Stadium, Yankee Stadium, Madison Square Garden," Ramage said. "That's where we hold ourselves and to continue to be a leader in sports entertainment, we're always looking for ways to entertain our customers. Year after year, we listen to the customer and we're hearing about more experiences they want. They want to get closer to our athletes, in a world-class venue, and we believe strongly in investing in our capital projects."
Ramage also points out of the 300,000 people who come through the gates during Derby week, this event has different demographics than others: "When you look at our attendance and broadcast numbers, we are 51 percent female and 49 percent male, so we're the one sporting event that just as many women want to watch and attend as men."
Another aspect of the Derby is that a fan can walk up the day of the event and purchase a general admission ticket. Ramage also noted that horse racing is a generational sport passed down through the years. This leads to an estimated 3.5 million Kentucky Derby parties being held across the world each year.
"All those people get to carry the traditions of the Derby into their homes," she said. "The red roses, the wagering, the mint julips and the fancy hats – the Derby is a great reason for your friends and family to get together."