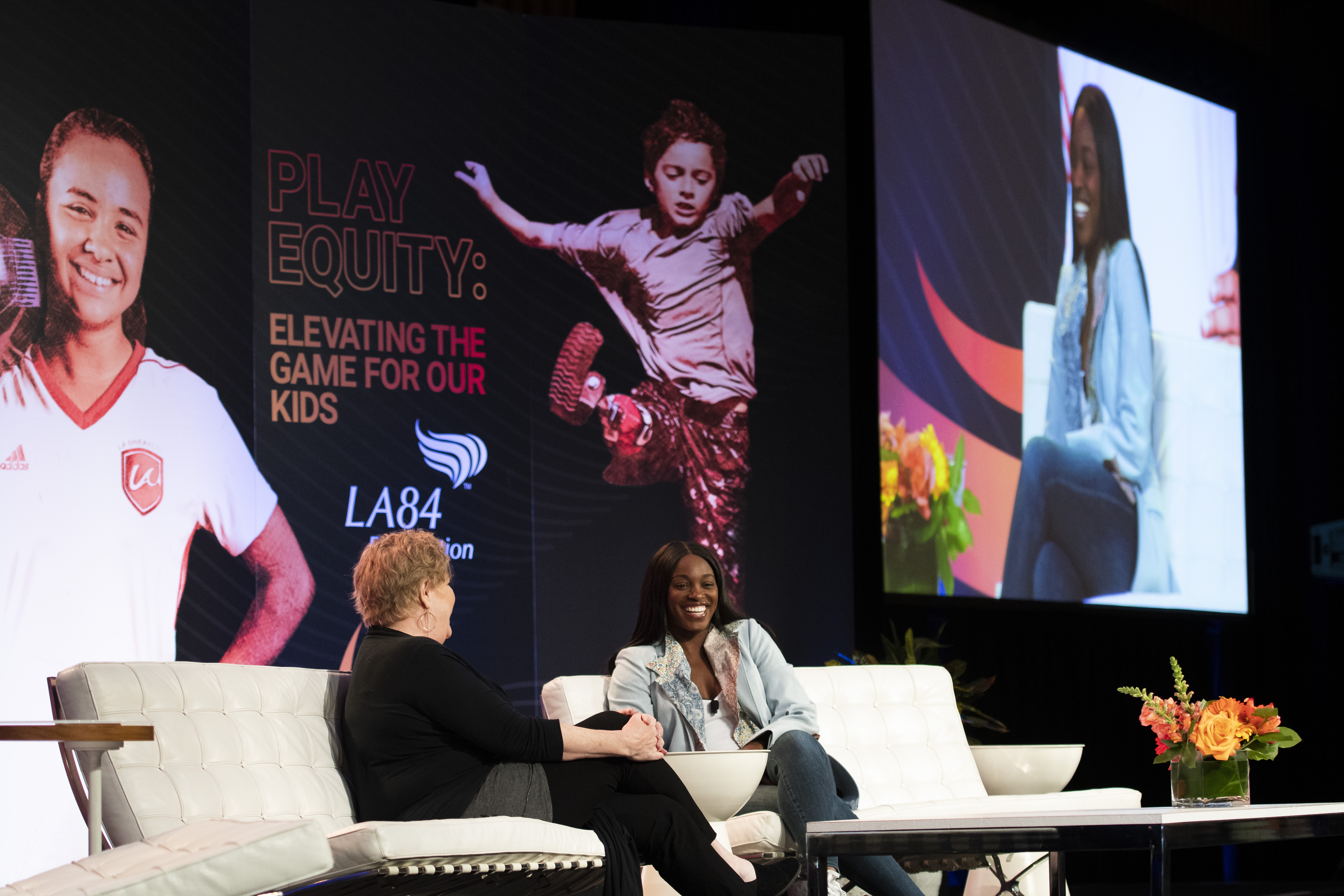 Ahead of what was called "a decade of opportunity," Los Angeles sports leaders and guest speakers emphasized the intrinsic values of sports beyond financial revenue at a conference hosted by the foundation that was created as lasting legacy from one of the city's most notable major sporting events.
Hosted by the LA84 Foundation, which was established with the surplus generated by the 1984 Olympic Summer Games, a day full of programming about sports and its role with youths and the broader society was capped by a panel entitled "The Social Impact of Major Sports Events."
And Los Angeles will host its share of major sporting events over the next 10 years leading up to the 2028 Olympic and Paralympic Games, which Los Angeles will host. The Staples Center will host the NCAA Tournament West Regional in March 2020. A few months after that, the Los Angeles Dodgers will host the Major League Baseball All-Star Game. The new home of the Los Angeles Rams and Los Angeles Chargers, a multi-billion-dollar facility in Inglewood, will open in the summer of 2020 before it hosts the 2022 Super Bowl and 2023 College Football Playoff championship game. The Los Angeles Country Club will host the 2023 U.S. Open, and L.A. is expected to play a leading role in hosting the 2026 FIFA World Cup that will be held throughout the United States, Canada and Mexico.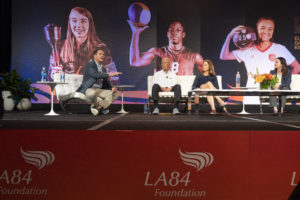 "Getting these major events, while it's good for the business community in terms of impact, it really has a social and community aspect to it as well," said Kathryn Schloessman, president of the L.A. Sports & Entertainment Commission. "Every major event that's coming to town wants to leave a legacy. They want to leave a legacy to the community—they don't want to just come and be there for a week and leave. They want to make sure they're engaging the community in as many opportunities before they get there, while they're there and then most importantly when they're after."
To that end, Schloessman described how, when Los Angeles was bidding to host the Super Bowl, the city was allowed two speakers during its presentation to the NFL. One of the two speakers for Los Angeles was Renata Simril, president and CEO of the LA84 Foundation.
"It's a huge advantage for us because they're already in place, they have experience with who the people are in the community who are doing good work, and where those monies should go," Schloessman said. "Most host communities will start all over with some idea that some donor has or something they want to do, and they'll create a (legacy) program and it doesn't last. We're partnered with all of our bid host committees with LA84. LA84 has success, they have a track record, and they'll continue to be here long after our event is over. So why recreate the wheel when you already have an organization like that?"
Another panelist, Riviera Country Club corporate officer Michael Yamaki, had his own LA84 story. Riviera, which hosts the annual LA Open on the PGA Tour, worked with the foundation to create a program for junior golfers. By scoring points at area events and maintaining a solid average in school, players atop the leaderboard at the program's conclusion got to play at round at the Country Club this summer.
Riviera has been designated as the future host of golf at the 2028 Games, which will bring the foundation back full circle to the event that first spawned its inception.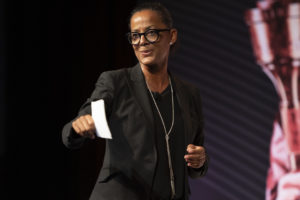 "As (IOC President Thomas) Bach was talking about his Agenda 2020 and wanting to see how the Games would leave a legacy in a city, I think we certainly are a model for that in terms of the 1984 Games and how successful that Games was financially," Simril said. "The organizers of those Games, led by Peter Ueberroth, were able to harness those surplus dollars into investment and into youth sports and infrastructure and coaching development. For 35 years we have continued to do that. I think that's one small part of us getting the Olympics (again)."
The other reason that the Olympics are coming back to Los Angeles in 2028, Simril said, is that the city is "Games ready." Specifically, she cited the new $2.6 billion stadium coming in for the Rams and Chargers and the LA Football Club soccer stadium in Expo Park, which are both expected to host events in 2028. She also cited the city's successful record of landing at least nine major sports events between now and 2028. "It is in large measure because we are sports ready," she said.
Simril said that over 600 people registered for the annual event, entitled "Play Equity: Elevating the Game for Our Kids" and held this year at the Intercontinental Los Angeles Downtown.
"For us, the takeaway, the action item is to do something," Simril said. "What we want to be able to do with these annual youth summits is inspire the community around the important role that sports plays in positive youth development."
Other News and Notes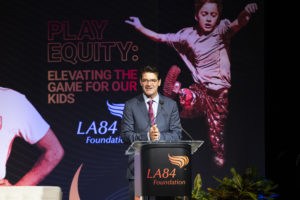 • Tom Farrey, executive director of the Sports & Society Project with the Aspen Institute, presented the session "Keeping Kids in the Game." Farrey is the founder of Project Play, which recently launched a parent engagement campaign in conjunction with ESPN called "Don't Retire, Kid" with commercials that show youth athletes announcing their retirements because of not enjoying the sport anymore. Farrey's session included the emphasis on areas understanding the assets they have for kids to stay active and organizing them successfully.
"It starts with a landscape of what you exactly have. You have to know what you have, number one. Number two, you have to get kids to it. Transportation is a major barrier to participation," Farrey said. "Parks, beaches, trails, all of the infrastructure is the hardware of sports. Every community needs a diversity of that hardware and to meet the needs of kids."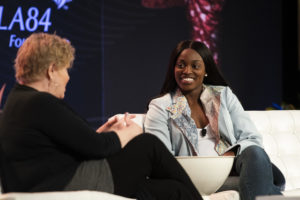 • 2017 U.S. Open champion Sloane Stephens talked with ESPN's Shelley Smith about off-court work with her foundation, which builds tennis courts and organizes after-school programs in Fort Lauderdale, Florida, plus Compton, California, and her mother's hometown of Fresno, California.
"The key to sports and promoting your sport is giving another kid an opportunity," Stephens said. "I always thought I could help someone else, and I think being able to give my same experience to someone else is why I do it and I continue to do it."
Stephens also countered how, at 26 years old, she balances off-court passions with her professional pursuits: "(Critics) think sports are your whole life and you're only allowed to think about tennis and only allowed to think about how you're going to get better. I love tennis and I love my sport, but I don't play tennis because I have to. I play tennis because I want to."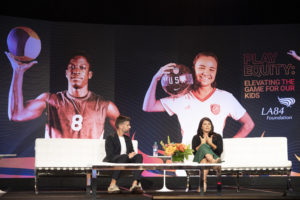 • Soccer stars Mia Hamm and Kyle Martino discussed a passion project they are part of the national board of, Street Soccer USA, which is a nonprofit that works to fight poverty and empower underserved communities. Hamm has her own foundation of work as well, and Martino is founder of the Over/Under Initiative, which tries to make inner-city areas into multi-sport spaces that can host soccer as well as basketball.
"The great part about the transition into the world of philanthropy and accessing my network in a different way and having a different conversation with the soccer community, is to get people passionate about sports and the need for their involvement in facilitating and funding solutions," said Martino, discussing the Over/Under Initiative as a "sports-neutral solution that will introduce people to the sport that I love most, but keep them in it or let them access it because they decide to. I'm trying to get as close to the source as I possibly can as to the entry point to sport and make it the biggest funnel that we can, and then highlight the need to support these programs to keep them in the game."