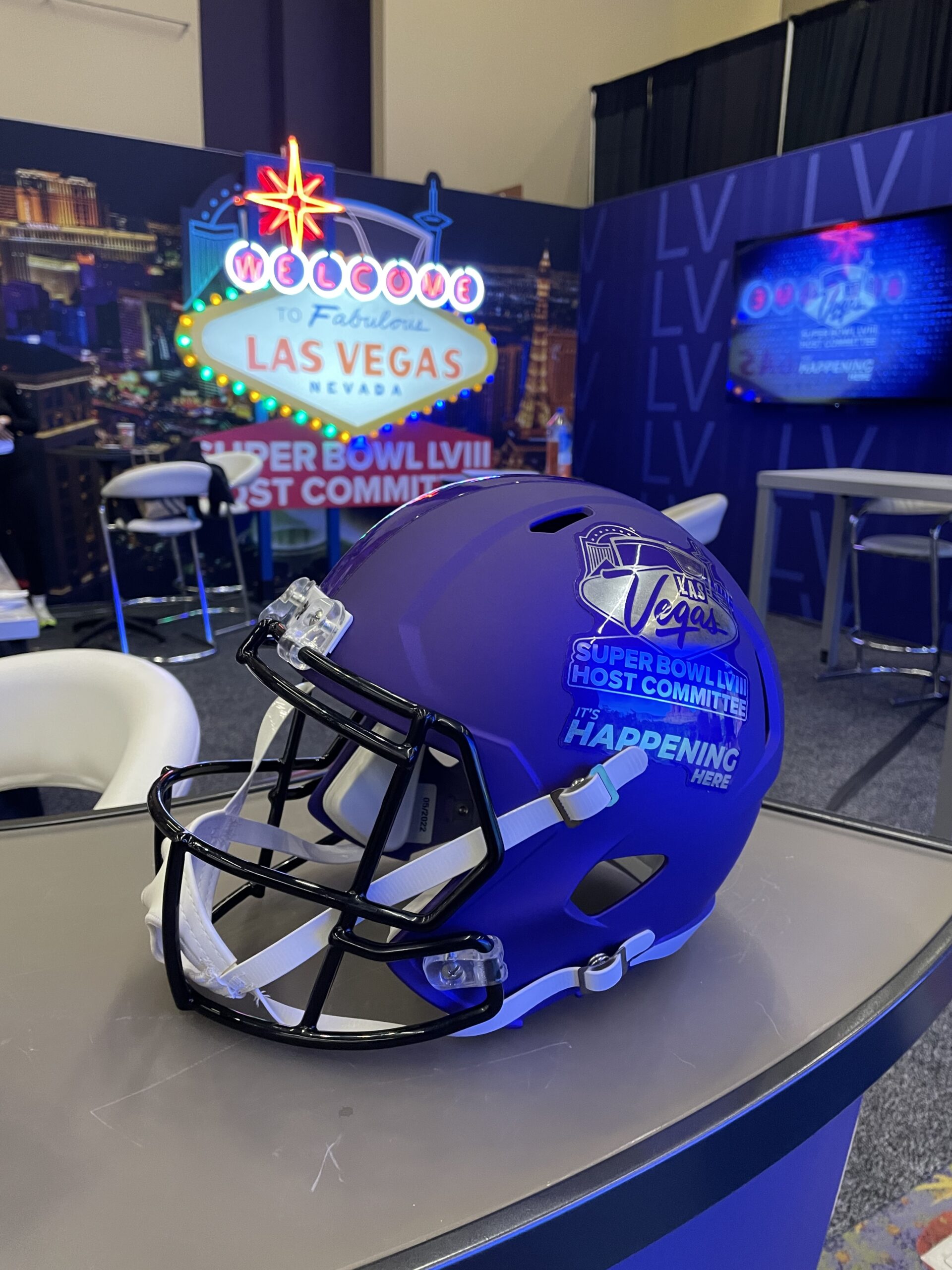 Las Vegas is used to having 300,000 visitors on a weekend. It has hosted some of the biggest events and parties in the world.
But as Las Vegas Convention and Visitors Authority President and Chief Executive Officer Steve Hill said: "Formula 1 coming up in November and the Super Bowl in February will be the two most important events in Las Vegas in my lifetime."
No pressure, eh?
Seven years after the city first met about the idea of a NFL stadium, the countdown is on for Las Vegas to host Super Bowl LVIII on February 11, 2024, at Allegiant Stadium.
"We only have one chance to get this right," Hill told SportsTravel last week, a few days before the Chiefs beat the Eagles in Super Bowl LVII in Glendale, Arizona. "We'll have more Super Bowls, but we will only have the first Super Bowl in Las Vegas once. Making sure we get that right is really important. We do that and any event is going to feel like they can come to Las Vegas.
"This is the premier event in the United States and it's an opportunity for us to show that we can treat 65,000 people like VIPs and have them all walk away feeling like this was the best event they've ever been to that. That's the best marketing for Las Vegas that we can have. The opposite of that is also true. We get it wrong and everybody's going to know that as well. So we've got to get it right — (and) we will."
NFL Not Underestimating Vegas
Once the Raiders started play in Las Vegas, it was only a matter of time before the Super Bowl came to town. But after the league moved to a 17-game regular season in 2021, it realized pushing the schedule back a week meant the 2024 Super Bowl — scheduled for New Orleans — would conflict with Mardi Gras celebrations. Las Vegas, which has hosted the past two NFL Pro Bowls and the 2022 draft, was announced as the 2024 Super Bowl host on December 15, 2021.
"I think I'd be making a mistake underestimating Las Vegas and how big a Super Bowl there will be," NFL commissioner Roger Goodell said Wednesday. "Anything that happens in Vegas is big."
"That's nice of the commissioner," Hill said with a laugh when told of Goodell's comment.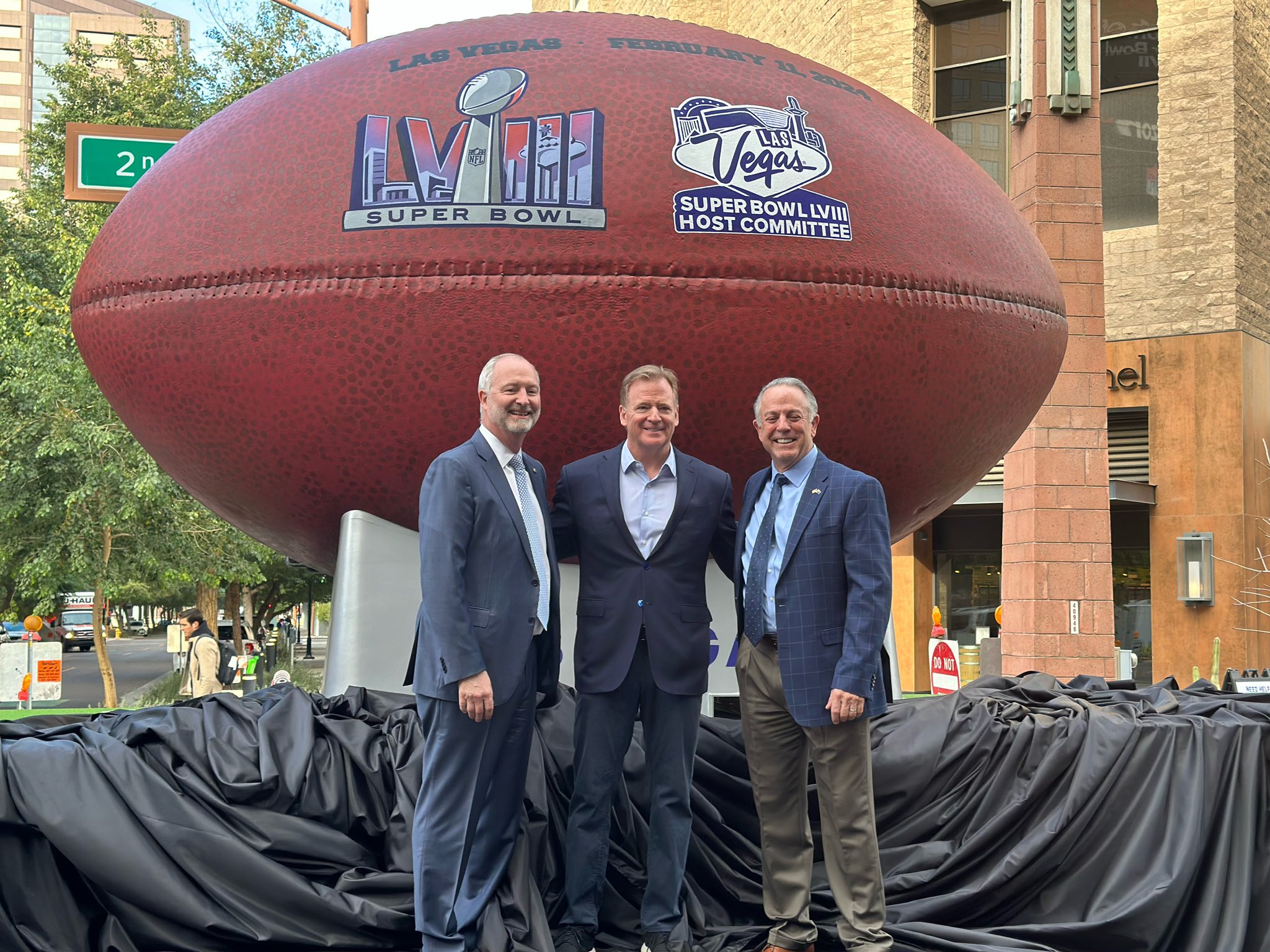 "We know how to put on a party," Hill said. But, as he added, "you do a Raiders game, there's 5,000 or 10,000 people in the stadium who think they're a VIP. Come to a Super Bowl and there's going to be 65,000 people who think they're a VIP. We're really the only city in the world that has a chance to treat 65,000 people like VIPs. But understanding what their expectations are, understanding where they're going to be moving to and from, is a really important part of the week."
Hospitality is where Vegas will be able to excel — "the city will take care of our guests in a way that they have never experienced any place else," said Hill, adding that having fewer hotel owners on the Strip compared to another city that may have dozens of hotel franchisees is a positive in major event organization. There is also the excitement around professional sports coming to town in what has been a relatively short period of time after decades of being on the outside looking in. The city celebrated its first major sports championship this summer when the Las Vegas Aces won the WNBA championship.
"The Golden Knights made a big difference in the NHL having the courage, frankly, to move into Vegas and break through that glass ceiling," Hill said. "But when the NFL comes from a sports standpoint, you don't get a better seal of approval on a city. You're an NFL city now. And there's a difference between being one and not being one. That stadium and the NFL and the Raiders coming is the reason that we have the opportunity to have Formula 1.
"If that stadium hadn't been built, we wouldn't have a Formula 1 race," Hill added. "We would not be viewed as a city the same way and would not have been, I don't think, in the thought process around a race."
Grand Prix Around the Corner
The Las Vegas Grand Prix, scheduled for November 18, will be held 13 weeks ahead of the Super Bowl and is the first time that F1 has been in Las Vegas since the short-lived Caesars Grand Prix ended a two-year run in 1982. Construction is underway on a building that will form the pit and paddock area for the race after F1 purchased a 39-acre site for $240 million last spring. MGM will build grandstands on the Bellagio Lake — where the fountains perform daily — for VIP seats as part of race-and-stay packages.
Hill said to make sure both F1 and Super Bowl go off smoothly from a logistics standpoint, construction work at the intersection of Interstate 15 and Tropicana Avenue will be paused before Formula 1 arrives for a five-month period until after the Super Bowl.
"It's a fairly expensive thing to do," Hill said. "But we want to make sure that those logistics work for both of those events. So those are the types of things that we are going to do to make sure that it just works great."
Until then, work will continue ahead of the Super Bowl until it kicks off in 360 days.
"It's still a way out, so right now I'm excited," Hill said. "We know things will start to pop up that could make you a little nervous and we are going to have to overcome some obstacles. But I've related it to opening a new property in Las Vegas. If you see a property a month before opening day in Las Vegas, it's like 'there's no way in the world that thing's going to be ready,' and they figure it out and get it done. We will too."