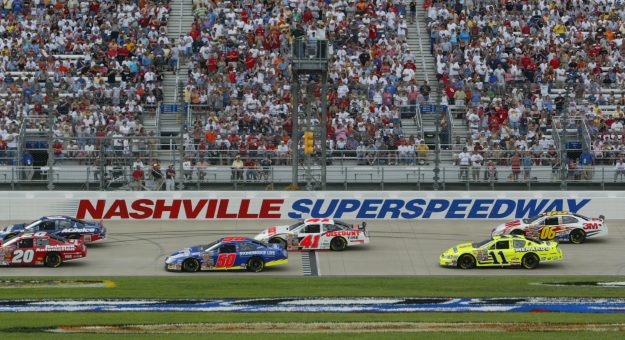 The NASCAR Cup Series will return to Nashville, Tennessee, for the first time in a decade when the series races at Nashville Superspeedway in 2021. The exact date on the calendar will be determined at a later time.
The 1.33-mile concrete track was built in 2001 by Dover Motorsports, Inc. It hosted races for a decade in both the NASCAR and IndyCar series and currently has 25,000 permanent seats with lights for night racing. Nashville's Fairgrounds track previously was a fixture on the NASCAR Cup Series schedule from 1958–1984.
Current NASCAR Cup competitors who have wins at Nashville Superspeedway include Brad Keselowski, Kevin Harvick, Kyle Busch, Joey Logano, Clint Bowyer and Austin Dillon.
"Thanks to the collaboration of Dover Motorsports and our broadcast partners, we are excited to bring NASCAR racing back to Nashville," said NASCAR President Steve Phelps. "The Nashville market is a vital one for our sport and bringing NASCAR Cup Series racing to Nashville Superspeedway will be an integral building block in helping us further deliver on our promise in creating a dynamic schedule for 2021."
As part of the agreement for putting a race in Tennessee, Dover International Speedway in Dover, Delaware, will host one Cup Series race in 2021 instead of the two that it has held each year since 1971. Since its last NASCAR event in 2011, Nashville Superspeedway has hosted stock car driving experiences but not much else in the way of racing events. Nashville did host the NASCAR awards banquet and Champion's Week activities in December 2019.
"We were energized to see how excited Nashville was to host the NASCAR Cup Series banquet last December," said Denis McGlynn, president and CEO of Dover Motorsports, Inc. "When we built Nashville Superspeedway in 2001 our goal was to one day secure a NASCAR Cup Series race for the venue. Nashville, central Tennessee and the surrounding market area is filled with passionate race fans. We are thrilled that we were able to collaborate with NASCAR and our television partners to get this done and we can't wait to put on a great show there in 2021."