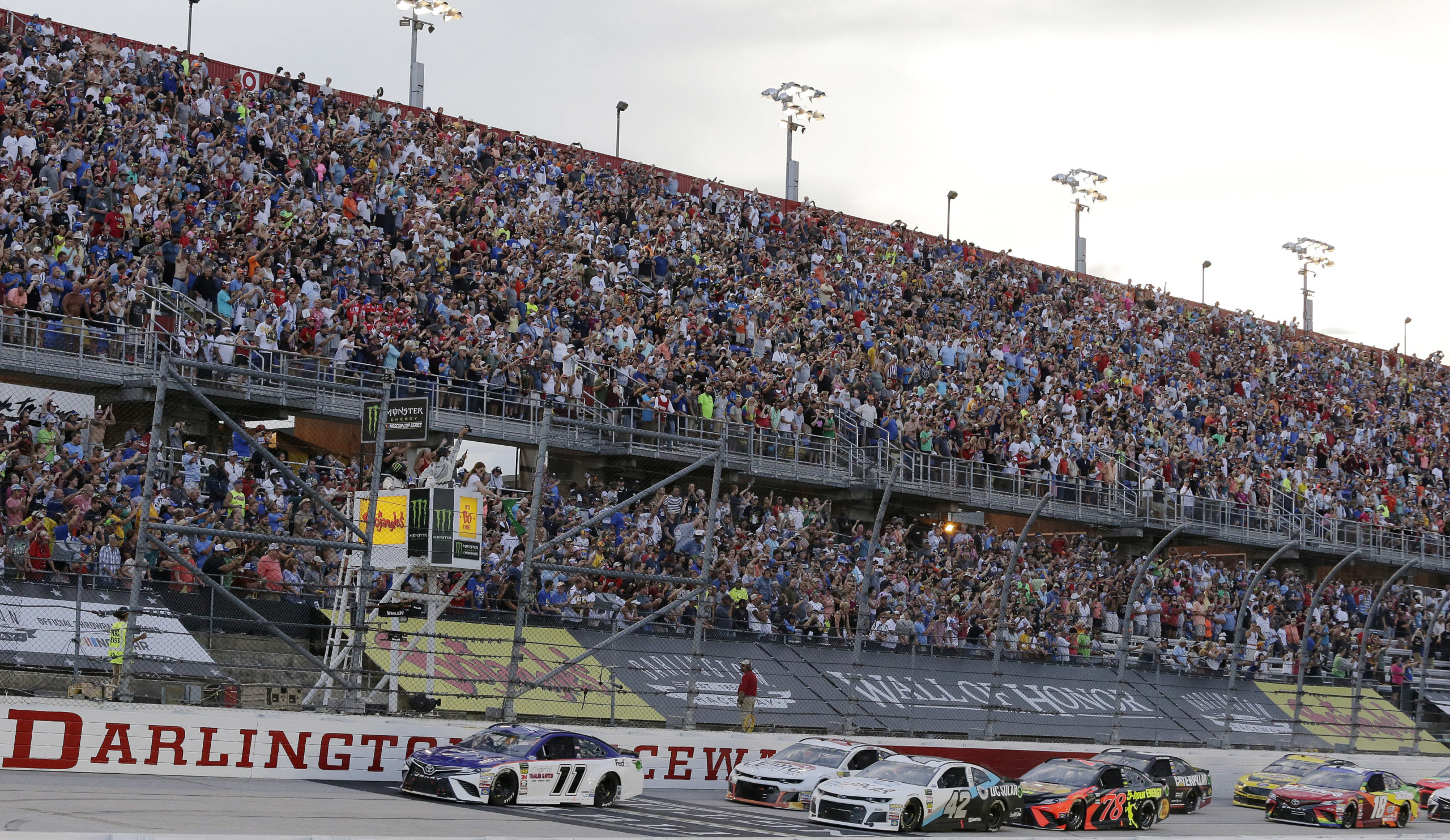 NASCAR officially released its full 2022 Cup Series schedule on Wednesday with 39 events in total and only one off week scheduled, with racing on Easter Sunday for the first time since 1989 and a new track added to the slate in World Wide Technology Raceway just outside St. Louis.
The full schedule comes after NASCAR's announcement that the Clash, its Daytona 500 prelude for the past 42 years, will be held at the L.A. Coliseum on February 6, 2022, leaving Daytona International Speedway for the first time. World Wide Technology Raceway will host its first Cup Series race on June 5 after being host to 21 Camping World Truck Series races since 1998.
"As we demonstrated last year, we are committed to creating the most dynamic schedule for our fans, long term," said Ben Kennedy, NASCAR senior vice president of strategy and innovation. "With the addition of new and unique venues like the Coliseum and World Wide Technology Raceway, each in markets with passionate NASCAR fans, we're continuing to build on bold changes to deliver the best racing in the world. This latest iteration of the schedule should lend itself to another season filled with drama and great racing on the track, starting with the Daytona 500 and culminating with NASCAR Championship Weekend at Phoenix Raceway."
The 2022 season will officially kick off with the Daytona 500 on February 20 before heading back West at Auto Club Speedway in Fontana, California, on February 27, the first time NASCAR will visit the 2-mile oval in nearly two years. Races at Las Vegas and Phoenix will follow in early March.
The Bristol Dirt Race returns to the schedule under the lights on Easter Sunday Night. Instead of having Easter Sunday as an off weekend, NASCAR's only Cup Series off weekend will be June 19. With the addition of World Wide Technology Raceway to the schedule, Pocono Raceway in Pennsylvania will only have one race (July 24) for the first time since the early 1980s.
Watkins Glen International will host the penultimate race of the regular season on August 21 followed by the regular-season finale under the lights at Daytona International Speedway on August 27.
The playoff schedule will be changed with Kansas Speedway hosting a postseason race on September 11, plus Texas moving up to September 25 and Las Vegas moving back to October 16. Homestead-Miami Speedway returns to the playoff schedule for the first time since 2019 with a race on October 23; the playoffs finish on November 6 at Phoenix Raceway.
2022 NASCAR Cup Series Schedule

| | |
| --- | --- |
| Date | Destination |
| Sunday, February 6 | Clash at L.A. Memorial Coliseum, Los Angeles |
| Thursday, February 17 | Duel at Daytona, Daytona Beach, Florida |
| Sunday, February 20 | Daytona 500, Daytona Beach, Florida |
| Sunday, February 27 | Fontana, California |
| Sunday, March 6 | Las Vegas, Nevada |
| Sunday, March 13 | Phoenix, Arizona |
| Sunday, March 20 | Atlanta, Georgia |
| Sunday, March 27 | Circuit of the Americas, Austin,Texas |
| Sunday, April 3 | Richmond, Virginia |
| Saturday, April 9 | Martinsville, Virginia |
| Sunday, April 17 | Bristol, Tennessee (Dirt race) |
| Sunday, April 24 | Talladega, Alabama |
| Sunday, May 1 | Dover, Delaware |
| Sunday, May 8 | Darlington, South Carolina |
| Sunday, May 15 | Kansas City, Kansas |
| Sunday, May 22 | All-Star Race, Fort Worth, Texas |
| Sunday, May 29 | Charlotte, North Carolina |
| Sunday, June 5 | St. Louis, Missouri |
| Sunday, June 12 | Sonoma, California |
| Sunday, June 26 | Nashville, Tennessee |
| Sunday, July 3 | Road America |
| Sunday, July 10 | Atlanta, Georgia |
| Sunday, July 17 | Loudon, New Hampshire |
| Sunday, July 24 | Pocono, Pennsylvania |
| Sunday, July 31 | Indianapolis, Indiana (Road Course) |
| Sunday, August 7 | Brooklyn, Michigan |
| Sunday, August 14 | Richmond, Virginia |
| Sunday, August 21 | Watkins Glen, New York |
| Saturday, August 27 | Daytona Beach, Florida |
| Sunday, September 4 | Darlington, South Carolina |
| Sunday, September 11 | Kansas City, Kansas |
| Saturday, September 17 | Bristol, Tennessee |
| Sunday, September 25 | Fort Worth, Texas |
| Sunday, October 2 | Talladega, Alabama |
| Sunday, October 9 | Charlotte, North Carolina |
| Sunday, October 16 | Las Vegas, Nevada |
| Sunday, October 23 | Homestead-Miami, Florida |
| Sunday, October 30 | Martinsville, Virginia |
| Sunday, November 6 | Phoenix, Arizona |