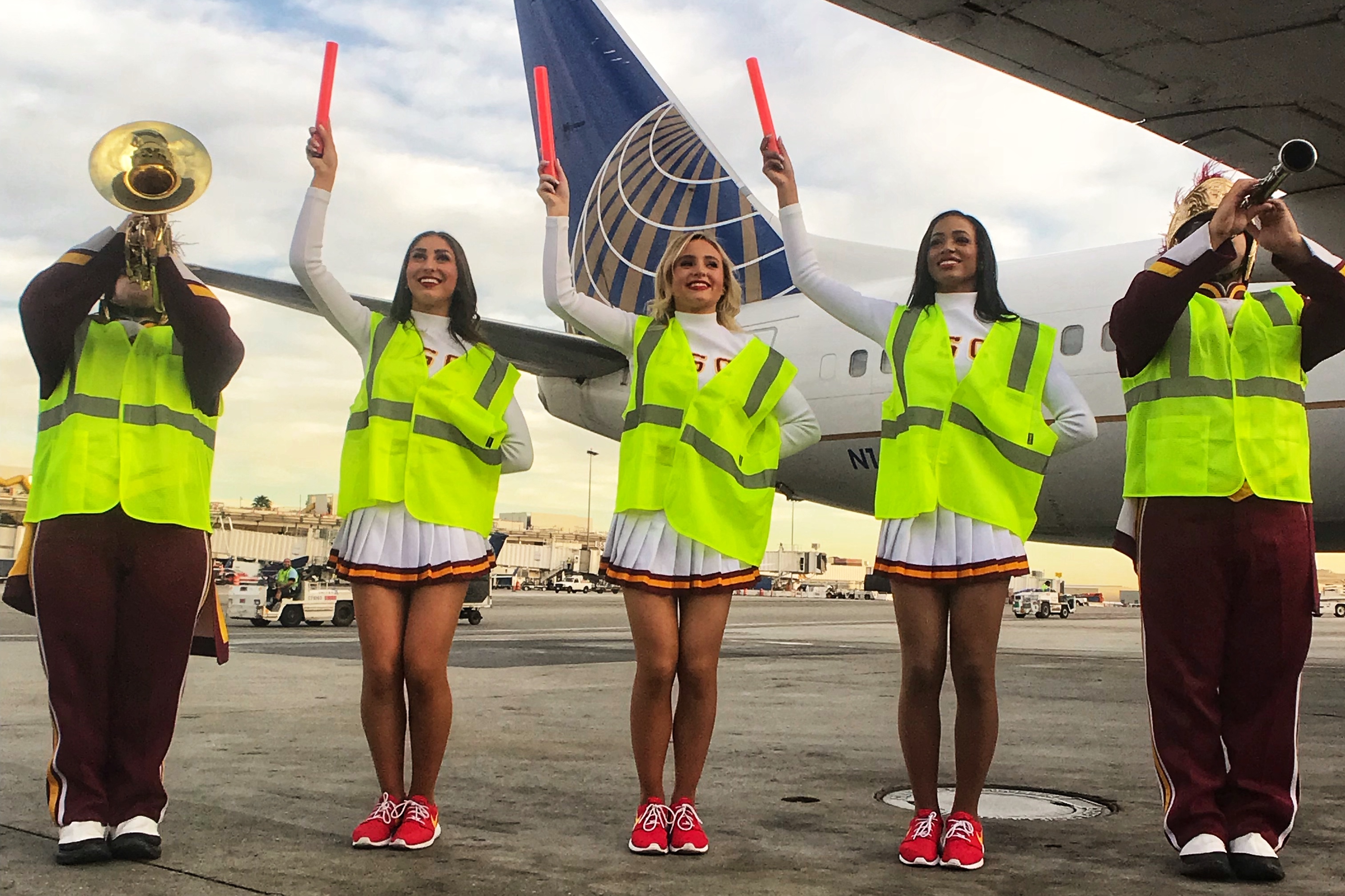 For several years, airlines have added special flights to the site of college football's national championship to meet last-minute demand from fans who have just learned their team will play in the big game. But this season, two airlines—United and American—are making an entirely new push into college football by offering direct regular-season routes for fans to get straight to some of the biggest games on the schedule.
United was the first to announce its plans to serve nine games this season, adding direct flights between college football destinations for fans who normally would have had to connect through a hub. Then American announced a similar program with five new direct flights, as well as extra flight segments added for four other games. In general, the new flights go from a visiting team's market to the host city, arriving on a Friday afternoon or evening and departing Sunday morning or afternoon. Both airlines already serve all of the targeted markets, just not on a point-to-point basis.
Some dates proved especially enticing. Both airlines are adding new routes for the September 7 game between LSU and Texas, with United offering a Baton Rouge to Austin flight and American offering a New Orleans to Austin option. Both also have added flights for two October 12 games: USC at Notre Dame and Alabama at Texas A&M.
For United, the decision to offer regular-season routes was made after seeing the success of the flights to the recent championship games, said Ankit Gupta, vice-president of domestic network planning. "We've been very successful in doing that, but those are easy to manage," he said. "They are one-off events and there is a lot of demand for it."
Coming Up With a Plan
The tricky part of crafting a broader program was figuring out which regular-season games would produce a strong demand. In the end, United settled on routes such as Madison, Wisconsin, to Columbus, Ohio, for the Wisconsin/Ohio State game October 26, and South Bend, Indiana, to Raleigh-Durham, North Carolina, for the Notre Dame/Duke game on November 9. "These are some of the most popular games, but on top of that, this is where our customer base is very strong as well," Gupta said. "So we kind of combined those two aspects to come up with the list."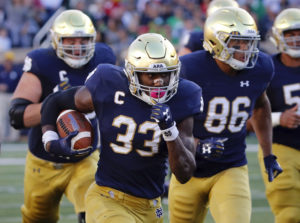 American not only added point-to-point flights that didn't previously exist (Birmingham, Alabama, to College Station, Texas, for example) but in some cases added extra flights to their existing schedule to create more capacity. Not surprisingly, Notre Dame, with its large fan following, factors into three of the airline's five new direct segments. "Some of the point-to-points—(Reagan National Airport) to South Bend, Chicago to South Bend, Birmingham to College Station—those are not traditional routes we have in our system," said Nichelle Tait, an American spokeswoman.
The new flights, however, have created some complications for the airlines. Some of the United flights, for example, will involve regional airports that normally serve smaller planes and don't have the equipment required to serve the larger planes that will be carrying fans into town. "These things are very hard to do," Gupta said. "It's really a true collaboration because legacy airlines are known to fly out of their hubs. Flying between point-to-point is kind of a task to accomplish operationally. We have to make sure we are communicating with every single station to be ready for this kind of service."
Will it Fly With Fans?
It also remains to be seen just how much money fans will be willing to pay to fly direct. The cost of each flight, of course, differs by market. In late August, before the start of the season, the least expensive Birmingham to College Station flight for the Alabama/Texas A&M game was $401 on American's website and $512 on United's website. The least expensive roundtrip United flight from South Bend to Raleigh to see Notre Dame/Duke was $446, while the least expensive American roundtrip from Washington (Reagan) to South Bend for Virginia Tech/Notre Dame was $765.
Tait said American was optimistic that fans will embrace the new flights. "We're looking forward to it and we think this will be really successful," she said.
And Gupta said strong early demand has already increased the likelihood that the program will become a regular offering each fall. "I think we can definitely do more," he said. "If there's an opportunity to do more, we'll see where the tipping point is. We don't know yet how much we can accomplish from a point-to-point perspective, but there's definitely more to come."
United College Football Routes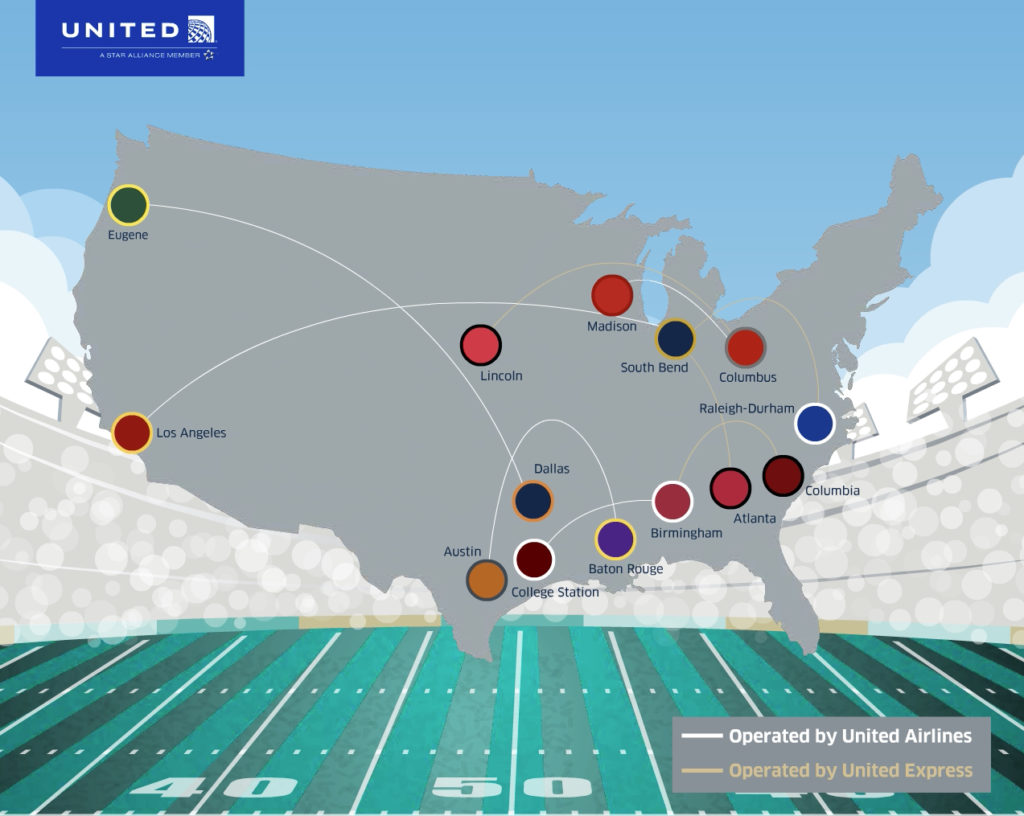 Game Day: August 31
Game: Auburn vs. Oregon
Site: Arlington, Texas
Route: Eugene to Dallas
Game Day: September 7
Game: LSU vs. Texas
Site: Austin, Texas
Route: Baton Rouge to Austin
Game Day: September 14
Game: Alabama vs. South Carolina
Site: Columbia, South Carolina
Route: Birmingham to Columbia
Game Day: September 21
Game: Notre Dame vs. Georgia
Site: Athens, Georgia
Route: South Bend to Atlanta
Game Day: September 28
Game: Ohio State vs. Nebraska
Site: Lincoln, Nebraska
Route: Columbus to Lincoln
Game Day: October 12
Game: Alabama vs. Texas A&M
Site: College Station, Texas
Route: Birmingham to College Station
Game Day: October 12
Game: USC vs. Notre Dame
Site: South Bend, Indiana
Route: Los Angeles to South Bend
Game Day: October 26
Game: Wisconsin vs. Ohio State
Site: Columbus, Ohio
Route: Madison to Columbus
Game Day: November 9
Game: Notre Dame vs. Duke
Site: Raleigh, North Carolina
Route: South Bend to Raleigh-Durham
American Airlines College Football Routes
(New Direct Flights)
Game Day: September 7
Game: LSU vs. Texas
Site: Austin, Texas
Route: New Orleans to Austin
Game Day: September 28
Game: Virginia vs. Notre Dame
Site: South Bend, Indiana
Route: Washington (Reagan) to South Bend
Game Day: October 12
Game: USC vs. Notre Dame
Site: South Bend, Indiana
Route: Chicago to South Bend
Game Day: October 12
Game: Alabama at Texas A&M
Site: College Station, Texas
Route: Birmingham to College Station
Game Day: November 2
Game: Virginia Tech vs. Notre Dame
Site: South Bend, Indiana
Route: Washington (Reagan) to South Bend
(Expanded Service)
Game Day: September 7
Game: Texas A&M vs. Clemson
Site: Clemson, South Carolina
Route: Greenville-Spartanburg to Dallas (fourth return flight on September 8)
Game Day: October 19
Game: Michigan vs. Penn State
Site: State College, Pennsylvania
Route: Chicago to State College (extra round trip October 18–19)
Game Day: October 19
Game: Tennessee vs. Alabama
Site: Tuscaloosa, Alabama
Route: Birmingham to Dallas (third return flight on October 20)
Game Day: November 9
Game: LSU vs. Alabama
Site: Tuscaloosa, Alabama
Route: Birmingham to Dallas (second return flight on November 10)