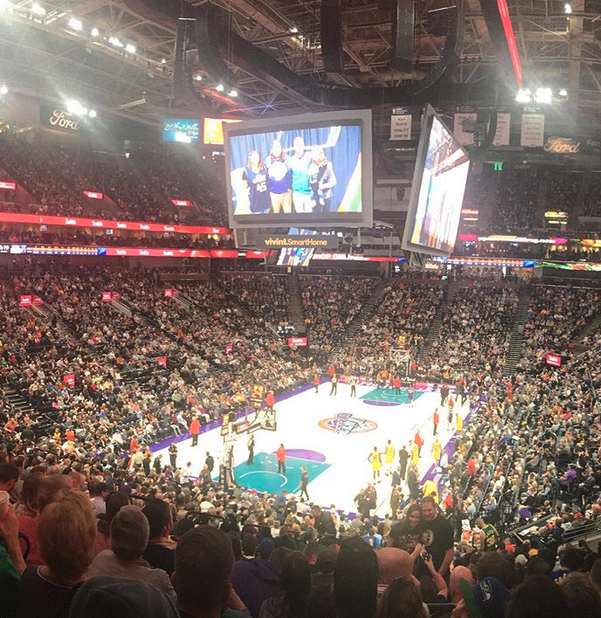 Going six weeks without sports is making the fandom world start to go a bit stir-crazy, but NBA Players Association Executive Director Michele Roberts has a firm message: Don't rush things.
"Our fans are more loyal than I think many of us appreciate," Roberts said during the final virtual Sports Business Journal/CAA World of Sports session. "Our fans miss the game, but they also don't want to see a game that results in people being injured, people being harmed, people getting sick, and potentially — God forbid — dying.
"We're all in this together. The fans are going through the same boredom and depression and 'I got to get out of here' that we are. So just be patient and for God's sakes, the health of the players and our staff has to be first and foremost a priority."
Roberts said the NBAPA is in daily communication with Commissioner Adam Silver and the league offices and when the regular season was suspended on March 11, "at that time, I thought this would last a couple of weeks and then see where we are. … But with every day, it's obvious that it has to take this long as it has to take until we can do it safely."
It's the last word that is foremost in Roberts' mind when the topic is resuming the season, no matter how much outside pressure the league and teams feel to get back underway.
"At the end of the day, it is a question of safety," she said. "There won't be any fans there at the beginning. It'll be the players and staff that will be at risk. They have the right to have the best information, the best mitigation procedures put in place."
WNBA Blazes Virtual Path
While the NFL's virtual draft was hailed as a major success, it was not the first professional league to hold its draft remotely — the WNBA did so six days before the NFL with Oregon star Sabrina Ionescu going No. 1 overall to the New York Liberty.
"It was a time to innovate," said WNBA Commissioner Cathy Engelbert, who had four iPads with her for different functions as well as backups for lighting and camera tripods. "One of the reasons we wanted to continue with the draft is because our rosters need to be set and these women's dreams need to be met, and so coming off of that, now we can think innovatively on how to keep the conversation going around marketing these household names."
The WNBA usually has the summer to itself for professional basketball but — when it is able to start the season — it will likely have overlap with the NBA's resumption of play. But Engelbert said there are possibilities that exist between doing doubleheaders or promotions in joint markets as well as knowing that the WNBA was planning on a hiatus during the Olympic Summer Games. With that event postponed, there are broadcast windows open for the league.
Overwatch League Improves Efficiency
The move to city-based play was proving to be a success for the Overwatch League before the coronavirus changed the organization's schedule and forced games to be held online, said Activision Blizzard CEO and Overwatch League Commissioner Pete Vlastelica.
"We had a few weeks of matches and live events in Overwatch League and Call of Duty League that were in home markets in front of sold-out crowds, the events were hyped," Vlastelica said. "At every one, when the home town team walked out, the fans were on their feet screaming. They weren't just there for the game or the league, they were there to root on their home team. That was what we were trying to prove."
Vlastelica said the Overwatch League knew in mid-January that the coronavirus would have an effect on its schedule because of its four teams in China. Events scheduled in the country were canceled and moved to South Korea before that country went into lockdown. The events were then rescheduled for Los Angeles right before California went into a stay-at-home order "so we pivoted all of our matches to online play," he said.
"Necessity is the mother of invention," Vlastelica said. "We learned that (online play) is viable at a time when it was essential. And because it's viable and very efficient, we'll be able to bring this into a world where it's not as essential but still as efficient in order to make our steady state operation that much better."
News and Notes
• The National Hockey League's social media policy during a suspension in play has been communication, community and connection according to Heidi Browning, senior vice president and chief marketing officer for the league. "Players are sheltering in place just like the rest of us and it was a huge opportunity for us to be able to have our players give messages," she said. "It was really encouraging to see how many players actually adopted social media and participate throughout this period of time." Steve Mayer, NHL senior vice president and chief content officer, added "people are starving for content and you don't need to have the bells and whistles—you need to entertain, you need to put a smile on people's face. The connection of people and ideas because of the technology we're actually using during this time frame is something we're going to continue with going forward."
• A press conference will be held Sunday to discuss preliminary results of a study held by the WADA-accredited Sports Medicine Research and Testing Laboratory on 10,000 Major League Baseball employees and players tested to see if they have antibodies for COVID-19. Dr. Daniel Eichner, the lab's president, said participants were given a test — a finger prick to draw blood — and the results were known in a few minutes. Testing was done over a period of a few days and a paper is being prepared for peer review. "If you were positive for the antibodies right now, it's not a license to go out and do whatever you want to do," said Eichner, who said the study involved 27 of the 30 MLB teams. "Our goal here is to get the country back to work. Sports is an important part of that."