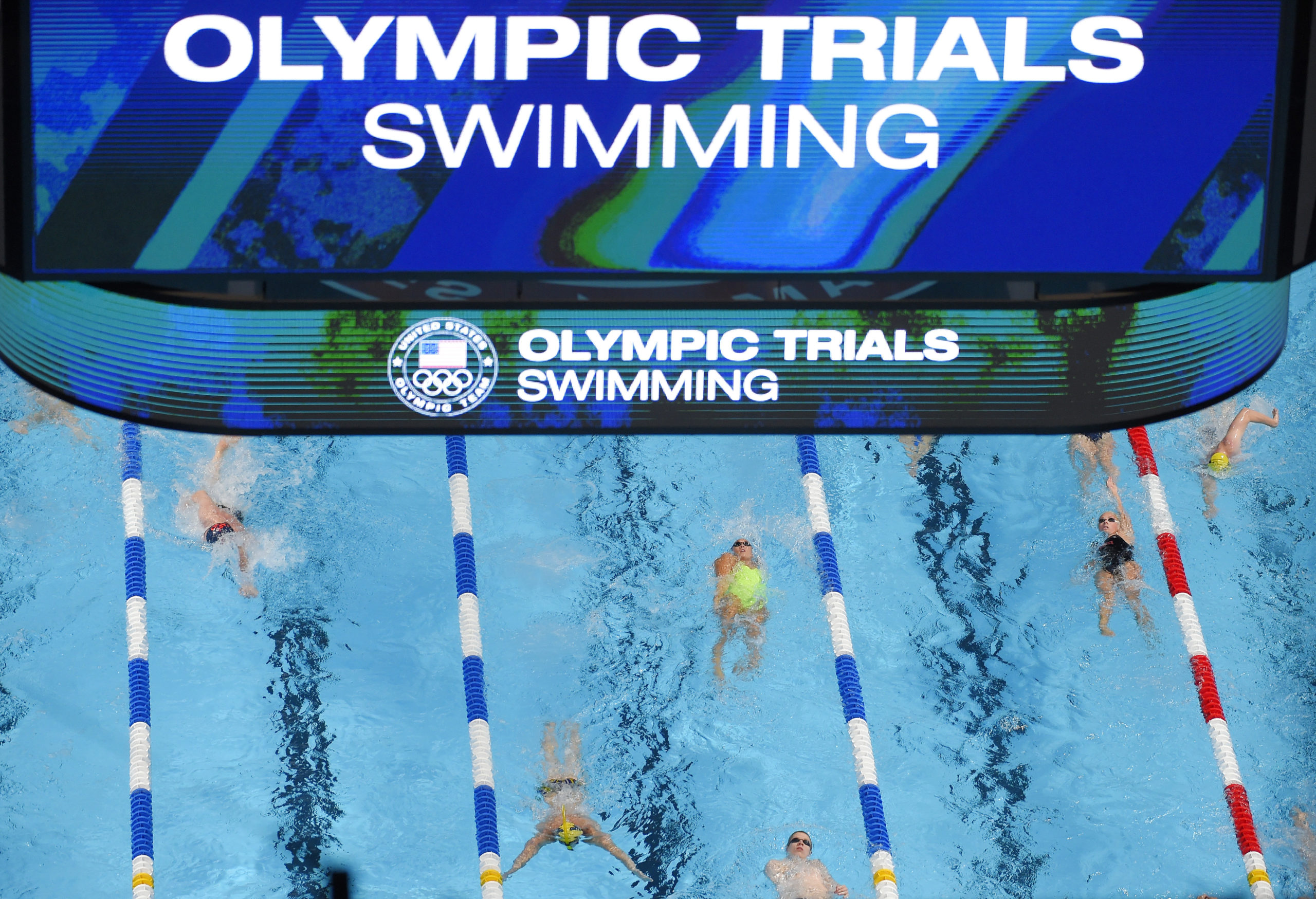 Seven cities are bidding to host the 2024 U.S. Olympic Swimming Trials, with a decision on a host expected in February 2021.
Finalists will be notified in September, according to a timeline provided by USA Swimming, with October and November used for final bid evaluations and in-person site visits. The remainder of 2020 will be used for negotiations between USA Swimming and the finalists before February's scheduled announcement.
Three cities have gone public with their interest: Indianapolis; St. Louis and San Antonio, Texas. While it has not made its intentions known, the city of Omaha, Nebraska, has hosted the trials since 2008 and would certainly be expected to bid for 2024.
Omaha has held the past three Trials at the Chi Health Center, which seats over 18,000, and will host the rescheduled 2021 Trials. Past events have had an economic impact of $75 million for the Omaha region and the city's setup has drawn compliments from competitors.
"The venue for us is something that we've never really had before we moved there," said Olympic star Michael Phelps during an LA2028 promotional event in March. "Being able to put 10,000 people in a swimming venue for us is huge. It's electric. It just gives us a place to just focus. The simpleness of the city – there's easy food, there's a hotel connected to the venue, it makes sense for us. And the pool's great, it's fast."
Of the three bidders who have gone public, Indianapolis has the most history with USA Swimming. It first hosted the trials in 1924 and overall have hosted it six times, most recently in 2000. While it previously hosted the trials at the IU Natatorium on the campus of Indiana University-Purdue University Indianapolis, the 2024 bid proposes hosting the Trials at Lucas Oil Stadium, the home of the Indianapolis Colts, with a capacity of over 70,000 for non-football events.
Indianapolis also hosted the 2004 World Short Course Swimming Championships at Bankers Life Fieldhouse, home of the Indiana Pacers. The Olympic Trials in diving are scheduled at the IUPUI Natatorium in 2021, the seventh time it has hosted that event.
Neither San Antonio nor St. Louis has hosted the swimming trials before. San Antonio would host the event at the Alamodome, the former home of the San Antonio Spurs and current home for UTSA football, which can seat up to 64,000. St. Louis' bid calls for using the 82,000-capacity The Dome at America's Center, former home of the St. Louis Rams.
San Antonio has the largest population of the known bidders at approximately 1.5 million. Indianapolis is next at under 900,000, while both Omaha and St. Louis are under 500,000.