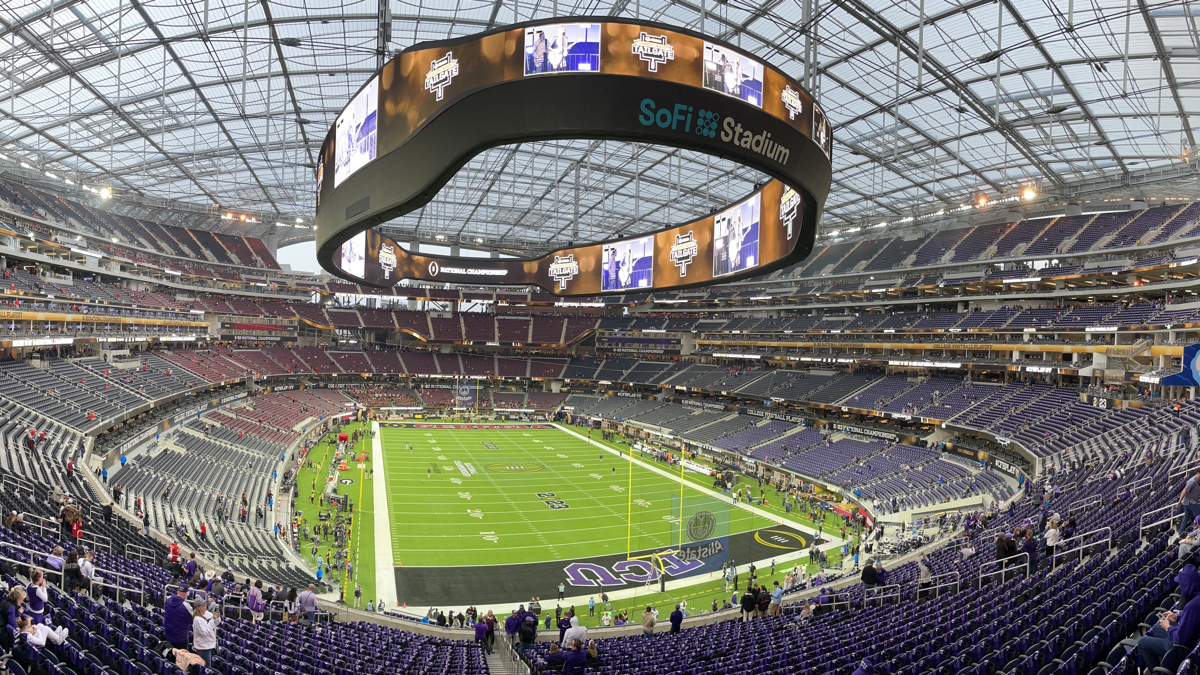 When word got out several years ago that Los Angeles Rams owner Stan Kroenke was planning to build a $5 billion stadium, it raised eyebrows. That number is twice the amount of any other NFL stadium and the result was worth the price tag.
If Madison Square Garden is "The Mecca" of arenas, SoFi Stadium is the counterpart of stadiums. As you approach the mammoth structure it looks like a piece of art in the distance. Once inside, it's astonishing.
The stadium has attracted many large events since opening in 2020, including hosting the 2023 College Football Playoff Championship game between Georgia and TCU on January 9. The Bulldogs rolled to the biggest margin of victory in bowl game history with a 65–7 demolition of the Horned Frogs to capture their second straight national title.
Ryan Hall, College Football Playoff's senior director of public events and sponsorships, said while the final score and competitiveness of the game wasn't what he and the CFP committee hoped for, SoFi delivered a big-time experience.
"This is a special place and it's just so unique," Hall said. "It's part football stadium and part living art. When you walk up to it, you can't help but be awestruck and I think the players and fans were in awe of the building before they even stepped in it."
The aspect of SoFi that catches the eye is the one-of-a-kind scoreboard that encircles the top of the stadium. Named the "Infinity Screen," it weighs 2.2 million pounds, making it the largest videoboard created in a sports venue. It has 70,000 square feet of digital LED space and 260 embedded speakers.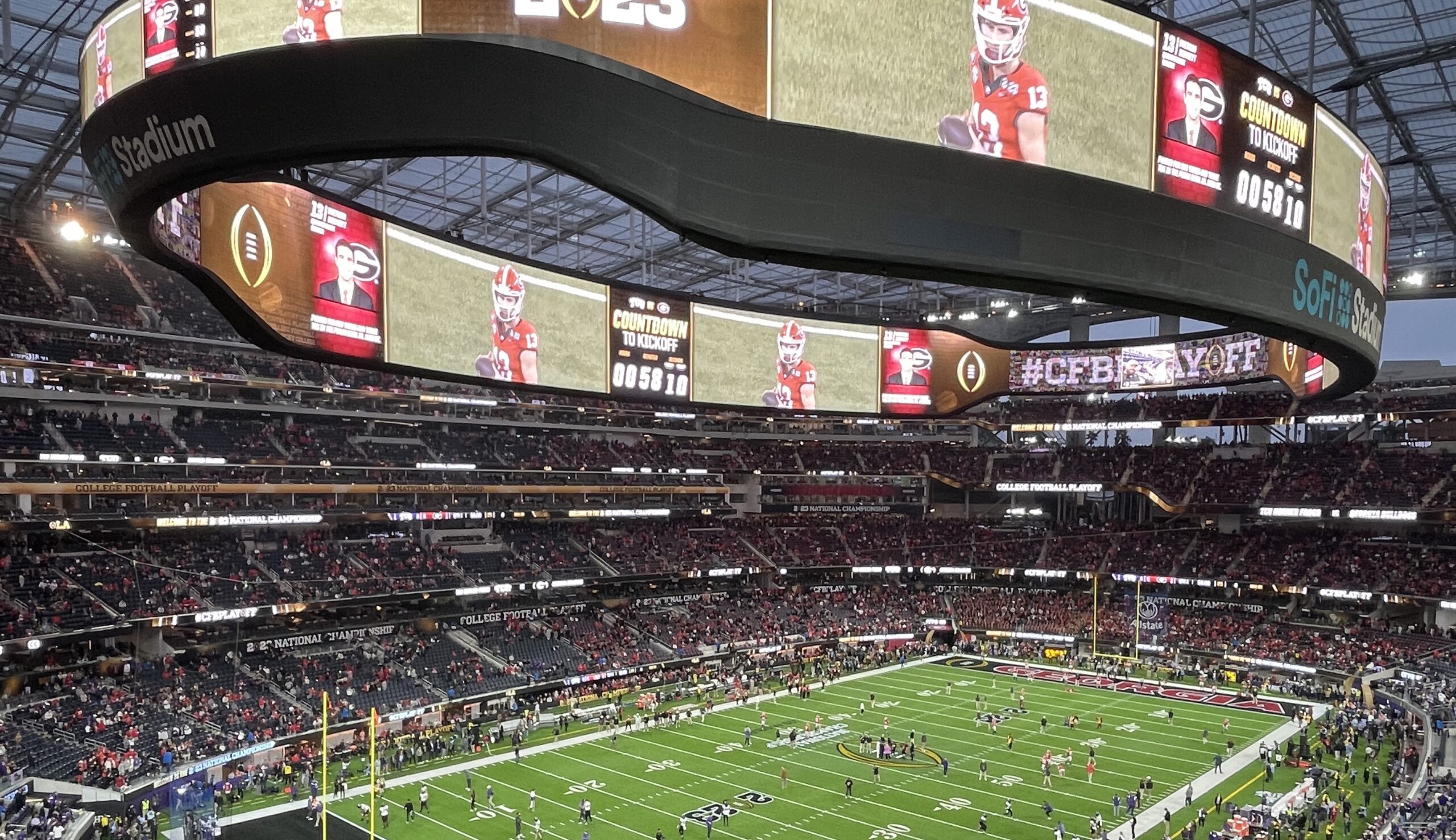 "As soon as you step into the stadium, you see this massive cathedral that's beautifully decked out," Hall said. "I think everybody who came here tonight knew that they were stepping into a big game and that it's special."
SoFi is located on the site of the former Hollywood Park racetrack in Inglewood. It seats about 70,000 (the attendance of the CFP national championship game was 72,628). There are 260 luxury suites and more than 13,000 premium seats.
The stadium features the first open-air concept to be used for an NFL stadium as the venue is mostly enclosed, but also allows fresh air from outside to flow inside. The lone blemish on the venue during the national championship game was water making its way into the stadium during heavy rains in the area, soaking some fans and causing a slipping hazard on some of the concourses.
Kathryn Schloessman, president and chief executive officer of the Los Angeles Sports and Entertainment Commission, says the mammoth venue has been a blessing when it comes to bringing large events to Los Angeles.
"Ever since Stan Kroenke announced he was going to build this stadium and it came out to be the 'Eighth Wonder of the World,' everybody wants to see it," Schloessman said.
SoFi hosted the Super Bowl in 2022 and followed it with the CFP championship 11 months later. SoFi will host WrestleMania over two nights in March. It will host matches for the 2026 FIFA World Cup and in 2028 it will co-host the Olympic Summer Games Opening Ceremony plus soccer and archery.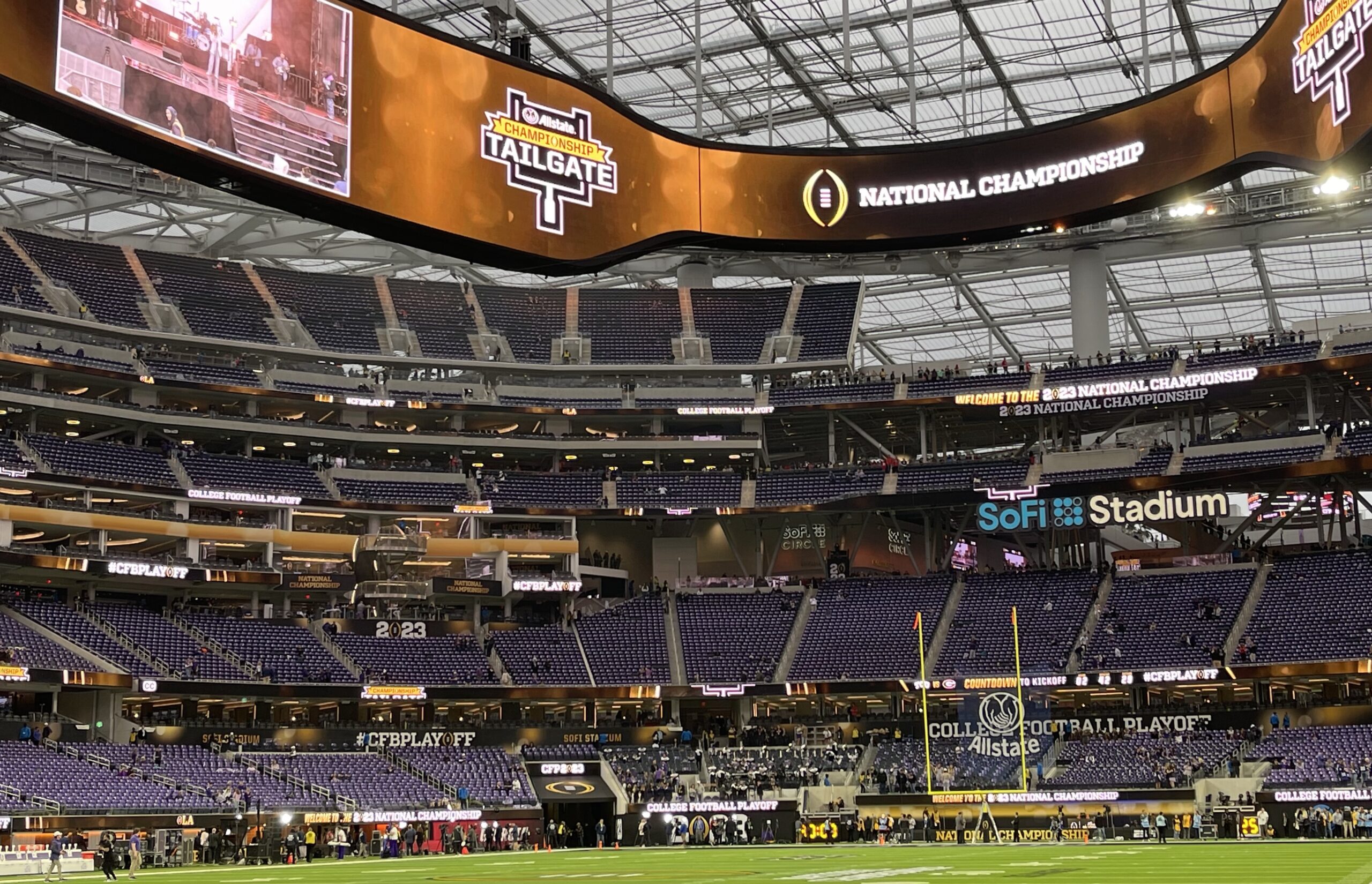 "Everybody wants to do an event here and it's been an incredible addition to the great landscape we already have here in LA," Schloessman said. "It's made our story a lot easier to tell and everybody wants to be here. It's a 298-acre campus where you can do a whole bunch of different things and lay out your vision of what your event is going to look like. It's been a game changer for us and an opportunity for our staff to build on our story."
Los Angeles has traditionally been a professional sports town, anchored by the success of the Lakers, Dodgers and Kings, and recently joined by the defending Super Bowl champion Rams and the relocated Chargers. With the addition of a venue like SoFi, the opportunity for more major college games to be played in Hollywood seems like a natural fit.
"The city welcomed us with open arms and has been great to work with," Hall said. "I knew it was a professional sports city and USC and UCLA are the big dogs as far as college, but I think everyone here got a really big taste of what college football is like in other parts of the country and I think this part of L.A. is going to grow into becoming a college football Mecca as well. The fans here were excited about everything we brought this week."
According to Schloessman, the Super Bowl in 2022 generated an estimated $450 million in economic impact for Los Angeles, while the 2023 CFP game is estimated to bring in $225 million.
"We love this city," she said. "The city has its challenges and we know that and we're trying to help correct that, and we feel like events like these bring economic impact. And that's money that can be used toward fixing the issues. But this is a great city to live in."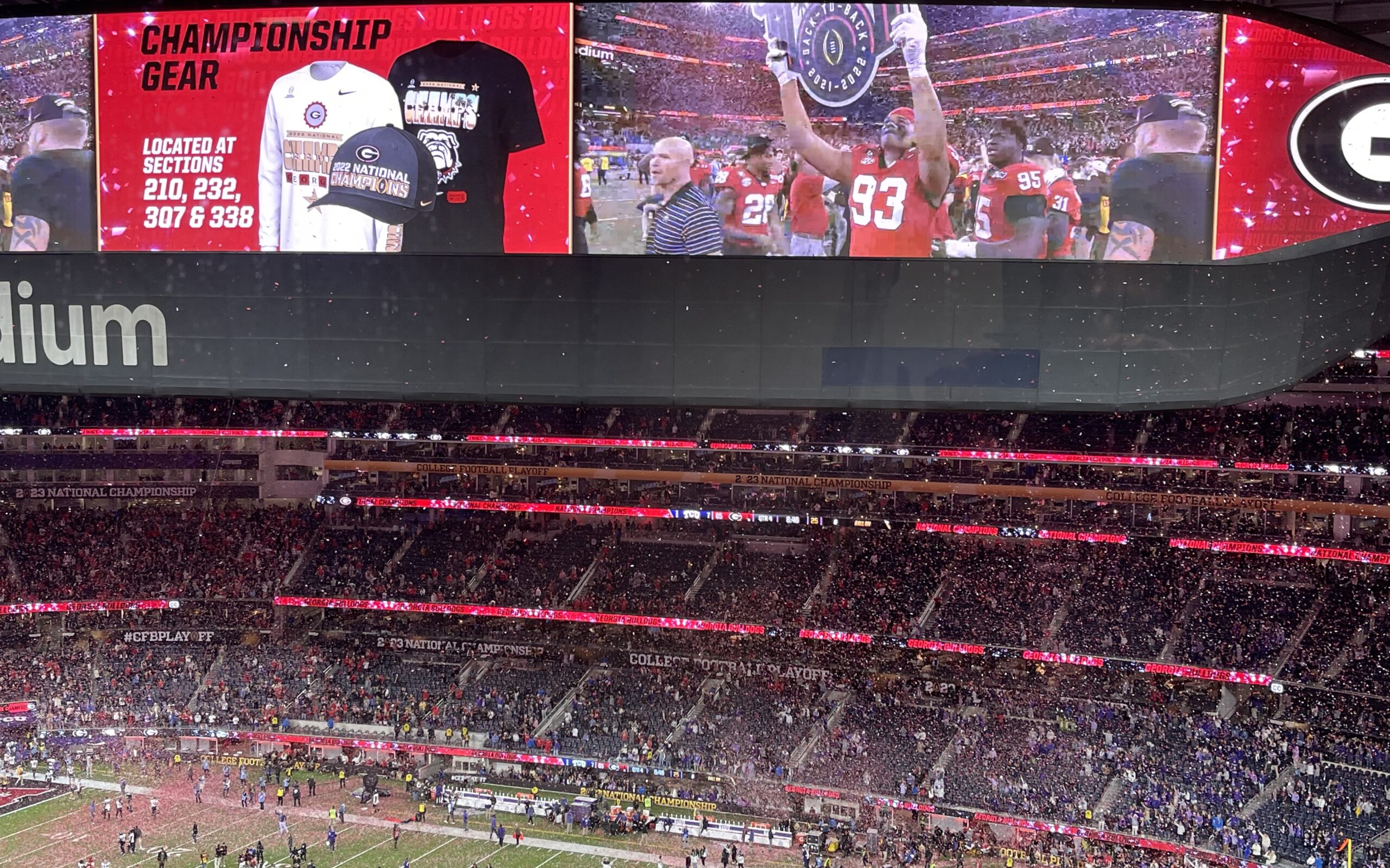 Even with a buffet of large events coming to Los Angeles in the present and near future, the LASEC team is looking for what they can bring to L.A. next.
"We're still bidding on a lot of other great events and we're hoping to bring another Super Bowl here in the future," Schloessman said. "We hope to have things like the Rugby World Cup. We're only limited by our time; there's only so much time we have to do all these big events. We're trying to take advantage of having this incredible venue that everybody wants to come to."
The CFP national championship game is booked through the next three years, with Houston hosting next year and then Atlanta in 2025 and Miami in 2026. But Hall envisions more trips to SoFi in the future.
"I know the committee will start very soon to work on future venues and things have gone so well here this week that it's going to be hard not to think about this venue when it's time for future selections," Hall said.