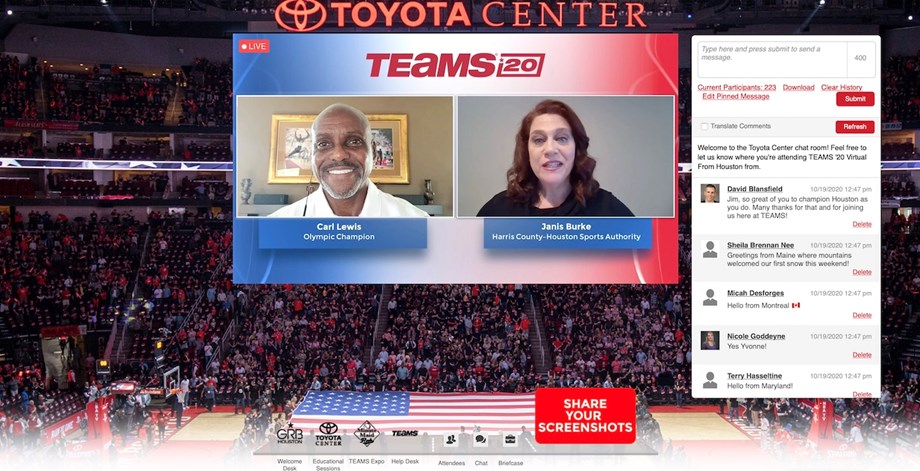 For the first time in its 22-year history, Northstar Meetings Group's annual TEAMS Conference & Expo was held online. But the four-day conference, which took place October 19–22, was no ordinary virtual event. Instead, an entirely immersive experience was created to transport more than 700 attendees to Houston, where the gathering originally had been scheduled to take place.
The event was planned as a close collaboration with the Harris County – Houston Sports Authority. Going digital, city venues were used as backgrounds for the welcome area, general sessions and virtual expo center. The speaker lineup included renowned athletes with ties to the Texas city, such as George Foreman, a former professional boxer and entrepreneur who was raised in Houston, and Carl Lewis, an Olympic track-and-field athlete who attended the University of Houston and now coaches for his alma mater.
Winners of the 2020 SportsTravel Awards were announced at TEAMS '20. Read more here.
"When we jointly determined that a virtual event was our best option, our strategy was to position TEAMS '20 as 'Virtual from Houston,' meaning that the attendees would actually be transported to three of Houston's leading venues in our virtual environment," said Timothy Schneider, founder and chairman of the Sports Division at Northstar Travel Group. "Each day, we gathered at the George R. Brown Convention Center, held our educational sessions at the Toyota Center, and the TEAMS Expo was staged at Minute Maid Park — virtually. Every exhibitor's booth was located at home plate. Moving attendees between those venues at an in-person event would have been nearly impossible but in a virtual environment, they could move from venue to venue with the click of their mouse."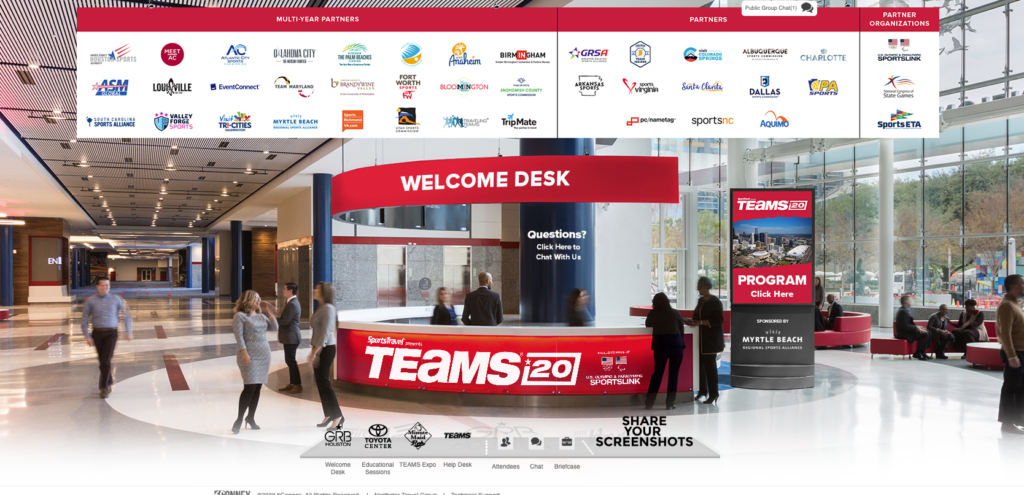 "This is a year of innovation for everyone and we loved the challenge of bringing TEAMS to a virtual Houston for the week," said Janis Burke, CEO of the HCHSA. "Not only were we able to allow the conference to roam through downtown Houston and take attendees into some of our state-of-the-art venues, but we also got to introduce them to some of our sports legends like Olympians George Foreman, Carl Lewis, Seun Adigun and Heisman Trophy winner Andre Ware."
Expert Insights
Daily panels as part of the Olympic and Paralympic SportsLink program in partnership with the U.S. Olympic and Paralympic Committee provided case studies on how organizers in the sports industry have worked to reschedule their events, restructure sponsorships and prepare to meet safely in-person again.
On the topic of navigating sponsorships in a time of uncertainty, USA Triathlon CEO Rocky Harris said, "For us, when it came to new partners, we weren't selling this year or what's happening right now. We were selling a long-term partnership, where we can grow together and evolve the partnership depending on what happens. I think why we were so lucky over the last few months and able to close some new deals is because we come off as an adaptable and very innovative group who's willing to deliver pretty much anything for a partner."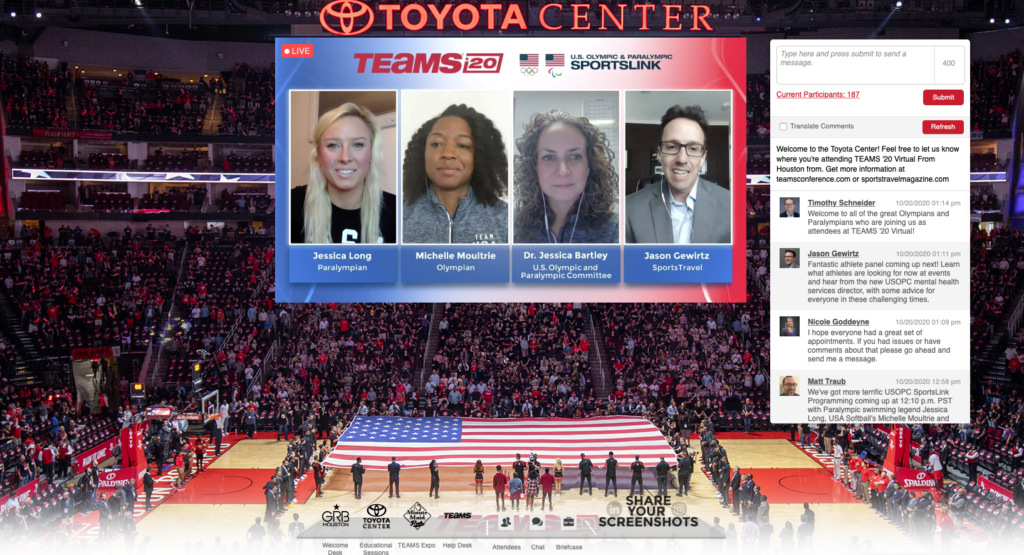 The topic of relationship-building was a common theme throughout the event. During a panel discussion about the safe return of in-person events, Shana Ferguson, chief commercial officer for USA Swimming, shared how the organizatiion partnered with about 30 others to create a new coalition focused on developing COVID-19 safety standards and guidelines for the sport.
"Advocating for a safe return to water when there are different instances of COVID-19 transmission and different local health officials making different guidelines was a little bit of a minefield for us to navigate," said Ferguson. "We didn't think we had the expertise to figure this out all on our own, so we reached across the aisle. We knew our collective work, our collective voice and our collective brainpower would be so much stronger than each of us trying to figure this out alone."
Travel to Return 'Sooner Than Expected'
In a keynote session, Roger Dow, president and CEO of the U.S. Travel Association, discussed the state of the travel industry and provided a message of hope on the future of in-person events.
"I've heard some people say travel is not going to come back until 2024. I don't believe them," said Dow. "I think travel is a coiled spring. I think coming back to sporting events is a coiled spring. People are getting so sick of being cooped up; they want to get out there."
Dow pointed to how the industry recovered after both 9/11 and the Great Recession and said, "We're going to come back and I think we're going to come back much sooner than people think."
"As we've heard from numerous presenters during TEAMS '20, sporting events will lead the recovery of the international travel industry once we get past this pandemic," said Schneider. "We saw it this summer when the only group travel any destination could speak of was sports-related. And we'll see it in the months ahead, despite the surges, spikes and bumps in the road that no doubt await us."
The 2021 TEAMS Conference & Expo will be held September 27–30 in Atlantic City. Another Northstar flagship event, the Esports Travel Conference, will be held digitally December 2–3, 2020, broadcast from the Esports Stadium in Arlington, Texas. Daytona Beach, Fla., was just announced as the host city for the 2022 Esports Travel Summit.
For a full list of Northstar Meetings Group events, click here.