The revitalization of the Oklahoma River is a case study in how a destination can rethink its entire sports landscape with creative thinking and community goodwill. And thanks to Riversport OKC, Oklahoma City became the center of rowing and canoe/kayak, showcasing how a citywide vision can help put a destination on the Olympic and Paralympic map.
The TEAMS Conference & Expo/SportsLink Session "Rising River: How Oklahoma City Became an Olympic and Paralympic Training Site" detailed how Riversport OKC, an organization created in 2005, has turned downtown Oklahoma City into a canoeing, rowing, rafting and kayaking destination.
Riversport OKC recently hosted the re-located International Canoe Federation 2022 Canoe Sprint Super Cup and Stand Up Paddling World Cup. The ICF has already awarded Oklahoma City and Sarasota, Florida, a number of international competitions in 2026 as well.
Attendees were welcomed to the Riversport Complex by the SportsLink Emcees, curlers John Shuster and Chris Plys. Shuster is the skip of Team Shuster and Plys is Vice Skip; Shuster is best known for leading his team to gold at the 2018 Winter Olympics, the first American team to win gold in curling. He also won a bronze medal at the 2006 Winter Olympics in Turin.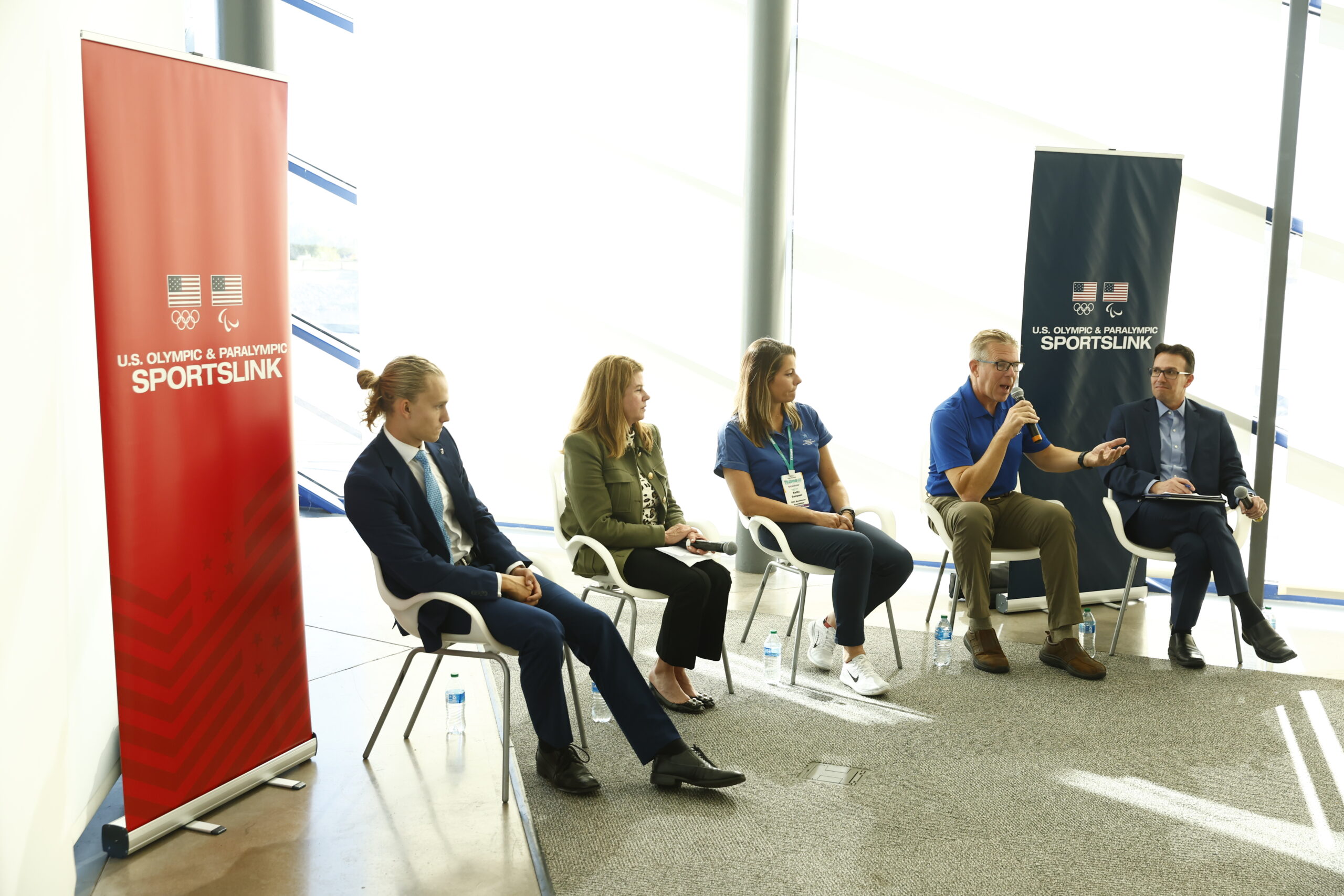 The Panelists
Reilly Dampeer, Oklahoma City National High Performance Center: In her sixth season at the OCNHPC and 13th year coaching rowing, Dampeer continues to build a strong National Team development program for rowing in the United States. Dampeer has coached national team athletes since 2010, including coaching Team USA to a bronze medal finish in the women's single at the U19 World Championships in Tokyo in 2019.
Mike Knopp, Riversport: As executive director of Riversport, Knopp has led multiple Oklahoma River initiatives, including development of the $10 million Devon Boathouse and OKC National High Performance Center. He's also led projects including the $6 million Chesapeake Finish Line Tower, Riversport Adventures, and the Oklahoma City's $45 million Riversport Rapids whitewater rafting and kayaking center.
Beth Spilman, American Canoe Association: Spilman has served as the executive director of the American Canoe Association since 2019. ACA has been the national governing body for canoe/kayak since 2017 when it absorbed USA Canoe/Kayak. The ACA continues to work at the grassroots, regional and national levels to promote fun and responsible canoeing, kayaking, rafting and stand up paddleboarding.
Augustus Cook, Olympic hopeful: Cook has been an athlete at OKC Riversport for the past 10 years. He is a sprint kayaker for the competitive sprint kayak team and has raced for the U.S. National Team for Junior, Under 23, and Senior World Championships. His is a 13-time national champion and is aiming to qualify for the Olympics. Outside of paddling, he is a full-time student at the University of Central Oklahoma.
What They Said
Dampeer: "There's no other environment like this for our sport in the country. This place outside of the college system is by far the best environment to train for the next level for our athletes. With the resources we have for athletes to the strength and conditioning coach to sports psychologist, it's just about the environment for the athletes that is really unique."
Knopp: "If you had thought of one of the premier venues for canoe and kayak, would you have thought of Oklahoma City? People generally around the world don't associate Oklahoma with water. … We're in the culture building business here. We want to help develop an outdoor culture in Oklahoma City. We're building the spark for that." 
Spilman: "There are only two slalom venues that can host elite competition and Riversport is one of those. What's also unique is Riversport can also hold a sprint competition at the same venue, which is the only place that can do both of those events in the same locale. … We've been able to attract a lot of international events to Oklahoma City."
Cook: "I have grown up with the boathouse. When I first came to Riversport, I was 10 years old and we had three buildings. Now we have all of this … When I started, I was home schooled and I didn't have a sport. I came to a summer kayaking course here and loved it. … I'm one of the only members of our national team that's not from the East Coast or West Coast. It's been really cool to hold it down for the Midwest on the national team and none of it would be possible without this venue here."