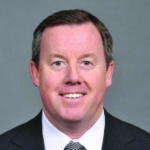 USA Swimming has named Tim Hinchey its new president and chief executive officer, effective July 12. Hinchey, who has been president of Major League Soccer's Colorado Rapids since 2011, will succeed longtime CEO Chuck Wielgus, who passed away in April.
Hinchey becomes the third chief executive since USA Swimming was formed, following Wielgus' 19-year tenure and the national governing body's first executive director, Ray Essick. "This is an exciting time for USA Swimming and Tim Hinchey's track record of business success and proven leadership abilities are well-suited to guide our future direction," said USA Swimming Board of Directors Chair Jim Sheehan. "Tim's experience in sport at multiple levels will be invaluable to help us embrace the opportunities that can take swimming to the next level."
Hinchey, the 2016 MLS Executive of the Year, has more than 25 years of experience in sports, including leadership positions in the United States and the United Kingdom with Major League Soccer, the English Premier League, the National Basketball Association, the National Hockey League and for junior and minor league hockey franchises. Prior to joining the Rapids, he spent three years as vice-president of commercial and chief marketing officer for English soccer team Derby County FC. Hinchey previously served in executive positions for the NBA's Charlotte Bobcats and the New Orleans/Oklahoma City Hornets, as well as director of strategic alliances for Maloof Sports & Entertainment, then the parent company of the Sacramento Kings. He also previously worked for the NHL's Los Angeles Kings, the Tri-City Americans junior hockey club and the IHL Utah Grizzlies.
"Leading USA Swimming is a dream job for me," said Hinchey, who was a varsity swimmer at UC Irvine and is a member of U.S. Masters Swimming. "Being involved in the sport of swimming has played a major part in shaping who I am as a person and as a professional, and I can't wait to give back to our membership. I've benefited from the dedication and commitment from athletes, coaches, volunteers and officials who make the sport so successful. It's truly inspiring.
"It's also an honor to join such a talented staff that has worked tirelessly to make USA Swimming the model national governing body in the Olympic movement. I look forward to continuing the legacy left by Chuck Wielgus by employing our resources and rolling up my sleeves alongside our staff, board of directors and membership to support our numerous stakeholders and grow the sport at all levels."