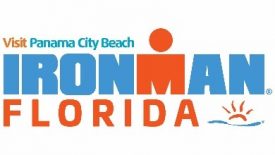 Visit Panama City Beach in Florida has been named the title sponsor of the Ironman Florida triathlon and the Ironman 70.3 Gulf Coast triathlon beginning in 2020 as part of a multiyear agreement. The Florida triathlon is staged annually in early November and the 70.3 race is next scheduled for May 9, 2020.
"We are excited to announce this new partnership with Visit Panama City Beach," said Scott Langen, Gulf Coast regional director for Ironman. "As one of the longest-running host venues in the Ironman circuit, Panama City Beach continues to provide our athletes with a world-class experience before, during and after race day. We are amazed by the incredible support that we receive year-after-year in the region and look forward to continuing our long-standing partnership with their team for many years to come."
Panama City Beach hosted the Ironman event on November 2 after the race had to find a new destination last year following the cleanup from Hurricane Michael. The Ironman Foundation launched several initiatives around the race to raise money for the destination's ongoing recovery.
"We have been honored to welcome athletes from all over the world who have raced in Ironman events hosted in our beautiful destination, and we are thrilled to now be the new title sponsor for both the 2020 Visit Panama City Beach Ironman 70.3 Gulf Coast triathlon and 2020 Visit Panama City Beach Ironman Florida triathlon," said Visit Panama City Beach President and CEO Dan Rowe. "With perfect beach weather and beautiful coastal scenery, we have undoubtably become the premier sports destination of the South, and we hope to give both new and returning athletes an exciting and memorable experience racing on the Gulf Coast."