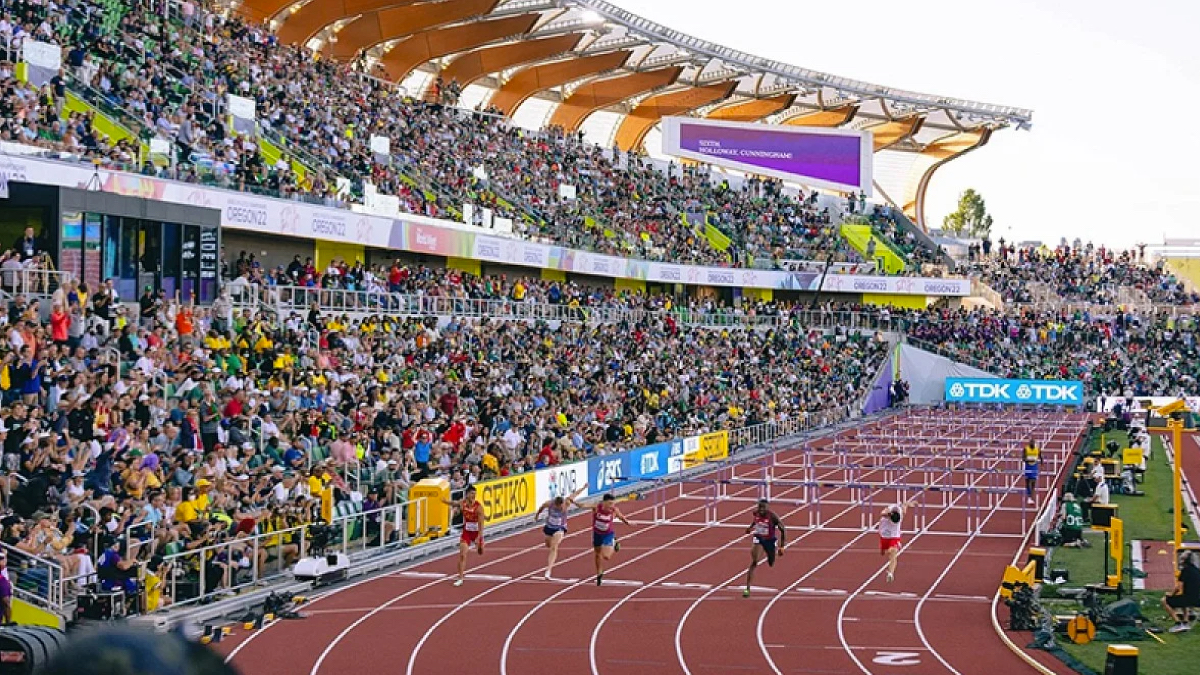 The 2024 U.S. Olympic Trials for track and field will be held at Hayward Field in Eugene, Oregon, USA Track & Field and the U.S. Olympic and Paralympic Committee have announced.
The Trials will take place from June 21­–30 at the University of Oregon and will serve as the Team USA selection event for the 2024 Olympic Summer Games in Paris. Over the past five decades, Eugene has hosted many large-scale track and field events, including the World Athletics Championships Oregon22. It recently hosted the Diamond League finals during the Prefontaine Classic and earlier this summer hosted the national championships as part of USA Track & Field's Grand Prix Series, a major part of the national governing body's plans to grow the sport ahead of the 2028 Games in Los Angeles. Hayward Field will also host the 2026 World Athletics U20 world championships.
"Track Town, U.S.A. is thrilled to once again host the U.S. Olympic Team Trials," said TrackTown USA Chief Executive Officer Michael Reilly. "Hayward Field at the University of Oregon is the perfect stage for selecting the No. 1 team in the world. As the local organizing committee, we are committed to providing a world-class experience for everyone who attends this magical event next year."
More than 20 records have been set or broken at Hayward Field and the decathlon world record has been broken multiple times at the venue, including in 2012 by Ashton Eaton during the Olympic Trials. This past weekend, two more world records were broken at during the Prefontaine Classic.
"As we look forward to Paris 2024, we're delighted to return to Eugene for the U.S. Olympic Trials," said USATF Chief Executive Officer Max Siegel. "During the pandemic, when venues all needed to take extraordinary measures to conduct events, the local organizing committee, TrackTown, demonstrated their commitment to the sport by working with USATF to prioritize the health and safety of our athletes for the Tokyo 2020 Olympic Trials. That partnership was invaluable.
"Having hosted that event successfully under difficult circumstances, we are pleased to give the city of Eugene and Hayward Field the opportunity to host an event at full capacity to showcase this world class facility. Hayward Field has been the site of countless memorable moments in track and field history and we look forward to coming to Eugene, Oregon, to cheer on the nation's best athletes as they compete to represent Team USA in Paris."
The 2024 Trials will be the eighth time it is held at Hayward Field, with the first time in 1972. This will mark the 12th occurrence of the Trials as a combined men's and women's event and will be the 24th time that the Trials format is used to select the team. USA Track & Field earlier announced the marathon trials will take place February 3, 2024, in Orlando, Florida.
"Today's announcement is a major milestone on our journey to the Paris 2024 Olympic Games," said USOPC Chief Executive Officer Sarah Hirshland. "These trials not only serve as a pathway to Team USA, but also as a platform for athletes to exhibit their exceptional skills and strive for the chance to represent our great nation in Paris. We are eagerly anticipating witnessing the display of true greatness next summer in Eugene."