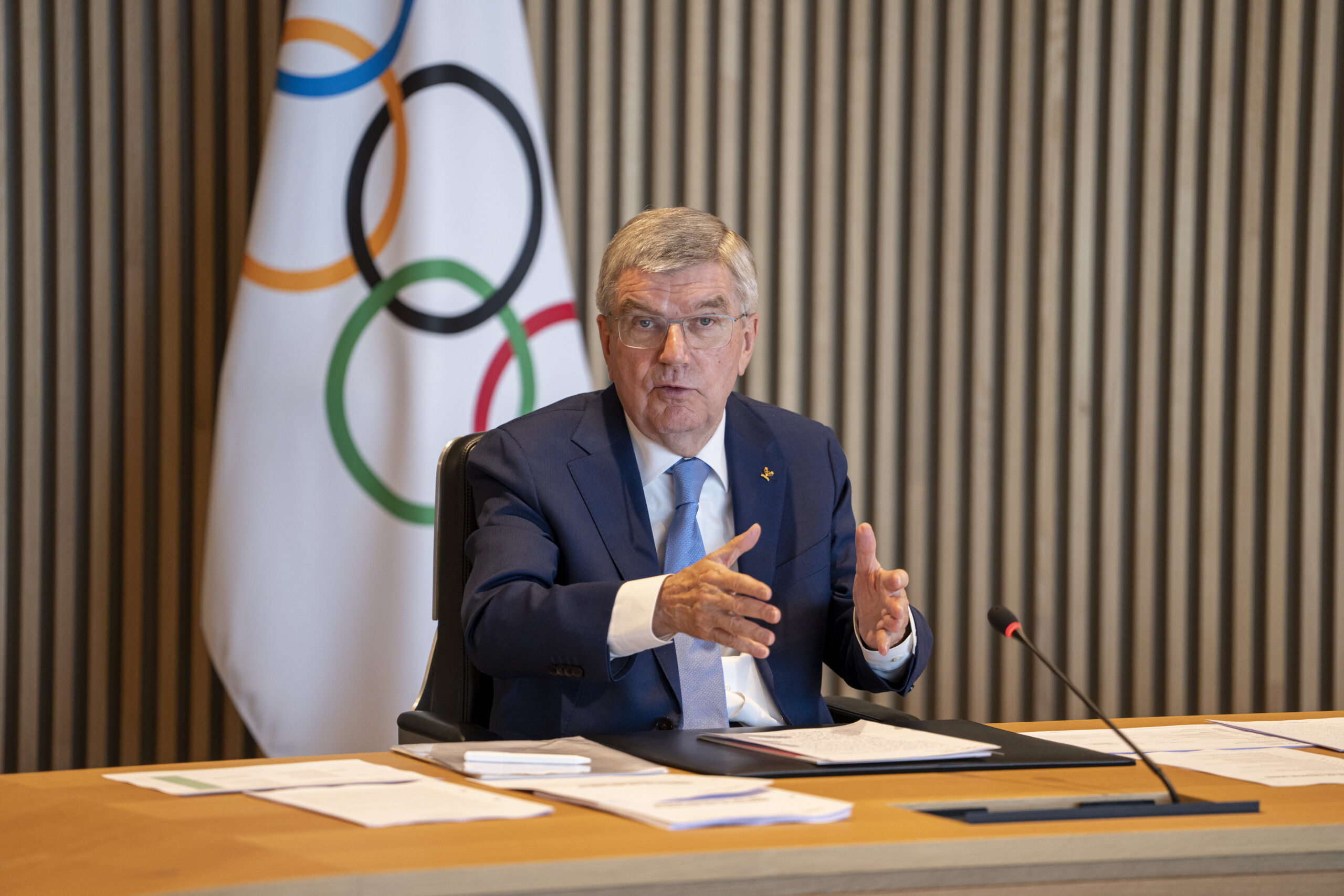 International Olympic Committee President Thomas Bach told the Association of Summer Olympic International Federations on Wednesday that some federations have proven how Russian and Belarusians could continue to compete in international sport, the same day Finnish Olympic Committee President Jan Vapaavuori called the IOC "confusingly pro-Russia" ahead of the 2024 Olympic Summer Games in Paris.
Olympic sports bodies were meeting Wednesday amid ongoing uncertainty about if and how Russian athletes could return to their competitions ahead of the 2024 Paris Games. The ASOIF meeting comes more than two months after the IOC detailed how individual athletes from Russia and its military ally Belarus could be reintegrated as neutral athletes, despite those countries' ongoing war on Ukraine that, when started, led the IOC and Bach to banish Russia from international sport.
Exactly how that neutrality is being defined now is not clear as key qualification events start for the Olympics that open in July next year. The IOC said Russians and Belarusians could return in individual events but not team sports, if they had not actively supported the war in Ukraine, and are not contracted to "military or national security agencies." If approved to compete, the IOC said Russian and Belarusians would not be allowed to use their flag, anthem or uniforms in national colors.
The IOC also suggested ASOIF and the winter sports umbrella group, AIOWF, could oversee "creating a single independent panel" to run and "harmonize" the neutral status evaluations of hundreds of athletes, coaches and support staff. That has not happened yet; Bach told leaders of governing bodies on Wednesday that some had proven how Russian and Belarusians could continue to compete.
"You are doing so against the backdrop of the many traditional, I may say, naysayers who want to make people believe that it would never work," Bach said.
In the background of Bach's comments, Vapaavuori told Finnish newspaper llta Sanomat that he feels athletes from Russia and Belarus will still be prevented from appearing in Paris. In April, Finland formally joined NATO and are also members of the European Union.
"The Finnish Olympic Committee pursues a strict line in relation to Russia and Belarus, the fact that even such strict measures against Russia and Belarus have been achieved is partly a result of the fact that individual countries, national Olympic committees, sports federations and European ministers have created pressure so that a strict line has been achieved," Vapaavuori told llta Sanomat. "Perhaps I could say in general that the IOC as an organization and its office in Lausanne has been confusingly pro-Russia throughout the war."
The IOC's decision to leave a formal policy up to each international federation has led to a patchwork of inconsistent announcements. In gymnastics, a decision on reintegrating them was pushed back to at least July. Track and field took the strongest stance with World Athletics President Sebastian Coe citing deaths of hundreds of athletes in Ukraine that "hardened my resolve" to exclude all Russians.
The International Judo Federation let some Russians compete in Qatar at its worlds this month, an event that was boycotted by Ukraine. The IJF's honorary president until last year was Vladimir Putin.
Fencing saw several Olympic champions from Russia denied neutral status this month including the daughter of Russian Olympic Committee president Stanislav Pozdnyakov, who then criticized the neutral eligibility process.
Ukraine President Volodymyr Zelenskyy continues to insist Russia must be excluded from the Games and Paris Mayor Anne Hidalgo also said there should be no Russian delegation if the war continues. The IOC can choose to bar Russia from its Olympics, and Bach said in March such a decision could be taken "at the appropriate time at its full discretion."